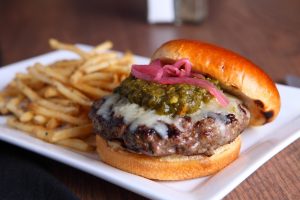 Even though I'm a Mississippi Girl, I love the flavors of the Southwest.   I absolutely adore the robust flavors of roasted chiles, and the spice palate that Southwest flavors use.  A lot of my recipes are influenced by the Southwest, and none more so than my Green Chili Sauce recipe that I'm going to share now!
It doesn't have to light a fire in your mouth!
One of the things that I really like about good Southwestern food is it doesn't have to be so spicy that you won't be able to use your palate for a week.  Yes, I understand that many people love super spicy food.  The beautiful thing about recipes from the southwest is that they are eminently adjustable.  Like the flavors but not so much heat (like me,) then stick to some of the chiles that pack flavor but not heat.  Are you a chili head?  Simply add some spicier versions such as habaneros (or hotter) to your dishes (but tell me about it before I taste them!)
Hatch Peppers
When I first made this recipe with Hatch Chili peppers, the famous peppers from the Hatch Valley in southern New Mexico.  I have had Hatch peppers that are quite mild to some that are fairly spicy.  While I do love them, but unfortunately where I am located I can only get them occasionally.  Anaheim peppers are usually available around me, and that's what I end up using most of the time as they are very similar.  I do think Anaheim peppers are milder than the Hatch peppers (at least in my experience) so I usually add in a serrano or jalapeño to this dish when I'm using Anaheim peppers.
Roasting Peppers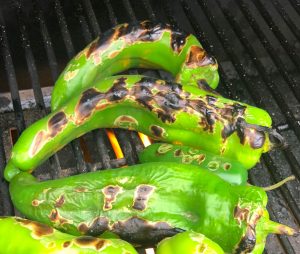 Roasting peppers is the best way to enjoy many of the chiles available.  First, by roasting them, you will concentrate some of the flavors as well as add that extra flavor from charring them over a flame.  By roasting them, you'll also get rid of the outer layer of skin from the pepper that doesn't really bring anything to the party but annoyance.   Roasting peppers is super easy- simply place the peppers over an open flame until charred, turning to get all surfaces.  You can also place on a pan in the oven and roast, turning them occasionally.  After they are charred, drop into a paper bag (or even a resealable plastic bag or container) and seal.  Allow them to steam a bit and cool down.  Remove from the container and you'll be able to easily peel the skin away.  This also makes them very easy to remove stems, seeds and chop for your dishes.
Using this chili Sauce-
My absolute favorite way to use this sauce is on a green chili cheeseburger with pickled red onions.  Absolutely fantastic.  However, you can use it as a green enchilada sauce, use it as a condiment for tacos, or make a pizzatilla with this as the sauce instead of red sauce.
Enjoy!
Print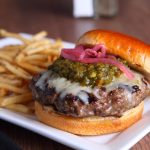 Green Chili Sauce
---
4

Hatch or anaheim chiles

1

jalapeno or serrano (if desired for heat)

1/2 tsp

cumin

1/4 tsp

kosher salt

1/4 tsp

coarse ground black pepper

1/8 tsp

ground coriander

2

TBS chopped yellow onion

1

TBS minced garlic

1/2 cup

chicken stock
---
Instructions
Over an open flame, roast all peppers. Place in a small container or paper bag and seal. Allow to cool for 10 minutes.
Wearing gloves, remove peppers from bag and peel off skin from peppers (I usually do under running water.) Remove stems and seeds from peppers and roughly chop.
Heat oil in a small stock pot. Add onions and garlic and cook 3-4 minutes, or until fragrant and beginning to turn translucent.
Add peppers, chicken stock, salt, pepper, coriander and cumin. bring to a quick boil then immediately reduce to a simmer. Allow to simmer for 5 minutes.
using an immersion blender or food processor, lightly pulse until a more sauce like consistency is achieved, but leave somewhat "chunky."