Recently, I was at the Grand Rapids Festival of the Arts cooking demos for Smithfield. As I was wandering around, I was drawn to a wonderful aroma wafting through the air. Being an old hat at this, I quickly deduced that the aroma emanated from a group that was grilling some wonderful looking skewers of meat- Pork Souvlaki! Wonderful! I just knew I had to make some, and here's the recipe for my version of Pork Tenderloin Souvlaki with Tzatziki Sauce (after a few tweaks!)
Pork Souvlaki
Souvlaki is a Greek dish usually made with marinated pork or lamb, skewered and grilled.  I am a big fan of all things skewered and grilled, and this is certainly no exception!  It's really easy to make, but definitely benefits from some marination time, so think ahead a bit for this one.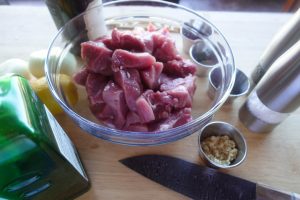 The marinade is so easy, and you probably have just about everything you need to make this dish right in your house.  I found it's best to prepare the pork in the morning and let it marinate all day long to really get the flavor into the meat.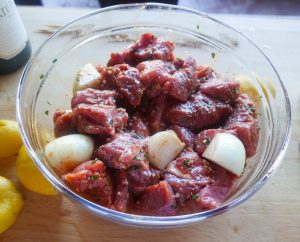 Souvlaki is traditionally seasoned with fresh oregano, which is the only item you may not have in the fridge.  I try to keep fresh herbs around, but their hard!  In the summer, I keep some growing in a small planter for use, but I always seem to need ones I don't have!
Skewer it up! (but keep it separate!)
After letting the pork and onions marinate for a few hours (if you're stretched for time, 2 hours will work,) get to skewering!  One note, feel free to add peppers, mushrooms or whatever else floats your boat to the skewers, but I highly recommend separate skewers!  I love the look of a colorful kebab, something on there ALWAYS gets cooked incorrectly.  Either the veggies are undercooked, the meat is overcooked or some combination thereof.  Just keep them separate and you can cook them perfectly every time!  There are also some food safety issues when skewering veggies and meat together (mainly when cooking chicken.)
Tzatziki Sauce
I will admit, I am not a raving fan of tzatziki sauce.  However, when you add it to a gyro or just on top of the souvlaki, it adds that extra little bit of refreshing flavor that the dish needs.  I usually make it quite simply and super easy in the blender.  Traditional?  Nope.  Easy?  YES!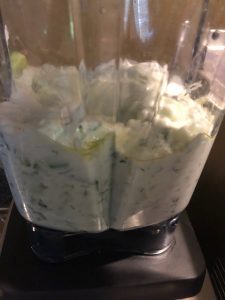 Get it on the Grill!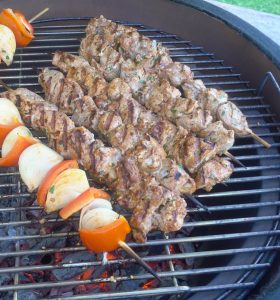 I cooked these on my Pit Boss K22 Ceramic cooker.  I love grilling on ceramic cookers as you usually don't have to worry about flare ups, and it always gives a great flavor.  I used a base of lump charcoal, ran the cooker to 500 degrees, then opened it up and grilled!  The skewers take about 8-10 minutes, rotating every couple of minutes.
Let it rest, grill some Pita bread, and enjoy!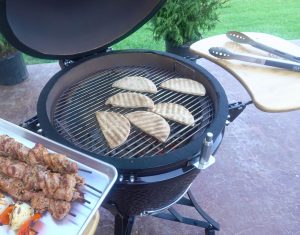 After the meat is cooked (the veggies take a bit longer) I let it rest, and add some pita bread to the grill.  Let it warm, and get some grill marks, and you're ready!  You can either make Greek sandwiches at this point, or just add it to a plate (my favorite way!)  I served this with my Mediterranean Couscous Salad and some sautéed mushrooms.   Y'all enjoy!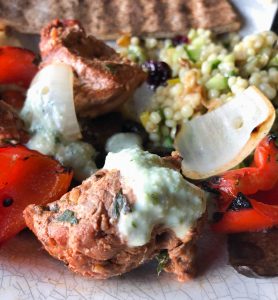 [/et_pb_text][/et_pb_column][/et_pb_row][/et_pb_section]
Print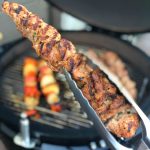 Pork Tenderloin Souvlaki with Tzatziki Sauce
---
Total Time:

2 hours 20 minutes

Yield:

4

people

1

x
For the Souvlaki
2

pork tenderloins (trimmed and cubed into 1″ cubes)

1

onion (peeled and cut into wedges)
juice from

2

lemons

1

TBS paprika

1 tsp

cumin

2

TBS minced garlic

1/4 cup

red wine

2

TBS chopped fresh oregano

1

TBS olive oil

1 tsp

salt

1/2 tsp

black pepper
for the Tzatziki Sauce
1 cup

greek yogurt

1

english cucumber (seeded and coarsely chopped)

1 tsp

minced garlic

1/2

TBS olive oil

1

TBS chopped fresh dill

1/2 tsp

salt
black pepper (to taste)
---
Instructions
for the Souvlaki
Trim tenderloins of any extra fat and silver skin. Cut into 1″ to 1″ cubes. Add Salt and pepper to tenderloin cubes, then let sit for 5 minutes. Place in a bowl or resealable plastic bag.
Add remaining souvlaki ingredients to bowl and mix until all cubes are coated. Cover and refrigerate for a minimum of 2 hours.
If using wood skewers, soak for 30 minutes. Light grill, and bring up to a medium hot temperature. Skewer meat and vegetables. Place on grill and cook for 8-10 minutes, rotating every 2 minutes.
Remove from grill and let rest for 5 minutes while you grill pita bread. Remove and serve with Tzatziki Sauce.
Tzatziki Sauce
Add all Tzatziki sauce ingredients to a blender and puree. Remove from blender and refrigerate. This is best if it has an hour or two before use to allow the flavors to meld.
Prep Time:

10 minutes

Cook Time:

10 minutes