These beautiful Grilled Pickled Red Onions are the perfect accompaniment to any burger or sandwich.  I just love the color and texture they bring to the party!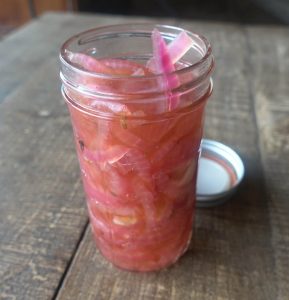 Grilled Pickled Red Onions are easy to make, but I love to take the flavor up a notch (as well as keeping the vinegar smell out of the house) by cooking these on a grill.  You won't grill them long enough to overcook them, but it will add just a little bit of char flavor that goes so well with these.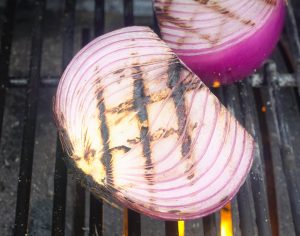 In addition to being great on burgers, I love to sprinkle them on many other dishes.  Queso dip, enchiladas, tacos or even over chicken breasts.  They're very addictive!  If you like them spicy, just add a serrano or jalapeño into the mix, or increase the cayenne.
Enjoy!
Print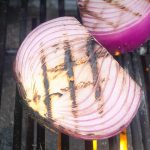 Grilled Pickled Red Onions
---
1

medium red onions

1 tsp

olive oil

1.5 cups

Apple Cider Vinegar

2

cloves garlic (lightly crushed)

1 tsp

black pepper

1/4 tsp

cayenne pepper (or to taste)

1/2 tsp

cumin seeds (lightly crushed)

1 tsp

kosher salt

1/4 cup

Sugar
---
Instructions
Cut onions in half lengthwise, leaving root intact. Remove peel. Lightly coat with olive oil and place on hot grill. Also to cook for 2-3 minutes until grill marked. Remove from grill and allow to cool.
In a medium saucepan over a hot zone on the grill (or use the stove top) add vinegar, garlic, black pepper, cayenne, sugar, salt and cumin. Bring to a boil and reduce to a simmer while whisking to ensure sugar is dissolved.
Slice red onion into very thin slices (julienne.) Add onion slices to vinegar mix and allow to simmer for 10-15 minutes, or until onions are tender. Remove from heat.
Using tongs, place onions in jars, then pour liquid over them. Store in fridge for up to 2 weeks.