This easy recipe for my White Buffalo Sauce is a zesty accent sauce you'll love.  A "kissing cousin" of White BBQ Sauce, it features my Buffalo Flavor Dust along with several ingredients you'll already have in the pantry.  It has a bit of a vinegar accent, so it pairs much better with food than on its' own.
Ingredients for White Buffalo Sauce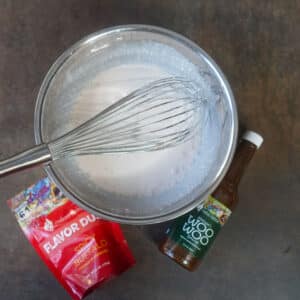 Aside from the aforementioned Flavor Dust (you really need to try all five,) you'll need some everyday ingredients.  Mayo, red wine vinegar (or apple cider vinegar works,) S&P, sugar, and Worcestershire sauce.  For my recipe, I use my Woo Woo Sauce.  It's just so good.  If you don't have any, use double the amount of regular Worcestershire that's called for in the recipe ( Woo Woo is thicker and richer than Worcestershire.) Optionally, I use some fresh lemon juice and lemon zest in the White Buffalo Sauce.  I really like the citrus bouquet that lemon gives you.  If you don't have a fresh lemon lying around, just skip it and remember to get one for next time.
As far as mayo goes, I used Blue Plate.  Use your favorite mayo, as long as it's a good thick brand.  The vinegar already makes this a fairly thin sauce, so a thin mayo won't stand up.
Making, Serving, and Storing White Buffalo Sauce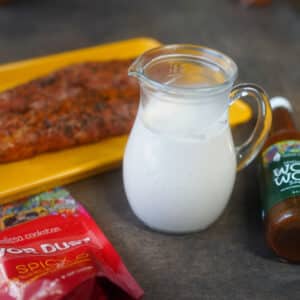 As far as recipes go, this is about as easy as it gets.  This is a simple "add and whisk" recipe.  I advise adding the vinegar in last, a bit at a time, and stopping when you like the flavor.  But, the White Buffalo Sauce will always taste better with meat than by itself.  The vinegar in the recipe is super at cutting the richness of smoked or fried meats, so keep that in mind while you're making this.
This sauce complements almost any rich meat, and it's super versatile.  Perfect for smoked chicken, it's also a nice change for pulled pork or spare ribs.  Use it freely with Smoked Prime Rib (or add some horseradish to it) for a really perfect bite.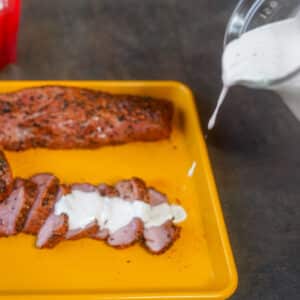 As always, I hope you enjoy.  Now get out there and cook!
Print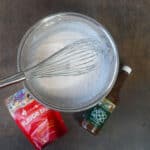 White Buffalo Sauce
---
Description
This "kissing cousin" to White BBQ Sauce features my  Buffalo Flavor Dust.  It's absolutely perfect for wings and smoked chicken.  But try it on pulled pork, smoked beef, or even Prime Rib- it really shines when it's paired with big, flavorful meats!
---
1.25 cups full-bodied mayo- ( I used Blue Plate)
3/4 cup red-wine vinegar (or apple cider vinegar)
3 TBS Melissa's Flavor Dust Buffalo Hot
2 TBS Coarse ground black pepper
2 tsp Woo Woo Sauce
2 tsp kosher salt
2 tsp sugar
juice from 1/2 lemon
zest from 1/2 lemon
---
Instructions
Add all ingredients to a large mixing bowl.  Whisk until thoroughly incorporated.