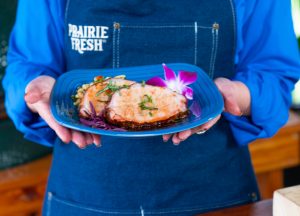 When you're looking for a special (but still easy) meal, this is a show stopper.  My Smoked Pork Loin with Raspberry Balsamic Glaze really makes a special dinner, and is quite easy to boot.  Of course, I used a Prairie Fresh pork loin, and it came out fantastic.  I especially enjoyed the raspberry balsamic glaze as it really brought a lot of flavor to the party- fresh, rich and just a wee bit spicy.  Really fantastic!
I'm giving you a recipe for this pork loin, but you can easily use your favorite seasoning blend or BBQ rub.  This recipe is something you'll probably want to make though, as it goes great with grilled fish, chicken or pork.  Don't be bashful with it, pack it on for some great flavor!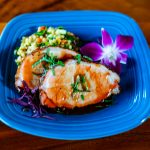 Smoked Pork Loin with Raspberry Balsamic Glaze
---
Total Time:

1 hour 15 minutes

Yield:

4

people

1

x
For the Pork Loin
1/2

Prairie Fresh Pork Loin

1

TBS ground coriander

1

TBS dried basil

1

TBS dried oregano

1

TBS paprika

1

TBS kosher salt

1/2

TBS coarse ground black pepper

1/2

TBS granulated garlic

1/2

TBS onion powder

1

TBS Fresh chopped basil
Raspberry Balsamic Glaze
1/2 cup

apple juice

4

TBS red pepper jelly

1/2 pint

raspberries

1

TBS honey

1/2

TBS balsamic vinegar

1/2 tsp

salt and pepper, or to taste

1

TBS corn starch

1

TBS Water
---
Instructions
In a small bowl, add all the spices except fresh basil. Mix thoroughly. Heavily rub pork loin and place on smoker at 275 degrees. Insert a meat thermometer into thickest part of the loin.
While the pork loin is smoking, make the raspberry balsamic glaze. In a small pot over medium high heat, add apple juice, red pepper jelly, honey, balsamic and raspberries. Bring to a boil, "mashing" raspberries as they cook. Allow to simmer for 10 minutes. Pour through a fine mesh strainer to remove seeds, then return sauce to pot. Whisk together corn starch and water, and whisk into sauce. Bring to a boil, then reduce to a simmer for another 3 or 4 minutes or until desired thickness is reached.
Pull the pork loin from smoker as it reaches 140 degrees for medium (if you prefer more done pork, allow to cook to 145.) Glaze loin with the raspberry balsamic glaze. Allow to rest for 5 minutes lightly tented in foil, then slice into chops, plate, drizzle some extra glaze over chops, and garnish with fresh basil.
Prep Time:

15 minutes

Cook Time:

1 hour

Category:

Main Dish

Cuisine:

BBQ