Smashed potatoes has  become one of my favorite ways to cook potatoes lately!  They still retain some of the "creaminess" from a properly cooked potato, but you can also get some wonderfully crispy texture as well.
What kind of potatoes?
For making smashed new potatoes, I usually use "new" potatoes.  They don't have to be tiny, but you certainly don't want a baking size potato either.  I love buying and cooking purple potatoes, as I love the color and hue they bring to a plate.  However, I've cooked this recipe many times with small Yukon Gold, red, or even small russet potatoes as well, and they all turn out fantastic.
Why "Smash" them?
Well, smashing is probably a bit of overkill, but it sounds a lot more fun than "slightly squish the potatoes."  This recipe is basically a two step process.   Boiled potatoes are kind of bland and boring.  The smash gives you an opportunity to add some flavor as well as add some unique texture by roasting in the oven for a few minutes or cooking on a skillet or flat top grill.  The skin will crisp and you'll get some added flavor from the caramelization as well.
Ok, so how do I cook these wonderful potatoes?
No matter how you want to finish the potatoes, the first step is the same.  Wash the potatoes, then boil until they are cooked all the way through- tender, but not falling apart.  One important thing I started doing that improves the flavor is to salt the water, just as you would for cooking pasta.  You don't need to peel or slice or anything to them, so that makes prep a breeze.  At this point, you have a couple of options.  You can either roast in the oven, or cook on a flat top grill.  I prefer cooking on the grill, as I think they pick up a hint of grill flavor that way.  However, you can't go wrong either way.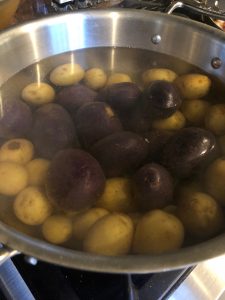 Another great thing about this method is you can prep this part slightly ahead.  If I'm using a grill, I will boil them and drain the water, then set aside in the kitchen until I'm within 10 minutes or so of being done with the main meal.  This takes a lot of the guesswork out of getting your dinner ready at the same time.
For the oven, preheat it to 450 degrees on "roast."  After draining the potatoes, place on a sheet pan (I usually line with parchment paper) and "slightly squish."  Drizzle with olive oil, and season. My go to seasoning for this dish is my Grillin' Shake.  I always keep a batch on hand as it's such a good season all.  If you don't have that, simply season with a sprinkle of salt, pepper, and garlic.  Roast for 15-20 minutes and then serve.  So easy!
Put them on the grill!
I'm lucky to have an Arteflame grill, which is basically a huge flat top grill surrounding a fire pit.  Very cool.  It is also my favorite way to finish these potatoes off, but it is certainly not necessary.  Any griddle pan that you can set on a grill will work.  When using this method, I toss the potatoes in olive oil, season, and then place on a medium high temperature area of the grill and press them down.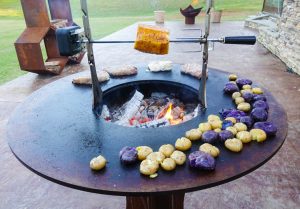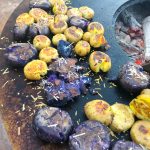 SMASHED New Potatoes
---
Total Time:

35 minutes

Yield:

4

people

1

x
1

lb new potatoes

1 tsp

kosher salt

1 tsp

Grillin' Shake (or salt, pepper and garlic to taste)

1

tsp chopped fresh thyme

1

TBS olive oil (or enough to lightly coat)

1

TBS shredded parmesan
---
Instructions
Add enough water to a large pot to cover potatoes. Salt water using 1 tsp salt. Bring to a boil, then carefully add potatoes. Cook for 15-20 minutes, or until cooked through.
Drain potatoes. For the oven, preheat to 450 degrees. Place on a lined baking sheet. Using a fork (or your gloved hand) press down on potatoes to "smash." Drizzle with olive oil, seasoning and herbs, then roast for 15 minutes or until smashed areas of potatoes are beginning to crisp up. In last 5 minutes of cooking, sprinkle with parmesan. Remove and serve.
For the grill: Place drained potatoes in a bowl. Toss with olive oil, seasoning and herbs (if desired.) Place on a griddle and lightly smash. Cook for 5-7 minutes per side until browning and crisping. In the last 5 minutes of cooking, sprinkle parmesan over potatoes. Remove and serve.
Prep Time:

10 minutes

Cook Time:

25 minutes