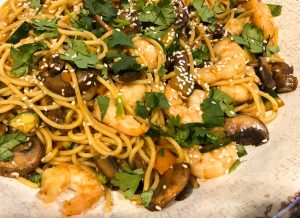 Want a quick, flavorful dinner?  How about something that tastes just as great as a cold noodle salad as it does freshly cooked?  This Sesame Ginger Noodles with Shrimp recipe fits the bill!  Now, everyone knows I'm a grill girl, but sometimes, the weather or my schedule just doesn't cooperate!  This quick recipe fits the bill for a quick dinner, or works if you want to think ahead for a delicious lunch.
Quick Prep
The recipe for this dish calls for a few ingredients, but prep time does not take very long at all.  Grating some fresh ginger will take the longest, as you'll need to peel it first.  In a pinch, I've used pre-grated ginger (don't tell anyone!)  The flavor isn't quite as good, but it will save a few minutes of knuckle grating!
I try to keep a well-stocked pantry, so I usually have plenty of ingredients that aren't necessarily in everyone's.  The only ingredient for this that you might not have is the oyster sauce.  I think its integral to the dish though, and it works in quite a few Asian-flavored dishes as well, so it won't go to waste.  While I love the flavors or sesame and ginger, the oyster sauce is really what brings out more flavor in the dish.
Hot or Cold?
The beauty of this dish is that it is great served either hot or cold.  After you've assembled the ingredients, the cook time is only about 20 minutes, so you can get dinner on the table in a hurry. I love to make it ahead of time though and refrigerate it, and serve it as a cold noodle salad for lunch.  The dish is also easily customizable- if you want it a little spicier, just add some more sriracha sauce or a few extra red pepper flakes.  Y'all enjoy!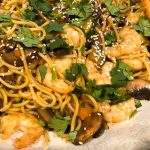 Sesame Ginger Noodles with Shrimp
---
1

lb shrimp (peeled and deveined)

8

oz dry spaghetti

3.5

TBS sesame oil (divided)

8

oz sliced mushrooms

1/2

red bell pepper (diced)

1

zucchini (cut into quarter moons)

1/3 cup

soy sauce

1

TBS minced garlic

1 tsp

sriracha

1

TBS oyster sauce

1

TBS fresh grated ginger

2

TBS diced green onions

1 tsp

white sesame seeds

2

TBS chopped cilantro (for garnish )
---
Instructions
Cook the pasta in salted water, about 8-9 minutes for al dente. Drain, cool, toss with 1/2 TBS sesame oil and set aside.
In a small mixing bowl, add sriracha, soy sauce, minced garlic, ginger, red pepper flakes, oyster sauce and 1 TBS of the sesame oil. Whisk and set aside.
Heat a skillet to medium high with 1 TBS sesame oil. Add shrimp, and 1 TBS of the sauce and cook for 4-5 minutes or until shrimp are pink and cooked. Remove from pan and set aside.
Add remaining sesame oil to skillet, then add zucchini. Cook for 2 minutes, then add mushrooms and red bell pepper. Continue to cook for 3-4 minutes or until peppers are slightly softened and mushrooms are cooked. Add cooked spaghetti, green onions and remaining sauce.
continue to cook for 2-3 minutes, or until noodles are hot. Place shrimp back in and toss until warm. Pour into serving bowl, sprinkle with sesame seeds and cilantro. Serve.