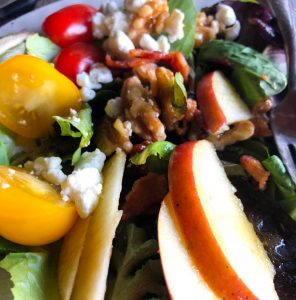 When I make a salad, I want it to be fresh, flavorful and delicious!  This super-easy bacon sherry vinaigrette dressing recipe will add some savoriness and extra flavor to any salad.  Not only is it easy to make, but it's very versatile as well.
Bacon Dressings
Traditionally a "Hot Bacon Dressing" is served with a classic spinach salad, usually containing sliced mushrooms, an egg, and occasionally tomatoes.  The hot bacon dressing will give a slight "wilt" to the spinach.  They are generally full of chopped bacon, and have an almost creamy texture.  This dressing is more of a light vinaigrette with a nice savoriness to it.   I generally make it an hour or so before my meal, and just let it sit out, so it's generally room temp.  If you prefer to serve it warm, you can easily pop it in the microwave for a few seconds.  With the olive oil and the bacon, it doesn't do well refrigerated.
Why make your own dressings?
I have made my own salad dressings for years.  In my cookbooks and blog, I've published quite a few salad dressing recipes, including the classics such as ranch or 1000 Island, as well as many vinaigrette dressings.  Vinaigrettes are so simple that I much prefer to make them myself.  I know what ingredients are put in them, and I can make the flavor exactly as I want!  This bacon sherry vinaigrette will take longer than most, simply because of cooking the bacon.  However, I can usually whip up a vinaigrette almost as fast as you can open the fridge to get a commercially made one out!
Some recipes recommend putting the bacon back into the dressing after cooking, but I prefer my bacon to retain a crispness.  After cooking the bacon, I just crumble it up and set aside, then top the salad right before I add the dressing.  If you want to add it back to the dressing first, go ahead- it's your salad!
Making a Delicious Salad
Generally, I'm a simple eater.  I just like things to taste good!  For this salad, I put a few of my favorite things on and simply drizzled the dressing over.  I love fresh apples on a salad, so I sliced a Fuji apple thinly, added some walnuts, crumbled chèvre, mini heirloom tomatoes and some mixed greens.  Pears, figs, or even peaches are great additions to salads as well.  Just make it fresh, delicious and satisfying!
Anyway, on to the recipe!  Y'all enjoy!
Print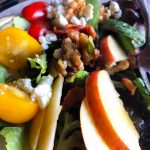 Bacon Sherry Vinaigrette Dressing
---
Total Time:

20 minutes

Yield:

4

salads

1

x
4

–

5

slices bacon

1 tsp

minced garlic

1/3 cup

sherry vinegar

1.5

tsp dijon mustard

1

tsp honey (or to taste)

1/4 tsp

kosher salt (or to taste)

1/8 tsp

black pepper (or to taste)

1/3 cup

olive oil
---
Instructions
Cook the bacon until crisp. Remove and set aside. Discard all but 2 tsp bacon drippings. Cook minced garlic until golden. Remove garlic and bacon drippings and place in mixing bowl.
Add honey, mustard, salt and pepper to mixing bowl and whisk to incorporate. SLOWLY drizzle in olive oil while whisking to form an emulsion. Adjust flavor if necessary.
Crumble bacon. If desired, add back to dressing, or just top salad and drizzle vinaigrette over (preferred if you like crispy bacon.) Enjoy!
Prep Time:

5 minutes

Cook Time:

15 minutes