Watch the video on making these great Pub Burgers (and please like and subscribe to my channel!)  The full recipe is down below-
Everyone I know loves a good grilled burger, and this recipe for Pub Burgers with Beer Seared Onions is a winner! For this recipe, I used Aussie Beef, and it really was delicious.  The beef is so rich you don't need a lot of seasoning (but I've never let that stop me before!)  The onions are super easy and have such a great flavor, you'll want to make these for other recipes as well (they go great with lamb and steak!)  It's easy to make them on the grill in a cast iron skillet, so you won't have to mess up the kitchen (and keep the heat down in the summer!)  The main seasoning I used for this is my Grillin' Shake.  Click the link to get that recipe.  I always make a double batch and keep it in a resealable jar as it's a great season-all!

Banner Butter
For cooking the onions, I used Banner Butter Roasted Garlic, Basil and Parsley Butter.  Banner butter is a small butter maker in Georgia, and they make absolutely terrific butter.  They sent me some butter to try for a few recipes, and I've fallen in love with them.  Do yourself a favor and order some of their Cinnamon, Cardamon and Ginger Butter.  I'm sure there are lots of recipes that I could use it in but I literally haven't gotten past just spreading it on some bread.  It's utterly fantastic.
Setting up your grill.
This is not a recipe that calls for a true "two zone fire."  I simply put most of the coals on one side of my grill, but I wanted the whole grill warm with a good hot zone. I have a cast iron skillet with a non-stick surface that I use a lot when cooking on the grill.  Any cast iron will work, but this makes clean up a snap, so I use it pretty often on the grill.  (When using non-stick surfaces, make sure to use silicone tongs or spatulas so as not to damage the surface.)  I preheat the skillet over the hot side a few minutes before starting cooking.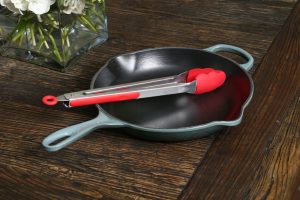 Simple Steps for a great Pub Burger!
Making these are simple.  Mix your burger meat with the seasonings and beer.  While the grill is at its' hottest, I cook my onions.  Then, move to a cool spot and cook your burgers.  Then, toast your buns while the cheese is melting on your burgers.  (Oh, and get some good, delicious buns for these.  I found some wonderfully fresh pretzel buns that were fantastic.  These Pub Burgers deserve good buns!)  See, simple and delicious.  Y'all enjoy!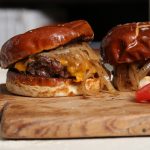 Pub Burgers with Beer Seared Onions Video
---
Total Time:

30 minutes

Yield:

4

burgers

1

x
For the onions
2

medium onions (sliced thinly)

2

TBS Banner butter (Or your favorite butter)

1 tsp

Sugar

1 tsp

salt

1/2 tsp

black pepper

1.5 cups

Stout Beer
For the Burgers
1.5

lbs Aussie Ground Beef

4

slices cheddar cheese

1 tsp

hot sauce

1 tsp

minced garlic

1 tsp

worcestershire sauce

1/2 cup

Stout Beer

2 tsp

Grillin' Shake ((or your favorite burger seasoning))
---
Instructions
In a mixing bowl, add the ground beef, hot sauce, garlic, worcestershire sauce and beer. Hand mix until incorporated. Form into 4 patties. Sprinkle the Grillin' Shake on outside of patties.
Thinly slice onions. Melt butter in skillet on grill, then add onions. Add in salt, sugar and pepper. Sear onions until translucent. Form in a mound then pour in beer. Cook until beer is steamed out and onions are soft. Move skillet to the side.
Place burgers on the grill. Allow to cook for 3-4 minutes, then flip and continue to cook for 3 minutes (for medium burgers.) Place cheese over burgers. While cheese is melting, toast buns. Place burger on toasted bottom bun, top with onions and serve with your favorite condiments. Enjoy!
Prep Time:

10 minutes

Cook Time:

20 minutes