Do you Couscous?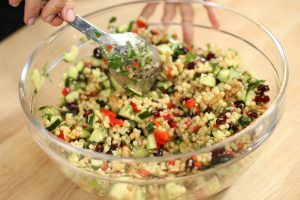 Couscous is one of my favorite pastas, and I love the way it takes up flavor!  This Mediterranean Couscous salad is packed full of flavor and delicious morsels of flavor, so I make it quite often.  For this recipe, I add in cranberries, cucumbers, walnuts, peppers and cilantro, but the beauty is it is infinitely customizable.  Ok, so not 100% Mediterranean.   But it's delicious!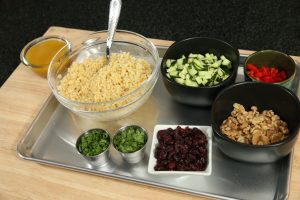 This salad can be served either cold or "just made" warm.  I actually prefer it made ahead of time and refrigerated, which allows the flavors to meld.  I'm always trying to make dinner a bit easier to accomplish, so getting a component done ahead of time is always appreciated.
Types of Couscous
I usually prefer the larger Israeli or Pearl type couscous.  For me, it just seems to have a nicer texture.  However, to each their own, so feel free to use whichever type you would like!
The Dressing
I'm a big believer in making your own dressings, especially vinaigrettes.  This one is so easy, that you'll learn that there's no reason to buy the store-bought ones again!  However, if you're in a rush, just substitute in an Italian dressing and you'll be good to go.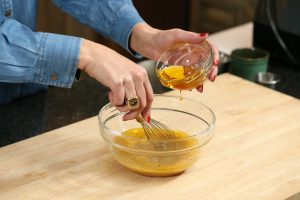 Anyway, here's the recipe!  Enjoy!
Print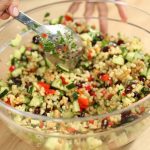 Mediterranean Couscous Salad
---
For the Dressing
1/4

cup olive oil (extra virgin)

1 tsp

dijon mustard

2

tbs champagne vinegar

1/2 tsp

minced garlic

1

TBS honey

1/2 tsp

salt (or to taste)

1/4 tsp

black pepper (or to taste)

1 tsp

fresh basil (optional)
For the Salad
1.5

cups Israeli Couscous

1.5 cups

low sodium chicken stock

2

TBS onion, diced

1

TBS minced garlic

1/2

TBS butter ((Banner Butter Roasted Garlic))

1.5 cups

chopped cucumber (seedless preferred)

1 cup

toasted walnut pieces

1/2 cup

chopped cilantro

1/2

red bell pepper (diced)

1 cup

dried cranberries

2

TBS chopped green onions
---
Instructions
Whisk all vinaigrette ingredients together EXCEPT olive oil. While whisking briskly, slowly drizzle in olive oil. Set aside
In a small stockpot over medium heat, melt butter then sautée onions and garlic until fragrant. Add in couscous and cook until couscous starts to brown, about a minute.
Add in chicken stock, then cover and reduce heat slightly. Cook for 10 minutes or until liquid is absorbed. Test couscous to ensure properly cooked. Fluff with a fork and allow to cool.
Drizzle in vinaigrette, then toss in cucumber, walnuts, cranberries, red bell peppers and cilantro. May be served immediately or refrigerated for later service.