I've had tons of requests to post some BBQ Sauce recipes on my site.  I've always been a believer in making your own sauces and seasoning blends as it allows you to customize your flavors.  While I have included several sauce recipes in my cookbooks (hint, hint,) I've never had one on my website.  Well, the time to change that is now!  Here's my recipe for Memphis Style BBQ Sauce.  I've used versions of this sauce for years, and I just love it.
But Texans don't use sauce!
Yes, I know, many of the BBQ purists don't believe in BBQ sauce.  "I want to taste the meat" or "you're covering something up when you have to use sauce" are their usual lines.  I'm definitely a "whatever floats your boat" type of person, and if you don't want to use sauce, don't.  Pretty simple concept.  I'm not going to act like you don't realize the magic that happens when you marry the sauce to the meat.  Nor am I going to try to explain that good BBQ sauce is simply another layer in the cooking process, one that brings that final bit of heaven to your plate.  No, if you are a non-believer in BBQ sauce, then that's your right.  I'm ok with it, especially since I have to wipe all this sauce off my chin.  But I digress…
Sauce should complement the Meat
Aficionados of Memphis style BBQ revere sauce more than devotees from other regions.  Some may say it's because our sauce is simply better.  However, there's more going on than just that.  We believe that the sauce MUST compliment the meat.  In fact, one of the tenants of Memphis Style BBQ Contests such as Memphis in May is judging on how well this is accomplished.  Now, it's not a requirement that people in Memphis use sauce with their BBQ (i.e. "Dry Ribs") but if you serve sauce it definitely needs to go together.
One of the ways I've always accomplished this is using the BBQ rub that I use for seasoning my meat as a main flavoring agent in my sauce.  My Sweet Memphis BBQ Rub recipe has always been one of the most popular on my website, and if you want to make this sauce you'll need to make that recipe as well.  They go together like, well like pulled pork and BBQ sauce!
Another way to help marry these flavors is to "glaze the meat."  Certainly, you know by now not to put sauce on too early when you are cooking.  The high sugar content will burn on the grill and result in an unpleasant flavor.  Use BBQ sauce in the last 5 to 10 minutes of cooking and allow it to "set" on the meat.  Instant Flavor!
Well, enough about theory, let's make some Memphis Style BBQ Sauce!
Print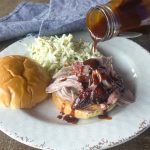 Memphis Style BBQ Sauce
---
---
2

TBS canola oil

3/4 cups

finely diced yellow onion

2

TBS minced garlic

1.5 cups

ketchup

1/2 cup

honey

2

TBS tomato paste

6

TBS brown sugar

1/4 cup

worcestershire sauce

2 tsp

dry mustard

1 tsp

cayenne

1/4 cup

white vinegar

1 tsp

black pepper

1/2 cup

Water

1/2 cup

Sweet Memphis BBQ Rub ((follow link above))
---
Instructions
In a medium saucepan over medium heat- add canola oil and onion. Sautee until translucent, about 4 minutes. Add garlic and cook 2 minutes.
Add ketchup, honey, tomato paste, vinegar, brown sugar, worcestershire, dry mustard, cayenne and black pepper. Whisk. bring to a simmer. Add water and whisk.
Add about 3 TBS of the rub, stir well and taste. Sauce should have a good, well-rounded flavor. Add more rub in 1 TBS increments if desired. Cool and store in an airtight container in the fridge for up to 10 days.