These delicious Smoked Pork Meatballs make a great appetizer or snack!  I recently cooked these up on my Pit Boss K22 Ceramic Grill.  I like them just a bit spicy, so I used a bit of hot sauce in the recipe and a spicy BBQ sauce to glaze them.  However, feel free to adjust them as you like.  In this recipe I also call for "BBQ Seasoning" and "BBQ Sauce."  Feel free to use your favorite types.   You can also use my recipe for Sweet Memphis BBQ Rub.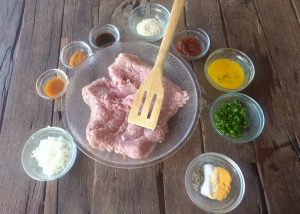 Smoke adds that "little bit extra"
This recipe works well in the oven.  However, when you add a component of smoke, it just adds that extra flavor that makes these so great.  They cook fast, so you don't have to "man the smoker" all day to get really great flavor.  I used a small chunk of pecan wood and a small chunk of apple wood to get the smoke flavor I wanted in these.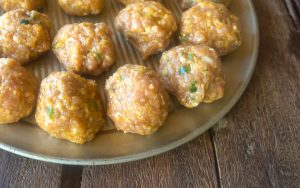 Ceramic cookers and deflection plates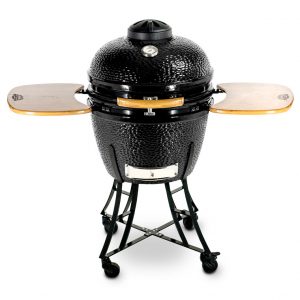 I've used ceramic cookers for years.  As I said, for this recipe I used the Pit Boss K-22.  (My Pit Boss pellet grill would have worked just fine as well- but I had it full!)  Remember, you're not cold smoking these over hours and hours.  You just want that hint of smoke flavor.  For these, I used the deflection plate in the grill.  In a ceramic cooker, you have the option to cook directly over the coals (great for grilling a steak) or insert a deflection plate.  This plate is a thick ceramic plate that shields the items on your grate from directly being over the coals.  If you are cooking something like ribs, brisket or baking a cake, you definitely want to use your deflection plate.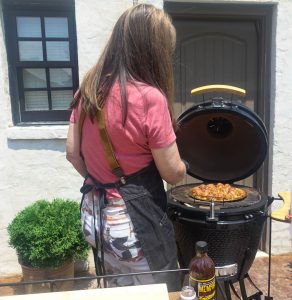 Anyway, hope you enjoy!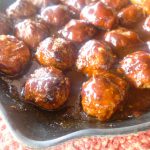 Smoked Pork Meatballs
---
Total Time:

1 hour 20 minutes

Yield:

20

meatballs

1

x
2

lbs ground pork

2

TBS hot sauce (adjust for taste)

1

TBS BBQ Seasoning

2

TBS worcestershire sauce

2

TBS ketchup

1/3 cup

finely diced yellow onion

1/4 cup

finely diced poblano pepper

2

TBS panic bread crumbs

1/2 tsp

kosher salt

1/2 tsp

black pepper

1/2 tsp

seasoned salt

1

egg, lightly beaten

1 cup

BBQ Sauce
---
Instructions
In a large mixing bowl, add all ingredients except BBQ Sauce. Mix thoroughly, then roll into 1.5-2 oz balls (depending on your preference.) Spray a round cookie sheet with non stick spray, then place balls on sheet. Refrigerate for 30 minutes.
Start smoker and heat to 250 degrees. Add cookie sheet to grill and cook for approximately 50 minutes to 1 hour. Check internal temperature of meatballs to ensure they have reached 165 degrees.
Remove meatballs from cookie sheet and place in a pan with at least a 1″ lip. Add sauce and gently roll meatballs to coat. Return to smoker for 10 minutes to allow BBQ sauce to "set." Enjoy!
Prep Time:

20 minutes

Cook Time:

1 hour