Looking for a super tasty, light flavored dinner?  This Mediterranean Mixed Grill with Couscous Salad Video will show you how to cook this great dish!  Please watch, and I would certainly appreciate if you would subscribe to my channel!  The full recipe follows below the video-
Complicated but Simple
At first blush, this recipe has quite a few steps.  First, you'll need to make the seasoning.  Then, the couscous salad and vinaigrette dressing for it.  Finally, you'll need to make the tomato-kalamata relish while your cooking the fish.  However, this recipe is designed to actually be a quick cooking fast meal!  As with all of my seasoning blends, I usually make a double batch ahead of time and store in an airtight container.
As for the dressing for the couscous, if you're in a pinch for time, simply use an Italian dressing.  I much prefer to make my own vinaigrettes, and really they don't take much time at all.  The couscous salad can even be made ahead of time- I actually prefer it this way.  So, a wee bit of planning and you can have dinner in a snap!  Speaking of couscous….
Couscous anyone?
Have you tried couscous?  It's one of my favorite pastas- I just love the texture and the way it picks up flavors.  Click on this link for the full recipe for Couscous Salad.   I do prefer Israeli Couscous.  It's a larger form, and I like the texture much better than the much smaller regular couscous.
This salad is absolutely fantastic served either just cooked or refrigerated.  Feel free to make this ahead of time to help save on the dinner prep time.   I make a quick vinaigrette for this (if you don't make your own vinaigrettes, you're missing out!) but if you don't have time substitute a good italian dressing.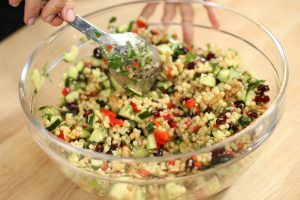 Mixed Grill
Generally, a "Mixed Grill" describes multiple items cooked for the same meal.  I love to do this as my dinner companions get to "mix and match" and find their favorite items!  For the fish I used some tuna steaks and Halibut from Greensbury Farms.  Greensbury does a great job with all of their products, and make sure their suppliers uphold their high standards.  Both the tuna and the halibut were no exceptions!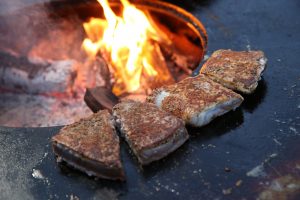 The Relish
One of my fave parts of this dish is the sauce.  It's a super easy, tomato-kalamata reduction that just sings when paired with the fish.  I also love to cook this and add to a nice chicken breast or even pork chop, so if you're not a fish person, don't let that hold you back!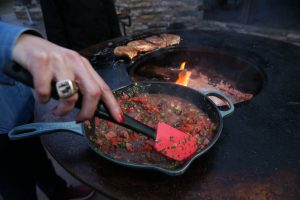 Anyway, on to the recipe!  Enjoy!
Print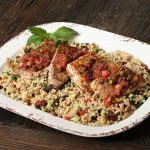 Mediterranean Mixed Grill with Couscous Salad Video
---
Mediterranean Fish Seasoning
1

TBS ground coriander

1

TBS dried basil

1

TBS dried oregeno

1

TBS paprika

1

TBS kosher salt

1/2

TBS course ground black pepper

1/2

TBS granulated garlic

1/2

TBS onion powder
Tomato Kalamata Sauce
4

roma tomatoes (diced)

2

TBS butter

4

green onions (chopped)

3

TBS fresh italian parsley (finely chopped)

1

TBS capers

1/2 tsp

fresh dill (diced)
juice from

1/2

lemon

1/4 cup

kalamata olives (chopped)

1/4 tsp

salt (or to taste)

1/8 tsp

pepper (or to taste)
For the fish
4

fish filets (tuna, halibut, or similar 1″ fish steaks)
---
Instructions
Make the couscous salad (link to recipe above)
In a small mixing bowl, add all spice ingredients. Stir and set aside. Store extra in a airtight container up to three months.
Season fish filets heavily. Butter a flat top grill or a skillet over medium high heat. Add filets. and sear for 3-4 minutes, then flip and continue to cook for 3-4 minutes or until desired doneness.
while fish is cooking, put roma tomatoes in skillet over medium high to high heat and sear. As they begin to release liquids, add in green onions, Italian parsley, lemon juice, dill, capers and salt and pepper. Cook for 4-5 minutes or until melded.
Prep Time:

10 minutes

Cook Time:

15 minutes