Everyone I know loves a "Surf and Turf" for dinner, but usually reserve them only for special occasions.   If you cook this surf and turf with chipotle glaze, you'll start to realize you can make any day a special occasion!  First Tuesday of the month= special occasion.  Third Saturday?  Special occasion.  "I made it through another Monday"- again, special occasion.  I think you get the gist!
What do I surf with my turf?
Obviously, "surf and turf" can be taken to mean any combination of seafood and chops or steaks.  Lobster is frequently served with filets for the classic rendition.  However, while I stuck to filets for my "turf" in this dish, I used some shrimp and scallop skewers for the "surf."  The filets were from Aussie Beef  and the shrimp and scallops from Greensbury. Both companies take great pride in their products- sourcing them properly and ensuring everything meets their very exacting standards.
Grill Simply and Glaze Generously!
For an impressive meal, cooking a surf and turf is about as easy as it gets.  I certainly don't get fancy with the cooking techniques, because when you have great products, let them shine through!  I seasoned the filets with my go-t0 season-all, my Grillin' Shake recipe.  I lightly seasoned the shrimp and scallops with it as well, but definitely take care to not over season them.  The Chipotle Glaze recipe is perfect for adding that little bit of wow to the dish, and I'm sure you'll love it on many, many items.  It's a great glaze for any seafood, or a dipping sauce for chicken or pork.  It does take a bit of prep time to make, but it's not difficult.   Glaze generously, and you won't be disappointed!
Anyway, on the recipe.  Enjoy!
Print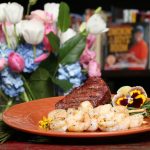 Surf and Turf with Chipotle Glaze
---
4

filets (6-7 oz each)

16

shrimp (peeled, deveined, tail on)

12

scallops (depending on size)

2 tsp

Grillin' Shake (see recipe from link)
For the Chipotle Glaze
2

TBS pureed chipotles in adobo sauce

1/2 cup

Apple Cider Vinegar

1/2 cup

Orange Juice

1/4 cup

soy sauce (low sodium if desired)

1.5 cups

white sugar
---
Instructions
In a tall stock pot over medium high heat, add orange juice and pureed chipotle. Bring to a boil until slightly reduced. Add cider vinegar, soy sauce and sugar and whisk to incorporate. Bring to a boil, then reduce to a simmer while whisking (you're pretty much going to need to whisk a lot for this or it will burn.) Continue to simmer until sauce will lightly coat the back of a spoon. Remove from heat and allow to cool.
Soak wood skewers in water for 15 minutes. Skewer seafood, then lightly season, and replace in fridge. Season filets and set out for 30 minutes before grilling. Preheat grill, with a hot zone and medium zones. Place steaks on grill and cook for 4-5 minutes, then flip over. Flip steaks and cook for additional 3-5 minutes or until you achieve desired level of doneness. Remove steaks from grill and cover with foil to rest.
Add shrimp and scallop skewers to grill, allowing them to cook for 2-3 minutes, then flip. Using a pastry brush, glaze seafood skewers with chipotle glaze. Cook for 2-3 more minutes or until done. Remove from grill and glaze again. Plate with steaks and serve!