This is recipe three of four in my "Salmon Series," and is definitely the easiest.  Check out my Miso Salmon recipe or my Sesame Seared Salmon recipe for the first two!  Smoked Salmon is among my favorite things to cook for one big reason- it tastes great warm or cold!   This smoked salmon recipe is super simple, and you'll be hankerin' to do it again soon!
Lucky Number 7 Seasoning
I've been preparing my own line of seasonings and sauces (coming very soon!) and for this recipe I used a heavy coat of my Lucky Number 7 Seasoning, which is perfect for fish, seafood, poultry or veggies.   As it's not available yet, I would recommend making a quick seasoning of the following:
1 TBS salt
1 TBS brown sugar
1 tsp dill
1 tsp dried oregeno
1 tsp lemon pepper
1 tsp course ground black pepper
1 tsp ancho chili powder
See?  Super simple to make your own, or just wait until my new line of seasonings come out (or use your favorite, I won't judge!)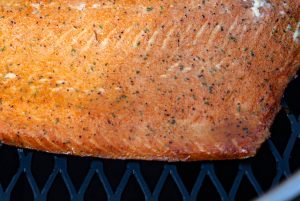 How do I smoke salmon?
Smoking salmon uses one of two methods:  cold smoking or hot smoking.  Cold smoking basically involves "piping" in the smoke to a smoking chamber to reduce the heat.  The salmon is basically smoke-cured, much like a ham.  This process takes a long time, and while it is a great means of preservation, ain't nobody got time for that.  I'm hot smoking salmon for dinner of for an appetizer!
Alright, what do I do?
Super simple as I said.  Set up a smoker and run to 275 degrees.  For this recipe I used a drum smoker with a diffuser over the coals.  Really doesn't matter what type of smoker you're using though.  Pick your favorite smoking wood- for fish I love woods such as apple or maple.  Alder wood is a traditional pick for salmon, but I'm not a traditional person and I don't live near any alder wood.  Load the smoker up with your favorite wood so you're getting a heavy but clean smoke (exhaust should have white smoke, not dark or grey smoke.)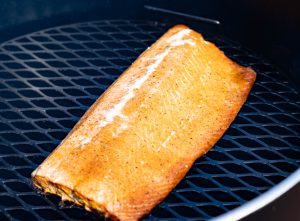 When I smoke salmon, I like to use a four to five pound piece of salmon.  A larger piece helps prevent the fish from drying out, and gives you plenty of leftovers for eating it cold.  If you don't want to cook a piece that big, no sweat, pick whatever size you want.  The timing may change, but not the process.
Season the salmon filet, and place on smoker.  Using a meat thermometer, smoke for 45 minutes or until the internal temp on the thickest part reaches 145 degrees.  Remove and serve.  Delicious!