Have you ever used Sichuan Peppercorns?  If not, I'm here to tell you they need to be on your list!  I love them, and this Sichuan Peppercorn Duck Breast with Plum Poblano Sauce recipe really shows them off!  Sichuan peppercorns (also spelled as Szechuan) aren't really a pepper, they're a dried fruit- a tangy, tingly fruit that resembles black peppercorns.  They leave a warm, tingly feeling on your tongue, and I have been using them quite often lately.
Recently, my friends at Greensbury Farms send me some of their wonderful Duck Breasts to try!  I've been playing around with this recipe, so I rolled it out while Lindsay O'Neill was down cooking with me!  I'm so glad we did this, as it's turned in to one of my favorite recipes!
Making the Seasoning Blend
The seasoning blend for the duck breasts was really quite simple, with the Sichuan pepper being the only exception.   My local grocery stores do not carry them, so I used Amazon to get them in.  Toasting them before using them is very important, as it will bring out the oils of the peppercorns.  Also, they have a wonderful aroma that will infuse the rest of your seasonings if you toast them!  To toast them, simple put in a dry pan on the stove over medium heat for a few minutes.  You'll know they're done when the entire kitchen smells wonderful.  I put the toasted peppercorns in a mortar with kosher salt and black pepper then lightly cracked the peppers.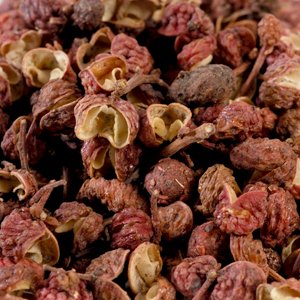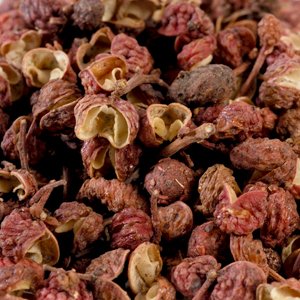 Cooking the Sichuan Peppercorn Duck Breasts
The key to cooking duck breasts is pretty simple- lightly score the skin to help render some of the fats, cook slow enough to help render, then sear to crisp up the skin.  Try to pull the duck breasts at 130 degrees (they'll carry to a beautiful rosy medium rare after resting for a few minutes!)  I cooked these on my Arteflame Grill which is absolutely perfect for cooking this recipe.  As you get farther away from the center, the Arteflame top is cooler.  So I placed these on outside edge, skin side down, and cooked for about 20 minutes.  This lets the fats render from the duck breast quite nicely.  I flipped them over to get some sear on the meat side, then placed near the center, skin side down, to crisp up the skin.  OMG!  Tender, luscious and perfectly cooked duck breasts!  If you don't have an Arteflame yet, you can create the same effect in a skillet.  Simply start cooking at medium low heat, then after rendering pull the duck breast out of the pan for a minute.  Heat the skillet to medium high and put them on again (skin side down) to crisp up the skin.  Easy Peasy!
Plum Poblano Sauce
I love vibrant sauces, and I must say this one has a rich hue, both in color and flavor, that I love.  A note about plums- they're not all created equal!  I used a red fleshed plum for the color (and I also like the flavor better.)  I did peel them as cooking with the peels tends to add too much bitterness.  The recipe is quite simple though, and can be done in advance and simply heated up.
Anyway, here's the recipe.  Please go to my Youtube channel to see the full video, or check out Mamaoneill.com  Y'all enjoy!
Print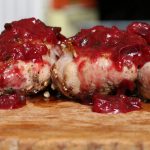 Sichuan Peppercorn Duck Breasts with Plum Poblano Sauce
---
Total Time:

40 minutes

Yield:

4

people

1

x
For the Duck Breasts
4

Duck Breasts

2

TBS Sichuan Peppercorns (toasted)

1/2 tsp

black pepper

1 tsp

kosher salt
Plum Poblano Sauce
1.5

TBS sesame oil

1/4

cup red onion (chopped)

1

clove garlic (minced)

1/2

poblano pepper (seeded, roasted and diced)

1/2

TBS fresh ginger (minced)

2

TBS soy sauce

1/2 tsp

red pepper flakes

1.5

TBS honey

6

plums (peeled, pitted and quartered)
---
Instructions
Cooking the duck Breasts
Toast peppercorns and add with Kosher salt and black pepper to a mortar and pestle. Lightly crack peppercorns.
Lightly score skin of duck breasts in a criss cross manner. Try not to cut through the fat to the meat. Generously season both sides of duck breasts. Allow to sit out for 20 minutes before cooking.
Place on a griddle or skillet over medium low heat and allow to cook for 20 minutes, or until fat from skin is rendering out. Flip duck breasts over and cook until meat is browned, about 3-4 minutes. Check internal temperature. As Duck breast gets to 115-120 degrees, put on hot griddle, skin side down. Cook until internal temperature is 130 degrees and skin is crisped.
Remove duck breasts and lightly cover with foil. Allow to rest for 5-10 minutes, then slice and top with Plum Poblano Sauce. Serve.
For the Plum Poblano Sauce
Add sesame oil to a medium sauce pan over medium high heat. Add onions and garlic and cook until softened.
Add poblano peppers, ginger, soy sauce, red pepper flakes and honey. Whisk to incorporate. Cook until almost bubbly, about 3 minutes. Add Plums and cook until plums begin to break down, stirring often. This will take about 20 minutes. Test plums for softness. Remove from heat. May be served immediately or cooled and heated later.
Prep Time:

10 minutes

Cook Time:

30 minutes