Watch the video on cooking this wonderful recipe, then read below for the full recipe!

Don't you love it when a plan comes together!  I had been playing around with this Smoke-Grilled Aussie Rack of Lamb recipe for a while, but I recently made a couple of tweaks and it was if the universe nodded and gave me a big thumbs up!  (ok, well maybe not that big of a revelation, but it is delicious!)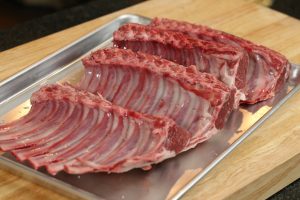 What do you mean "Smoke-Grilled?"
A lot of people have found the pleasures of cooking either sous-vide or what is called "reverse searing."  In either of these methods, you utilize a lower heat cooking method to slowly get an item to "almost done" then place it on a hot grill, griddle, (or use a propane torch) to caramelize the outside for both appearance and taste.
Both of these methods have a lot of merit, and I cook with them often.  One drawback that both have is they have an inherent lack of flavor however.  Sure, you're going to get some flavor from the grill, or from the seasonings you put on the meat, but I like to amplify the flavors with a nice dose of smoke!
So, by smoke-grilled, I'm basically just slow cooking the item under "smoking" conditions until it gets almost to the desired doneness, then finishing if off on a hot grill to sear the outside.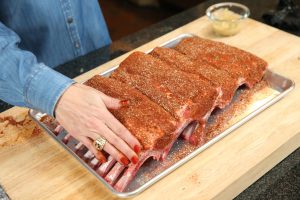 First, Start with the Lamb!

I love racks of lamb, but frankly, I don't enjoy frenching the bones.  I have seen racks of lamb available both frenched and not frenched, so you can usually pick which one you like.  I'm a believer that "people eat with their eyes," so I love the presentation of frenched racks.  Luckily, the lamb I was using for this recipe was from True Aussie Lamb, and it came already frenched.  In addition to saving me quite a bit of labor (when your a bit OCD about food, it can take a while to get the bones properly done) the lamb was absolutely delicious!  Anyway you go, get good quality lamb to start with, and you'll have a meal to remember.
How to set up a dual zone cooker
If you are using a regular grill, this is easy to do.  Just put all of your fuel/heat on one side of the grill, and leave  the other one off.  To "smoke," add some wood (I'm using pecan) to add some flavor.  Put your meat on the cool side.  An internal meat thermometer is needed for this method!  If you are looking for medium rare (135 degrees) for instance, you'll want to remove the meat from the grill at 110 degrees.  Then, place over a hot grill and briefly sear.  The searing will finish up the cooking process, and give you that great grilled flavor.
For this recipe, I used a Gateway Drum Smoker.  Drum smokers are a bit different than other types of grills.  For one, when you open the lid on most smokers, you are definitely cooking them down.  With a drum smoker, you are letting the fuel get lots more air, so it heat up very quickly, effectively turning it into a grill in about 2 minutes.  A raging inferno of a grill. Be careful!
For the Lamb
Take your racks of lamb and lightly coat the meat with dijon mustard.  Then, sprinkle my Southwest Lamb Seasoning on very generously.  Set racks of lamb aside for 15-30 minutes before placing in grill.  Fold some aluminum foil over the bones before placing on the grill so they don't burn.
Set up your smoker to run around 250 degrees with your favorite wood smoke.  For lamb, I love pecan or cherry, but to each their own.  Smoke until they reach around 110 degrees, then remove and place on the grill side.  Begin glazing when they hit 125 degrees if you are looking for medium rare.  Pull from the grill when they hit 130 degrees and rest for 5 minutes.  Easy peasy!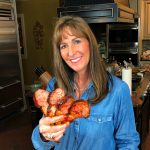 Smoke-grilled Rack of Lamb with Cactus Pear BBQ Sauce
---
Total Time:

40 minutes

Yield:

2

people

1

x
For the Cactus Pear BBQ Sauce
2/3

cup BBQ Sauce ((I like a spicy

one

for this))

1/3

cup Cactus Pear Syrup ((prickly pear syrup))
For the lamb
2

Aussie racks of lamb (bones frenched)

2

TBS Southwest Lamb Seasoning

1

TBS dijon mustard
---
Instructions
Whisk together BBQ Sauce and cactus pear syrup. Set aside
Lightly brush meat of lamb with dijon mustard. Season thoroughly with Southwest Seasoning. Set out for 15 minutes before placing on smoker. Place foil over the bones to keep them from burning.
Smoke until internal temperature of 110 degrees is reached. Remove from smoker (or cold side of grill) and place on searing hot side of grill.
Grill until internal temperature of 130 degrees has been reached (for medium rare.) As temperature hits about 5 degrees below your desired temp, glaze with sauce. Remove from grill, lightly cover with foil, and allow to rest for 5 minutes before slicing. Serve with additional sauce.
Prep Time:

10 minutes

Cook Time:

30 minutes