Want to elevate your sandwich game?  Me too.  I'm pretty tired of those standard burgers, cold cuts, etc.  So, here's a recipe that will have everyone begging for more- my Pork Tenderloin Sandwich with Grilled Brie and Apricot Glaze!  Yes, it sounds amazing.  No, it isn't nearly as hard to make as it sounds.
Pork Tenderloin
Of course, I'm using tenderloins from my friends at Prairie Fresh.  Their pork is always amazing, and I never have to worry about quality.  Pork tenderloin in general is pretty forgiving meat, so it doesn't take a lot of skill to cook it.  When grilling, just remember to have a meat thermometer, and think of the tenderloin as having 4 sides (yes, I know it's round, just go with me here.)  Two-three minutes per side on a medium-hot grill and you're pretty much there.  Use a meat thermometer to pull the tenderloins when they hit 140 degrees, then rest for 5 minutes.  Perfection every time.  When the tenderloins are hitting around 135, glaze with the apricot glaze and allow to finish cooking.  Reserve some of the glaze to drizzle on the sandwiches.
Making this sandwich next level great
Making this Pork Tenderloin sandwich next level relies on three flavorful components- a quick herb aioli, the apricot glaze, and of course, grilled brie.  Don't be afraid, all of these items are super easy to make, and except for the brie, can be made ahead of time.  For the buns, I used a nice loaf of focaccia, but any good bread that you like will be good.  Seasoning is simple, just use my Grillin' Shake and lightly season it.  Let the flavors of the tenderloin show up to intermingle with the apricot and brie.
Grilled Brie
OK, I discovered this last year when making a burger, and it is now one of my favorite things in the world.  You of course know how creamy brie is anyways.  Grilling it adds some flavored nuance to it, and takes that creaminess into the stratosphere.  Simply oil the brie, put it down on a cooler part of the grill and let it cook for 1-2 minutes.  Turn it over onto a piece of aluminum foil, cut diagonals into the top of the brie and open them up.   The brie will finish getting ooey-gooey, and pick up some wonderful grill flavor.
Putting it together
All that remains is to make one of the best sandwiches you'll ever enjoy.  I toast the focaccia on the grill, then generously slather with aioli.  Slice the tenderloin into medallions and place on the bread, drizzle with remaining apricot glaze and some of that wonderful brie, and top with arugula.
As always, I hope you enjoy!
Print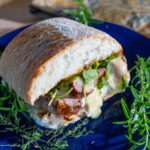 Pork Tenderloin Sandwich with Aioli, Apricot Glaze, and Grilled Brie
---
Description
This amazing sandwich can also double as an entree with just the glaze and pork tenderloin
---
For the Tenderloin Sandwich
1

pork tenderloin

1

loaf focaccia, or your favorite bread

2 cups

arugula

2

TBS Melissa's Grillin' Shake, or your favorite grill seasoning
For the Aioli
1/2 cup

mayo

2 tsp

rosemary (finely minced)

2

tsps garlic (finely minced)
juice from

1/2

lemon
For the Apricot Glaze
1 cup

apricot preserves

1/2 tsp

rosemary (finely chopped)

1/2 tsp

dried thyme

1/4 cup

water
For the Brie
1

medium brie round

1

TBS olive oil
---
Instructions
Prepare a grill to run at medium-hot, with a cool zone. Season tenderloin and allow to sit at room temperature, lightly covered, for 30 minutes.
Whisk all the ingredients for the aioli. Place in fridge.
Oil both sides of brie. Tear a sheet of aluminum foil big enough to cover one side of the brie.
Oil grates to the grill. Place tenderloin on grill and cook approximately 2-3 minutes per side, or until temperature is approaching 135 degrees. While tenderloin is cooking, in a small sauce pan add glaze ingredients and whisk until glaze is warm. Brush tenderloin with glaze when it is 135 degrees, then allow to cook until it reaches 140 degrees. Remove tenderloin from grill and lightly cover to rest for 5 minutes.
Place brie directly on grill and cook for 2 minutes. Flip brie over onto aluminum foil, cut a diagonal in the top of the brie and fold back rind. Allow to continue to cook for 2-3 minutes or until very creamy. Lightly grill focaccia then remove.
Slather focaccia with aioli. Slice tenderloin into thin medallions and place on sandwich. Drizzle apricot glaze on tenderloin, then spoon brie over. Top with arugula and top bun and serve.
Keywords: aioli, apricot, brie, pork tenderloin recipe