This recipe for Cajun Pork Chops with Jalapeno butter is so easy because I just use already-prepared cajun seasoning.  Jalapeno butter topping a freshly grilled pork chop takes it to a new level in terms of flavor.
Buying a whole pork loin
This recipe for cajun pork chops is more of an excuse to extoll the virtues of buying a whole pork loin.  When you purchase a whole pork loin, you'll save yourself tons of money and have some amazing cuts of pork to use for several dinners.  Many groceries don't put out a whole loin in the retail bin, but they probably have them available.  Ask your butcher and I bet he can get you one.
A whole loin has a sirloin end and a blade end.  In the picture, the blade end is called the rib roast.  The blade end runs near the shoulder of a pig, the sirloin end along the back.   Many grocers do sell portions of the pork loin, usually one of these ends.  They have very different meats, so they're not really interchangeable in recipes.    I love to braise the blade end for a boneless version of country-style ribs.  The sirloin end makes a more suitable roast or can be cut into chops.  Most butchers keep the "center cut" or section between these ends, for center-cut pork chops, which carry a pricing premium.
When you purchase a whole pork loin, you really can save tons of money by utilizing these cuts.  Pork freezes extremely well, so simply cut the loin into desired portions and freeze.
Prairie Fresh Pork Loins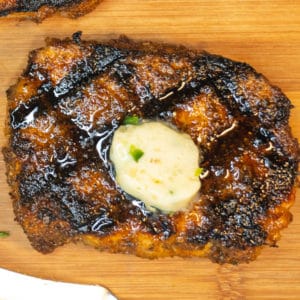 I really love Prairie Fresh pork, so much that I serve their ribs, pork belly, and pork butts to all of my guests in my Memphis Barbecue Company restaurants!  I'm a paid ambassador for Prairie Fresh, but as I only endorse brands of the highest quality, I'm more than happy to endorse Prairie Fresh.  When I get a pork loin, I will usually cut off the blade end, cut into thick pieces, and set aside for stews or braises.  The sirloin end I like to cut into thin chops for frying, and the center cut I make thick delicious pork chops like the ones in this recipe and video!
Tell me about the buttah!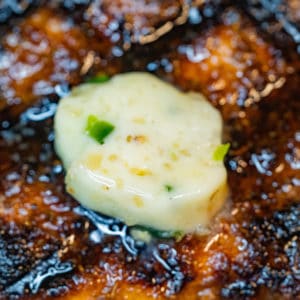 Compound butter, or butter mixed with seasonings, is a very easy way to dress up any steak or chop.  The version in this recipe is simple to make using some seasoning, garlic, lemon juice, and a diced jalapeno.   This is one of those recipes for you to remember the process rather than the recipe.  I make compound butter all the time- red pepper butter, roasted garlic butter, etc.  Your imagination is your only limitation.  Regardless of the version, the butter will add a wonderful addition to any grilled meat.  It will add moisture and flavor to your palate, and certainly, dress up a mundane dish.  I generally use salted, European-style butter in my compound butter, as it goes the extra step in the delicious factor.
On with the recipe!  As always, I hope you enjoy!