Here's my video on making Pork Muffuletta Sliders!  OMG, they were so good (you have to be an olive fan though!)
These are almost traditional muffulettas.  Well, except for the grilled pork tenderloin.  And the different meats.  And not being on Muffuletta bread.  Well, they taste traditional, and more importantly, delicious!
Pork Sliders are perfect for gatherings!
I really like these for any type of gathering.  You actually get a lot of yield out of a pork tenderloin, especially when you're slicing them fairly thinly.  An average pork tenderloin would easily yield 12-14 slices for these sliders.
By adding the pork tenderloin, you get a much different texture than a normal muffuletta.  It's much more satisfying and filling, and to me that's a good thing.  These are easy and fun to make, so they're great for when you have the gang over for a "home gate" to watch your favorite team.
Fresh-made Olive Salad Makes them Awesome!
The standard olive salad is from Central Grocery in New Orleans.  I still love their version, but I think this recipe really surpasses it.  If you want to just get a jar from there to save yourself some time and effort, I'm sure not going to object.  With this recipe though, you have a lot more control over spiciness and flavors.  Are you a big black olive fan?  Use some of them in the recipe.  Like things hot?  Add a couple of pickled (or fresh) jalapeños or an habanero.  Think of recipes (especially mine) as guides (except for baking, those are pretty much science!) and use them to help you on your journey to your own personal Flavortown (Guy Fieri reference there, sorry!)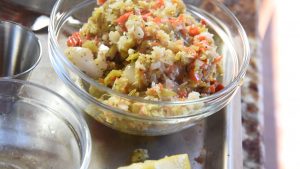 Enjoy the Day!