This is, without a doubt, one of my very favorite side items.  In the South, we're raised to cook corn more ways than Bubba knows how to cook shrimp.  Corn has been and will remain a staple at most summer meals.  Unlike most creamed corn, this version keeps a crispness to it. The poblanos add flavor and kick that sets off perfectly against the sweetness of the corn and the richness of the cream.   Unless you're cooking for an army, prep is very easy (though it can get a bit messy.)  If you want to scale this allow 1/2 to 1 ear of corn per person.  I find that one whole poblano per four ears of corn is perfect for me, but it could easily be adjusted one way or another.
One note about one of the most useful ingredients in my pantry- Wondra Flour.  Wondra Flour is a pre-cooked, pre-sifted flour that can be added directly to soups, stews, or sauces. I use it to add some body without having to go through making a roux.  I only use it in very small quantities in my dishes, and take care to sprinkle it, not "dump it in." It is great for an item like this where I want the corn to keep some crispness but still have a "creaminess" to the dish.  Instead of continuing to reduce the cream, when the cream is "almost there" I sprinkle in a tiny bit of wondra, stir and serve.  Easy-peasy!
Enjoy!
Print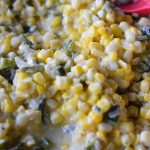 Poblano Creamed Corn
---
Total Time:

23 minutes

Yield:

4

people

1

x
Description
Fresh, rich and sprightly, this side dish will become a family favorite for your summer side dishes.
---
1

poblano pepper (roasted, peeled, stemmed and seeded)

4

ears sweet corn (kernels sliced off)

1/2

small sweet onion (diced)

1

tbs canola oil

2

tbs butter

1/2 tsp

granulated garlic

1 tsp

kosher salt (or to taste)

1/2 tsp

black pepper (or to taste)

1/4 tsp

wondra flour (if desired)
---
Instructions
Roast poblano either by holding over a gas flame (with tongs!) until blackened or roasting in the oven. Place in a small bag and seal for 10 minutes. Remove skin, stem, seeds and dice pepper.
Using a sharp knife, cut the kernels from the cob and set aside. Dice onions and set aside.

In a skillet over medium high heat, add oil and onions and cook 3-4 minutes or until onions are beginning to cook through. Add poblanos and cook for 1-2 minutes. Add corn kernels and cook for 2-3 minutes, then add butter, salt, peppers and garlic.
Add cream and cook while stirring for 2 minutes, or until cream is thickened. Sprinkle in wondra flour, if desired, stir and serve.
Prep Time:

15 minutes

Cook Time:

8 minutes