I'm so excited!  At the BBQ Allstars, we just received our initial shipment of Imperial Cutelaria Knives from Brazil!  These knives are hand-made, beautifully finished, and durable.  I just know you'll love them as much as I do.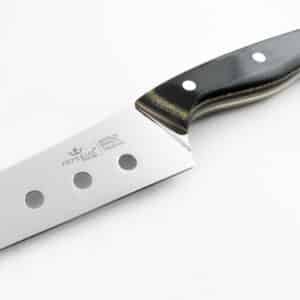 Visiting Brazil
In 2022, I decided to go to some places I haven't visited before.  A chat with my husband resulted in us randomly decided to visit Santiago, Chile and São Paulo, Brazil.  Brazil is a huge, amazing country (worth a visit just for the fruit!)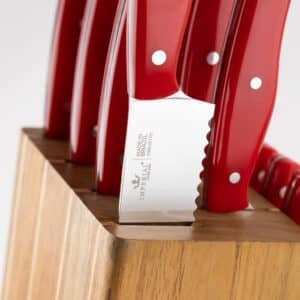 I had Instagrammed with Alexandre from Imperial Cutelaria before, so we arranged a visit (read more about my trip here!)  In addition to São Paulo, we decided to go to Campo Grande to where the factory for Imperial Cutelaria is located.
Checking out some amazing knives!
In Campo Grande, we had an amazing meal at a local restaurant then went to the knife factory.  All of the employees have been with the company for a long time, which is always a good sign.  They take pride in their work, and they make sure the knifes are properly made every time.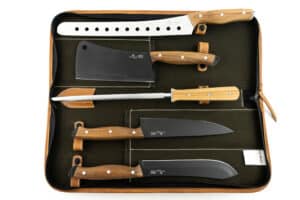 Edilce and Alexandre, the owners, are amazing people as well.  In addition to their knives, they also produce superb cutting boards, knife rolls, aprons and more.
I was so impressed I had to import them for the BBQ Allstars!  We finally received them, after jumping through customs and importer hoops!  We are the exclusive importer for this brand in the US!  We can also offer them wholesale, so if you know of a store that needs a line of amazing knives, let me know!
Imperial Cutelaria Knives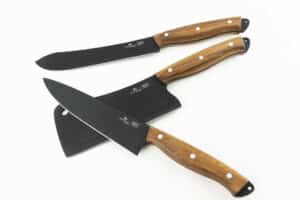 When I say they make showstopper knives, you really need to see them.  Some of my favorites are what they call "BBQ Black" finished, or with a black blade.  That really makes them stand out, don't you think?
The knives are weighted in the German fashion, which is very familiar to most American cooks hands.  I love Japanese knives too, but they definitely take some getting used to if you didn't grow up with them.  For the wood handles, knife blocks and cutting boards, they only use Teak wood for durability and beauty.  The teak they use is from reforested land (very important in Brazil.) It's naturally resistant to warping, is very solid, and prized for it's lightness and strength.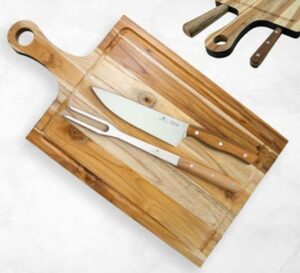 They also use Micarta for some handles.  Micarta is a laminate made of cotton and epoxies.  It is extremely durable and offers a good surface for gripping.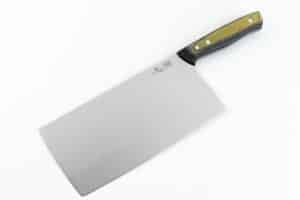 Anyway, I'm excited and wanted to share with you!
Check them out at The BBQ Allstars in Southaven, MS or TheBBQAllstars.com