Ok, yes, I know that Shakshuka is a dish of eggs cooked in a tomato sauce.  But, let's take this up a couple of notches!  My recipe for Chorizo Pit Bean Shakshuka is full of amazing flavors in every bite, and can easily work as a breakfast, brunch, lunch to dinner dish!  It's so filling and flavorful, I love to have this with a nice piece of toasted French bread for dipping out the last bits!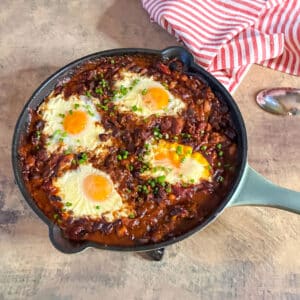 Classic Shakshuka
Shakshuka is a dish of North African origin that has risen in popularity in recent times.  At it's most basic, it's a flavorful tomato-sauce with eggs baked in the sauce for heartiness and protein.  It's also a dish that can be made in a multitude of ways.  A quick glance at the internet reveals "shakshuka" made in a myriad of different recipes and procedures.  My recipe is not a classic shakshuka, it's more of a Southerner's take on mixing BBQ beans with some shakshuka theories.  Just warning you.
Chorizo Pit Beans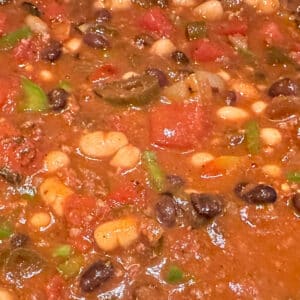 I'm a big proponent of making most bean dishes from dried beans instead of cans.  But for this version, I love the flavor, texture, and color difference afforded by the three different beans.  And frankly, soaking and cooking three different varieties of beans to use in one dish just doesn't appeal to me.  So, on to the canned beans!  Pit beans are a time honored bean recipe, similar to BBQ beans, but simmered on a BBQ pit while the main course finishes up.  Pit beans take on many extra nuances of flavor from being cooked in a smoker, and I love them.  For this version of Chorizo Pit Bean Shakshuka, I also browned some fresh pork chorizo for the recipe, and the flavor is absolutely amazing.  If you want to omit the chorizo, or substitute bacon, up each spice in the recipe by 1.5 times, as the chorizo imparts a ton of flavor to the dish.   If you like spicy, I added some fire-roasted jalapeños.  They definitely upped the heat level, so they're very optional if you like.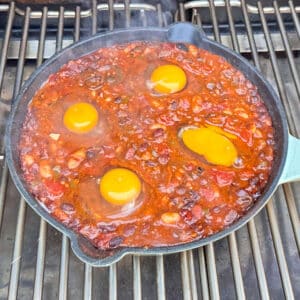 Chorizo Pit Bean Shakshuka
I veer off from a normal pit bean recipe by adding diced tomatoes and tomato sauce  This adds more of a "soupiness" to the recipe than a normal BBQ or Pit bean recipe, but still has the added flavor from the beans.  I also add some chopped kale towards the end of the recipe to really make this a do-it-all meal.
The recipe is pretty simple.  Cook the onions and peppers in a skillet with oil until golden, add garlic and cook for another couple of minutes, then add all ingredients except eggs and kale to a grill-safe dish, stir, and cook for 40-45 minutes.  After everything has cooked down, stir in the kale, cook another 10 minutes, then make some "nests" for the eggs.  To get eggs that appear pretty in this dish, I usually crack each egg over the rim of a highball glass, then gently pour it into a "nest."  Allow to cook 10 minutes (12-13 if you want a firm yolk) and then serve a dish made for any meal of the day!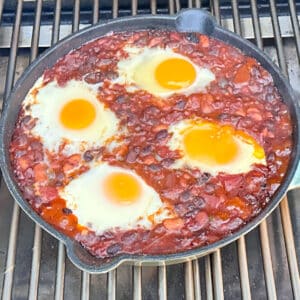 As always, I hope Y'all enjoy!
Print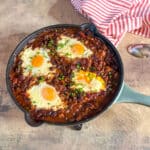 Chorizo Pit Bean Shakshuka
---
Description
My Chorizo Pit Bean Shakshuka is a my riff on BBQ Pit Beans and Classic Shakshuka.  I think it's a fantastic dish to serve for brunch or an easy dinner, and it's very hearty and filling.  I use two different beans in this dish for the different flavors, textures, and colors.  But the star of the show is flavorful chorizo, and you'll love the tongue-tingling end results!
---
2 TBS canola oil
1 medium yellow onion, diced
½ red bell pepper, diced
1 TBS minced garlic
2 TBS brown sugar
2 TBS Melissa's Woo Woo Sauce or 3 TBS Worcestershire sauce
5 oz chorizo
1 TBS smoked paprika
1 tsp cumin
1 tsp dried oregano
1 15 oz can white beans, drained
1 15 oz can black beans, drained
1 15 oz can red kidney beans
1 14.5 oz can diced tomatoes
1 8 oz can tomato sauce
S&P, to taste
4 eggs
---
Instructions
In an enameled cast iron skillet, heat oil, then add chorizo.  While browning chorizo, break it up, then add onions and bell peppers.
Cook for 4-5 minutes or until onions are golden.  Add minced garlic and continue to cook for 2 minutes.
Add beans, tomatoes, Woo Woo, brown sugar, and spices and mix.
Stir, and place in grill at 300 degrees.  Cook for 40 minutes until thickened, stirring occasionally.  Stir in kale and continue to cook for 10 minutes.  Make 6 slight indentions in the beans then drop in an egg in each one.  Cook for 15 minutes more, or until eggs are set.  If you want a firmer yolk, cook additional 5-7 minutes.
Remove and serve with toast.