Wow, it's been a while!
Hey everyone, it's been a while since I've had time to post. I hope everyone is staying safe during this crazy time! Along with all of you, I've never been through anything similar to this pandemic, and it has really caused me to prioritize my time in ways I never thought I would before.
As you know, I keep myself busy and stay involved in tons of projects. However, my main business is Memphis Barbecue Company. This pandemic has caused great harm to restaurants, and my husband and myself have had to pivot our business model 100 times in order to adapt. This has taken a lot of hours. We've never worked harder, and we've never had the challenges that we've met before. Thankfully, I have a great team and they've risen to the challenge with us.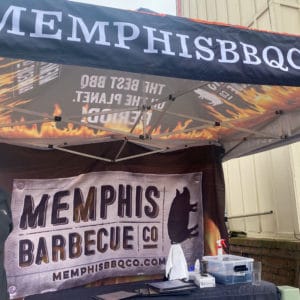 Early in the pandemic, my first thought was "keep as many people working as possible." Memphis BBQ Company has an awesome team of cooks, servers and managers, and I needed to keep them with a paycheck. We created a drive through, we opted for 3rd party delivery services, we expanded our online ordering capabilities, we did everything we could think of to keep people working, disregarding profit.
At this point, I should tell you I have absolutely amazing vendor partners. While we are sitting there down 80% in sales, I wanted to feed our first responders. My thoughts? These people are out there risking their lives for us, so a nice lunch might brighten their day. Also, I needed to keep my staff working, and if we're not doing much business, then let's get them on doing some good!
Feeding some Heroes!
Let me tell you, Prairie Fresh Pork (statement here- I'm a paid brand ambassador for them, but they moved mountains to make this happen) donated tons of product to us. Literally, tons of pork. Performance Food Group, who is my primary restaurant vendor, donated a lot of sides and supplies. We fed people, a lot of people. We fed the police departments in Olive Branch, MS; Southaven, MS; Hernando, MS; Horn Lake, MS; and the entire staff at Methodist South Hospital and Baptist Desoto Hospital. I'm not writing this to brag, I'm writing this to tell you what an amazing team I have and what great partners I have.
Coming off of that, we just worked. We came up with specials from good (whole smoked chicken meals) to a bit crazy (Hot Cheetos burritos.) Some were amazing, and some just let the kitchen release some steam. However, we had a bunch of guests who were game- they would dutifully come by every time we announced a special and try it. Y'all, thank you so much!
I am woefully behind on my other projects such as recipes, videos, and just chatting with y'all. But, hopefully I'm in a good space now and we can get some great conversations going again. I'll be posting a lot more soon!
Until then, y'all stay safe!