The Spring is a time of reawakening, of the trees turning green and grass growing again.  Traditionally, lamb is a popular springtime protein as this is the time when the lambs were properly sized.  Now that we can get lamb chops year-round, there is no reason to only cook them in the spring.  These Grilled Lamb Chops with Shallot and Date Jam will make an amazing Easter meal, or an equally impressive meal any time of the year!
Types of Lamb Chops to Grill
There are two main types of lamb chops that you want to use, the rib chop and the loin chop.  A full "rack of lamb" is an uncut version of the rib chop.  For smoking, I highly recommend that cut. For grilling, either will do very nicely, though I'm using a loin chop for this recipe.  The rib chop is just like a t-bone on beef, it will contain a bit of the lamb tenderloin (O, so delicious) and what we would consider a N.Y. Strip.
In any version, this marinade will work well and the grilling techniques can be easily adapted.  Lamb is best served medium rare (around 130 degrees.) Cook it any more and it will have a tendency to dry out, and the "gaminess" factor of lamb will increase.
Shallot and Date Jam
While not a jam in the strictest sense of the word, the honey and dates in this recipe sweeten the mixture.  By slowly cooking the shallots to a caramelized goodness, this recipe is a perfect accompaniment for lamb or really any other grilled meat.  One unique ingredient I'm using is lavender flowers.  At the BBQ Allstars, we carry Spicewalla brand spices, and I really like their quality.  I tried the lavender flowers from them, and they give a unique, floral bouquet to dishes that works well with springtime food like lamb.
Looking for more Lamb Recipes?  Check out my Red Wine and Garlic Rotisserie Leg of Lamb or my Aussie Rack of Lamb with Cactus Pear BBQ Sauce
As always, I hope you enjoy.  Now get out there and grill!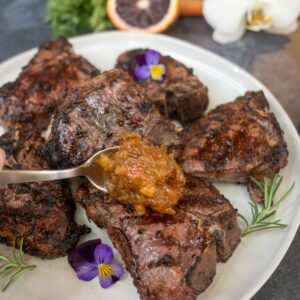 Print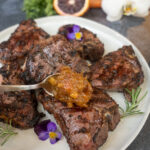 Grilled Lamb Chops with Shallot and Date Jam
---
Description
Lamb chops are delicious year-round, not just around springtime.  These loin lamb chops are marinated in a delicious garlic-herb medley, then quickly grilled for a medium-rare finish.  The shallot-date jam is amazing and can be served with lamb or chicken, and it's super easy to make!
---
8 loin lamb chops (2 per person)
¼ cup olive oil
1 TBS whole grain mustard
½ TBS chopped fresh rosemary
½ TBS Garlic Blend
Zest of 1 lemon
2 tsp lavender flowers (optional)
1 TBS Grilling Shak
Shallot and date jam
6 diced shallots
15 diced, pitted Medjool dates
1 tsp fresh grated ginger
¼ cup olive oil
1 TBS lavender flowers
1 TBS fresh thyme leaves, diced
1 tsp champagne vinegar
¼ cup honey
½ cup water
---
Instructions
For the Chops
Mix oil, mustard, rosemary, and garlic blend, then pour over lamb chops and marinate for at least 2 hours up to overnight.
Remove chops from marinade, shaking off excess.  Lightly season with Grillin' shake.  Place on a hot grill for 3-4 minutes, then turn 1/4 turn to get diamond grill marks.  Continue to cook for 2 minutes.  Flip sides, and cook for 3-4 minutes, then turn 1/4 turn on the grill.  Remove when lamb chop internal temp reaches
For the Shallot-Date Jam: Add olive oil to a small saucepan over very low heat.  Add shallots and cook, stirring often, for 20 minutes to allow them to caramelize.  Add remaining ingredients and continue to cook until jam-like consistency forms, about another 20 minutes
Serve lamb chops with a generous teaspoon of jam on each one, with more jam on the side.