I'm a foodie, and if you're reading this you probably are too.  I love challenging recipes, creating flavors, and seeing a long-cooked item come to an amazing finish.  I get the added pleasure of serving my food daily at my restaurants, and I love seeing people happy after eating one of our meals.  All that is great, but I'm as guilty as many as overlooking some classic dishes that were staples at the dinner table long before casual dining and fast food were ubiquitous.   Sometimes, I just like to go back to some comfort food, and during these times, I'm sure you do too.  One of my favorites is Buttermilk fried chicken.  This is a simple recipe, but you have to watch it to prepare it correctly.  Yes, your kitchen may smell of oil for a bit, but the flavor of buttermilk fried chicken will make everything worthwhile.
Why buttermilk fried chicken is better
Modern buttermilk is regular milk that has had lactic acid-producing bacteria cultures introduced to it.  Don't fret, lactobacillus is one of the good guys.  When you ferment things such as sauerkraut or pickles, lactobacillus is the friendly one that preserves everything.  By adding it to milk, you get a rich, acidic drink similar to yogurt, much more viscous than regular milk.  But, now it has special properties that make chicken fantastic.  It's thicker, so breading will stick to the chicken more readily than if you just used a milk dunk.  The fats and acids in the buttermilk act as a sort of brine for the chicken, and they help make the skin extra crispy too.  It's really just the perfect chicken soak.  Well, almost perfect.
Hot sauce, baby!
That's right, I marinate my chicken in a half and half blend of buttermilk and hot sauce, with a bit of a quick seasoning blend thrown into the mix.  We want the flavor!  The hot sauce is a perfect marriage with the buttermilk, it brings a ton of flavor and kick to the chicken, it's acidic so it's working to break down and tenderize everything, and it gives a beautiful hue to the chicken when it's cooked.  That's a win-win in my book.
Don't forget the flour!
I cringe every time I see someone breading meat in unseasoned flour.  Yes, I totally get that you need to season the meat.  But, and this is a big but, isn't one of the best parts of frying something the crispies that you get?  Don't fib, you know it is.  So why would I let that part, the best part, be mundane when it could be fab?  I wouldn't.  In the recipe below, I've included a seasoning blend that works both in the marinade and in the flour.  If you'd rather buy a premade seasoning blend, I will tell you that my Garlic Blend seasoning is absolutely awesome in breading.
Lastly, don't try to cook the chicken all at once.  I put the pieces in the oil 2 at a time, first the breasts, then wait 2 minutes, then the wings.  Finish cooking them and remove those pieces, then repeat with the thighs, then 2 minutes later the legs.  The key to frying at home is to keep the oil consistently hot.  If you crowd the pan, the oil will cool down too much and you'll end up with soggy, greasy, pale chicken.  And nobody wants that.
As always, I hope you enjoy!
Print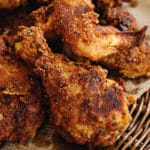 Buttermilk Fried Chicken
---
Total Time:

50 minutes

Yield:

4

people

1

x
Description
You'll absolutely go crazy for the amazing flavor and crispy crust on this chicken!
---
For the Marinade and frying
1

chicken, cut into

8

frying pieces

2

cups buttermilk

2 cups

hot sauce

1/2 cup

seasoning blend (see below)

2

cups canola oil
For the Breading
1/2 cup

seasoning blend

4 cups

self-rising flour
Chicken Seasoning Blend (makes one cup)
1/2 cup

kosher salt

1/4 cup

granulated garlic

2

TBS black pepper

1/2 tsp

chili powder

1 tsp

cumin

1

tsp onion powder
---
Instructions
In a small mixing bowl, add kosher salt, granulated garlic, black pepper, chili powder, cumin and onion powder. Blend well.
In a large non-reactive container, add buttermilk, hot sauce, and 1/2 cup of the seasoning and stir to incorporate. Add chicken, cover and marinate for 8-12 hours, stirring occasionally.
Mix self-rising flour with 1/2 cup seasoning blend. Place 2 cups of the seasoned flour in a bowl. Remove chicken from buttermilk, one piece at a time, shake off excess liquid, and bread in seasoned flour. Set each piece on a plate after breading.
Heat oil in a large cast-iron skillet over medium-high heat. Using an instant-read thermometer, check and hold temp around 350 degrees.
Add breasts to skillet and cook for 2 minutes, then add wings. Cook for 4 more minutes, then flip pieces. Continue to cook until an instant-read thermometer reads 165 degrees in each piece. Remove pieces and place on a paper towel-lined plate. Repeat for thighs and legs. Adding too many pieces of chicken at the same time will lower your oil temp resulting in greasy chicken.
Prep Time:

20 minutes

Cook Time:

30 minutes

Category:

Main Dish

Cuisine:

American
Keywords: buttermilk, chicken, fried chicken, hot sauce