I, like many of you perhaps, am a fan of the humble taco.  I love them from street vendors, from my house, from just about everybody really.  I mean, you almost can't go wrong with a taco.  But sometimes, I like to change up the normal meats used in tacos and make some amazing tacos!  This recipe for smoked short rib tacos is one such dish, and I love it.  I used boneless short ribs because you can season and smoke more meat surfaces, and it was awesome.  I love love love it.
Boneless Smoked Short Ribs
Ok, this recipe could go a multitude of ways. You don't have to shred the short ribs for tacos.  you can simply serve the pieces of amazing meat with the chili sauce (more on that later) with some mashed potatoes and (insert veg of choice here) and have an amazing meal.  So, keep that in mind.  When I cooked this, I was feeding some folks at The BBQ Allstars (my amazing, grill-lovers paradise retail store) so I needed to make it for multiple people.  Scale up the recipe as needed (I scaled it down for this post.) Remember, a little bit of meat makes a lot of tacos!  I seasoned the short ribs with my Garlic Blend and Bold Rub (check out the amazing color on the short ribs pic below!) I cooked these on our Green Mountain Grill PEAK at the store, and gave a wonderful smoky bit of goodness to this dish.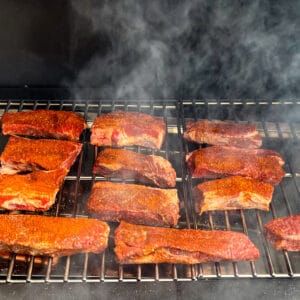 Braising the Short Ribs with Chilis
You can smoke short ribs until they're completely done, but I don't recommend it. There is a reason that most recipes for short ribs involve braising.  You have to cook them for a good while to get them tender, but you don't want them to dry out.  So I did this short rib recipe in 2 parts.  I smoked the boneless short ribs first, then I put them in a uber-flavorful braise liquid with chilis to finish them off.  For the chilis, I used dried anchos and pasillas.  Stem and seed the dried peppers, then put them in a small amount of water in the grill while the short ribs are smoking.  Then, you'll add that to the braising liquid.  Really, really good.  At the end, I use a Fat separator to get the good stuff back out of the braising liquid.  Pour that and the strained out chilis into a blender and puree to form an amazing flavorful addition to the short ribs.
Putting Smoked Short Rib Tacos Together
As with all things tacos, the toppings really complete the meal.  Here, you have every personalization option known to man. For a "true" taco experience, some just like diced onions and cilantro.  I'm more of a "more is better person" so I like to layout a taco buffet where everyone can pick their favorites.  I like to have pico de gallo, guacamole, verde sauce, chopped onions, cilantro, radishes, and anything else you think would go with tacos.
Print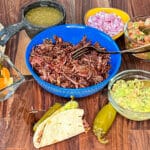 Smoked Short Rib Tacos
---
Description
Lovingly smoked and braised with chilis, these Smoked Short Rib Tacos are fabulous.  Boneless short ribs absorb so much more smoke flavor and have less waste, so they are the meat of choice for this dish.  Serve with all your favorite taco fixings!
---
2 lbs Boneless Short Ribs
1 TBS Melissa's Garlic Blend Rub
1.5 TBS Melissa's Bold Rub
2 cups beef stock
1/2 TBS tomato paste
3–4 dried ancho peppers, stems and seeds removed
1–2 dried pasilla peppers, stems and seeds removed
1–2 chipotle peppers in adobo sauce (if desired for heat)
1 cup water
1 small can diced green chilis
---
Instructions
Preheat grill to 225 degrees.  (For this recipe, I used a Green Mountain Grill Pellet Smoker.) Place the peppers in a small aluminum pan with 1 cup water and place on the grill.  Rub the short ribs with the seasonings and place them on the grill.  Smoke for 1.5 hours.
In a cast iron dutch oven (or a disposable pan) place beef stock, tomato paste, chipotle peppers, and contents from dried chili peppers pan.  Add in short ribs and cover pan.  Raise temperature to 325 degrees. Cook for 2-3 hours or until very tender.
Remove short ribs from pan and loosely cover.  Pour all contents of braising liquid through a strainer into a fat separator, and set in freezer or fridge for 5-10 minutes.  Pour off broth into blender, and add strained peppers.  Pulse to puree.  Pour pureed sauce back into short ribs and shred meat.
Serve with your favorite taco fixings!