Pork tenderloins don't get nearly enough ink as an all-around excellent dinner option.  They're hard to overcook, easy to portion, and take any flavor profile you want to give them.  Like American BBQ?  Ok.  How about Asian-flavored- perfect.  Thinking a bit more Mediterranean?  Well, they'll be excellent in that as well.  This recipe for Smoked Buffalo Pork Tenderloins is one of my favorites, as it's perfect for both an entree and the leftovers on a tenderloin and cheese plate are just amazing!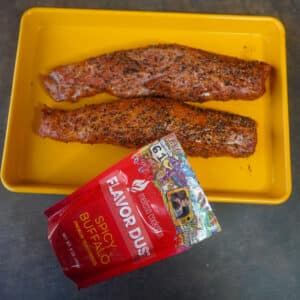 Get Great Tenderloins for Great Dishes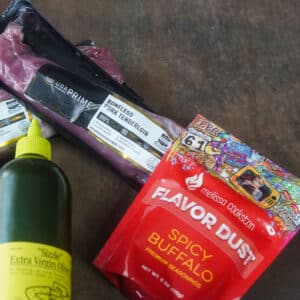 As with anything, your best meals are apt to come from when choosing the best ingredients.  For this dish, I'm using Prairie Fresh USA Prime Pork Tenderloins.  I've been a longtime devotee of Prairie Fresh Pork, and their USA Prime line is just incredible.  Great marbling and great genetics make great pork.  Prairie Fresh is the largest USA-owned pork producer and, unlike many, actually owns all of their farms.  They get to control pork production from start to finish.  That's why I'm proud to be associated with Prairie Fresh.
With all tenderloins, there is a bit of silverskin that I like to trim off.  You don't have to do this, but it will make for a better-finished dish.
Seasoning and Smoking the Buffalo Pork Tenderloins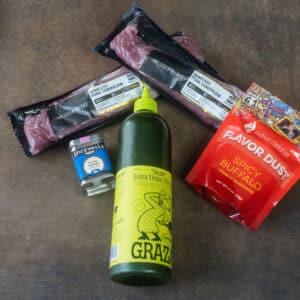 I made a seasoning paste with olive oil, my Garlic Blend, and Buffalo Flavor Dust. Slather all sides of the tenderloin (cook one for 2-3 people,) then sprinkle with coarse black pepper.  I like to let them sit in the fridge for at least 30 minutes before cooking.  This lets the slather meld a bit with the pork.
As tenderloins are very thin, smoke them at a fairly low temp.  For this recipe, I ran my smoker at 225 degrees with plenty of apple smoke.  They'll get up to 130 in about 30-40 minutes.  At this point, you can continue to cook them in the smoker until they hit 142, then let them rest for 5 minutes to take them over 145.  Or, my favorite, pull them and then give them a quick sear in a skillet to finish them off.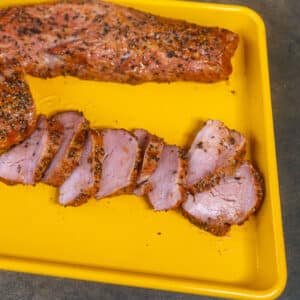 Slice them thinly, then serve.  These are absolutely perfect with my White Buffalo Sauce.  It's a takeoff on White BBQ Sauce, and it really pairs with pork amazingly well.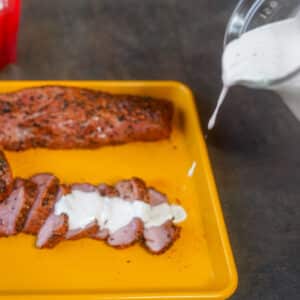 As I said earlier, depending on their appetite, I usually count on one tenderloin for two to three people.  When in doubt, cook extra and save any leftovers for a delicious tenderloin and cheese plate.  Another tasty way to serve leftovers is tenderloin biscuits for breakfast. Just quickly sear the slices and serve with hot buttered biscuits.
As always, I hope you enjoy!
Looking for more pork recipes?  Check out my Peach Rosemary Glazed Pork Chops  or my Honey Peach Babyback Ribs  recipes!
Print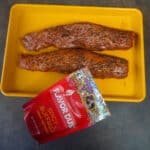 Smoked Buffalo Pork Tenderloin
---
Description
Simple enough for a weeknight dinner, but tasty enough for a special occasion, this Smoked Buffalo Pork Tenderloin recipe delivers full flavor for the whole family.
---
2 Prairie Fresh USA Prime pork tenderloins
2 TBS olive oil
1 TBS Garlic Blend Seasoning
2 TBS Buffalo Flavor Dust
1 tsp coarse black pepper
---
Instructions
Trim silverskin from tenderloins, if desired.  In a bowl, whisk Garlic Blend, Flavor Dust, and olive oil.  Slather over pork tenderloins, then lightly sprinkle with black pepper.   Lightly cover and put in fridge for 30 minutes.
Prepare smoker to run at 225 degrees.  Place tenderloins in the smoker and cook until the internal temperature in the thickest part reaches 130 degrees.  Remove to a sheet pan and lightly cover for 5 minutes.  Meanwhile, prepare a medium-hot, thick-bottomed skillet.  Sear outside of tenderloins for 1-2 minutes per side.
Slice thinly and serve.