Beef Short ribs are one of my favorite items- unctuous, tender and extremely beefy when cooked right.  They are an absolute crowd pleaser. I often think of short ribs as the most expensive piece of beef you can buy. Gone are the days when short ribs were like chicken wings- a "throw away cut" from the producers that they sold for pennies. Now, short ribs command a premium price.  When you consider the very poor yield you get from them due to the high fat levels, they are more expensive than filets.  However, beef short ribs are sometimes the only thing that will hit the spot!
Most of the time I braise short ribs or cook them sous vide. In the spring and summer however, I cook just about everything on the grill or smoker. You'll notice the short ribs in the pics are of the "Flintstone" variety- they are not cut into small bones like you see at most groceries.  Because they are large, they are especially good on the smoker. I picked these up at Restaurant Depot, where you have to have a membership. If you don't have a restaurant depot membership, you can get a day pass as a KCBS member! Bear in mind, you don't go there for some light shopping. Restaurant Depot is a restaurant wholesale club, so you'll only get things in large quantities.
I seasoned these with my Grillin' Shake, which really brings a nice flavor through to the beef. Don't be bashful with the seasoning- as short ribs render you will lose a lot of the seasoning!
I normally serve braised short ribs with mashed potatoes and some carmelized carrots. As these are smoked, just about any traditional BBQ side will work. I didn't glaze these with a sauce, but you are welcome to if you prefer.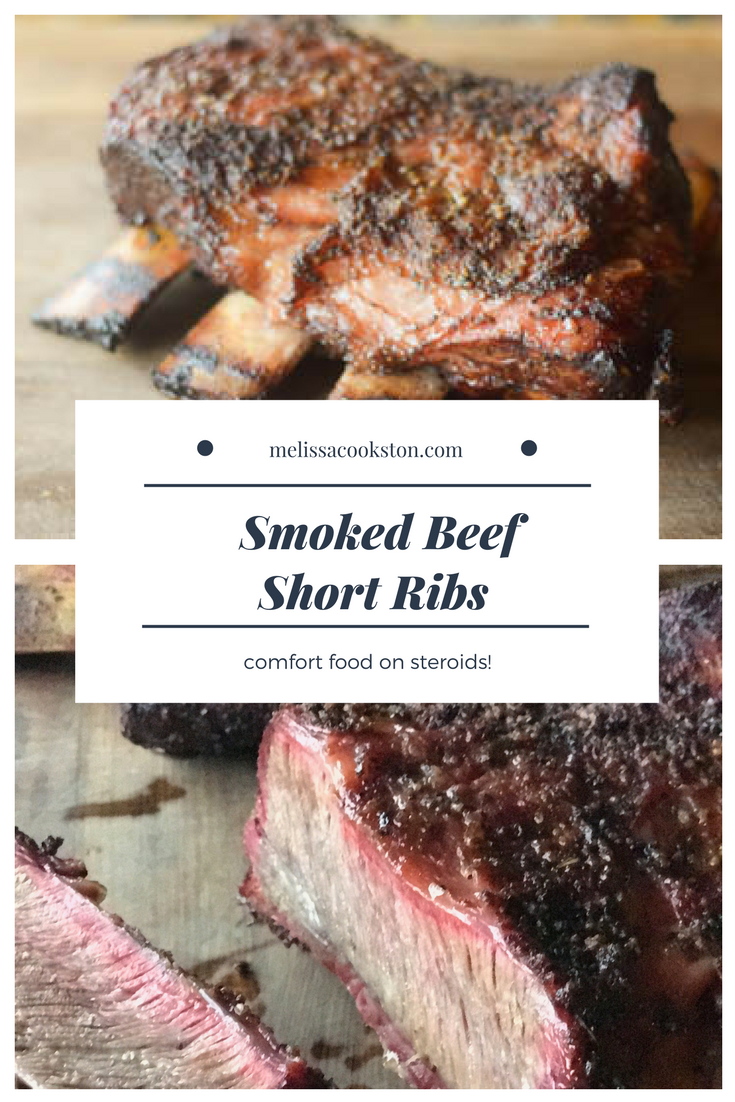 Yum
Ingredients
7-8

lbs

beef short ribs

1

tbs

olive oil

4

tbs

Grillin' Shake

see link above for recipe

1/4

cup

beef stock

1/4

cup

BBQ Sauce

if desired
Instructions
Prepare a smoker to run at 275 degrees. Or you can set up a grill to run on indirect heat by placing all the charcoal on one side and your meat over the other side. Remove ribs from wrapping and let come to room temp for about 30 minutes.

Lightly coat the meat with olive oil, then sprinkle heavily with grillin' shake

Place on smoker for 2 1/2 to 3 hours, or until meat has pulled back from the bones about 1" (if using full pieces. If you are using cut short ribs, just look for when the meat has shrank back from the bones on both sides and the meat looks about 20% smaller- this could be in as little as an hour. It's ok, it's going to taste great even if you miss this some!)

Place the meat on a large piece of foil and add in 3-4 TBS of beef stock. Wrap fully and place back in smoker.

Continue to cook for 1-2 hours, or until meat is absolutely soft to the touch and the bones can be removed easily. I don't cook them to quite the soft texture as when I braise them, but you can easily do this if you prefer.

Slice and serve!
Notes
I adapted this recipe to run in a normal smoker or on a grill set up for indirect heat. I cooked these in my Big Green Egg which I run at a higher temp (around 325) but with the convection plate. When using my egg, I normally run higher items at the thermometer than I run in my smoker or grill due to the design of the egg. I used Kingsford Professional Charcoal supplemented with 3-4 small chunks of pecan wood for flavor.