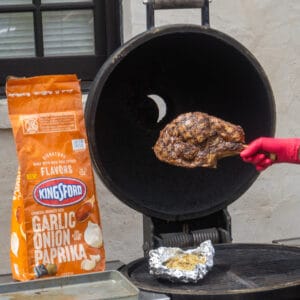 This post is brought to you by my friends at Kingsford®
When you want an awesome steak, you have to start with an awesome steak.  I'm a huge fan of ribeyes.  They have so much marbling, flavor, and if cooked right, the perfect texture.  But again, when I want a special steak, I go with a huge, thick, cowboy ribeye- usually 2.5 to 3 pounds worth!  And, when you get a special steak, you want to make sure you cook it right.  For this reverse seared cowboy ribeye with Kingsford Signature Flavors charcoal recipe, I went simple on the recipe, and it was amazing.
What is a reverse-seared steak?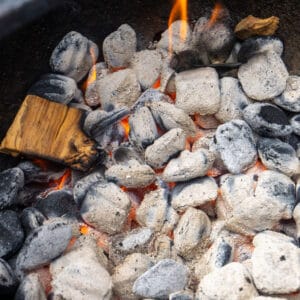 Many people start a steak on a hot grill and cook it.  For thinner steaks, that can be a perfect method.  You'll get awesome grill marks (clean and oil those grates!)  But, when you get a thicker steak, cooking on a hot grill will oftentimes mean a overly charred exterior and an undercooked interior.  Reverse-searing solves that problem, and it's super easy.  Just set up your grill for a 2 zone fire, with all the coals on one side of the grill.  Season your steaks and temper them (leave them at room temperature for 30 minutes or so, lightly covered.) Place them on the cooler side of your grill and allow them to slow cook until they reach 20 degrees under your desired doneness.  For a medium rare steak (a warm red center) you'll want your finish temperature around 135 degrees.  So, cook your steak until it reaches 115 degrees, then remove from grill and allow to rest for 10-15 minutes.  While resting, increase the air to your grill to get the coals super hot, adding more if necessary.  Then, simply sear the outsides of your steak on both sides.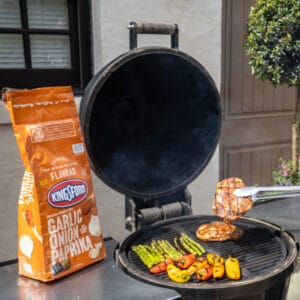 What are Kingsford Signature Flavors?
The new Kingsford Signature Flavors are real spices embedded in charcoal, wood pellets, and flavor boosters.  Their flavors are Garlic, Onion, and Paprika with Hickory Wood, Cumin Chili with mesquite wood, and Basil, Sage, Thyme with oak wood.  The flavor boosters are designed to release the added flavor of the spices throughout the cooking process.  Now, these aren't overpowering flavors, think of them as "amp up's" for lack of a better term.  You'll still want to season your meat or veggies as normal, but cooking over the signature flavors will definitely add that "little something extra" that we're all looking for when we cook dinner.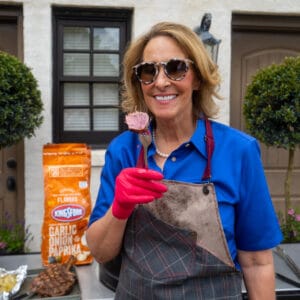 Simple Seasonings for Amazing Flavors
When I get a good cut of beef, I generally go simple in seasoning.  2 TBS Kosher salt mixed with 1/2 TBS fresh ground black pepper and 1/2 TBS granulated garlic is perfect for a well-marbled ribeye.  Mix the spices together, and sprinkle on all sides of the steak.  Like a bit more bite?  Add some chili powder or chipotle powder.  Want more of a full flavor?  Add 1 tsp mustard powder, 1/2 tsp cumin, 1/2 tsp smoked paprika, and 1 tsp onion powder.  Really, that's the fun of cooking at home, making your food for YOU.  And, one thing I always highly recommend is having some flake salt for a light finish over the meat.
As always, I hope you enjoy!  Now, get out there and grill!