Pork Tenderloin Tacos
with Avocado Crema
Serves tacos for 4 to 6 people
I have really been on a taco kick lately. I love tacos! Tacos are so versatile that you can make them out of basically any meat that you have on hand, and generally pretty quickly. I have also been on a pork tenderloin kick lately, so I decided to combine the two for some delicious Pork Tenderloin Tacos. Pork tenderloins cook quickly, are very tender and tasty, and soak up flavors well—which pretty much checks off all the boxes I need when I want tacos!
Smithfield sent me some of their new Black Peppercorn and Garlic marinated pork tenderloins, which makes this recipe a snap to prepare. As these tenderloins are marinated, I don't need to plan ahead to get them flavorful by marinating, they come out wonderful just as they are. Avocado crema will add a bit of brightness and creaminess to the tacos, and I will look for any excuse to use it as a sauce on pretty much anything. Finish them with some freshly made Pico and you are going to be in taco heaven.
To make this a no-hassle dish, make the Pico ahead of time and refrigerate for an hour to allow the flavors to meld. The avocado crema only takes a few minutes to make, and can also be made ahead an hour or so.
Fire up the grill and put on the pork tenderloin. For these, I used my gas grill equipped with Grill Grates to cook the tenderloin. Normally, I would cook this on my Big Green Egg or charcoal grill for even more flavor, but an unseasonably cold day made me go with the speed of the gas grill.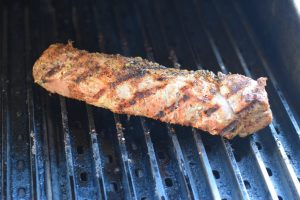 I cooked this tenderloin 4-5 minutes per side (4 sides) to get it to a nice medium. I cook until the internal temp is 145 degrees, then remove and rest for 4 to 5 minutes before slicing very thin medallions. Use a thermometer for perfect results every time. As the tenderloin is finishing up, throw some tortillas on the grill for about 20 seconds per side to heat and get some nice grill marks. Serve with plenty of Pico and Avocado Crema.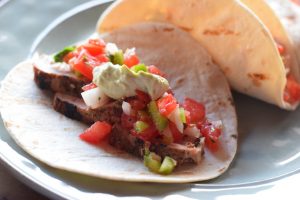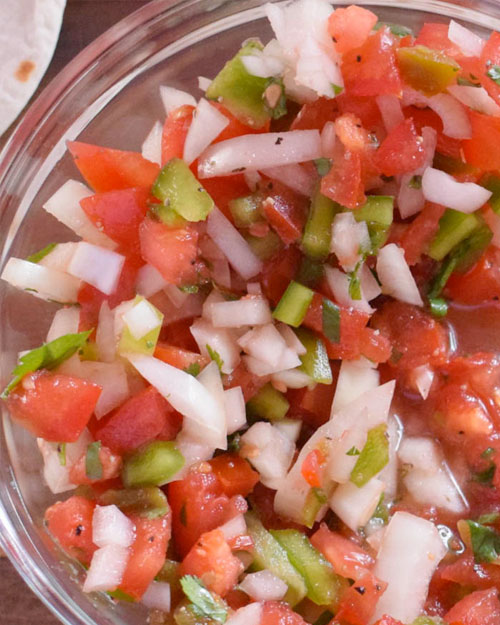 Yum
Ingredients
4

roma tomatoes

chopped

1

onion

medium size, diced

1/2

green bell pepper

diced

1

TBS

jalapeno pepper

diced

1/2

cup

Cilantro

chopped

1

tsp

garlic

minced

1/2

tsp

kosher salt

or to taste

1/2

tsp

black pepper

or to taste

1

lime

juiced

1/2

tsp

canola oil
Instructions
Dice tomatoes and drain. Add remaining ingredients to a non-reactive bowl and stir.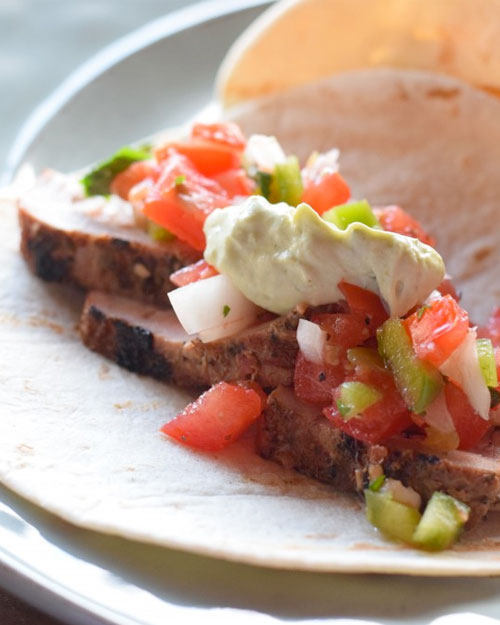 Yum
Ingredients
1

avocado

pulp removed

1/2

cup

crema

3/4

tsp

kosher salt

or to taste

1/2

tsp

cumin

1/2

tsp

black pepper

1

lime

juiced

1/2

cup

Cilantro

chopped
Instructions
Remove pulp from avocado and mash with a fork. Add other ingredients and stir until incorporated.