Tired of the same old burger blah?  Liven up burger night with my Pimento Pork and Chorizo Burgers!  This simple-to-make burger adds some gently spice from the chorizo to the flavors of the ground pork, and leaves everyone wanting another!  A little hot sauce adds another layer of flavor to the mix.  Don't worry though, the pimento and cheese will cool the spices down and make this one of your favorite burgers!
Ground Pork and Chorizo
I have been using ground pork instead of beef in many recipes over the past few years.   Look for a good pink color when selecting ground pork, and ensure it smells "fresh" before using.
For the Chorizo, I try to choose loose ground chorizo, instead of chorizo in casings.  I like a little spice, but not too much, so I choose mild chorizo if possible.  If you use chorizo sausages, you may need to remove it from the casing and place in a food processor and chop before mixing with the pork.
Cheese Please!
While you can easily add your favorite sliced cheese to these burgers, what turns it into an epic burger is my Zesty Pimento and Cheese.   You can use your favorite brand, but the recipe in the link is perfect for this burger. Put a big dollop on the burger right before it's done and let it get good and ooey-gooey melty!
Mix it up!
In a mixing bowl, add:
1 lb Ground Pork
1 lb Chorizo
2 TBS Worcestershire Sauce
1.5 TBS Tabasco Chipotle
1 tsp minced garlic
1 tsp salt
1/2 tsp coarse ground black pepper
Mix everything and form into 6-8 patties, depending on how large you would like your burger patty.
Here's how to cook them
Fire up the grill!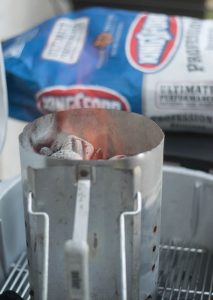 Then, sprinkle each patty with a little BBQ rub, and refrigerate for 30 minutes before using.  This will let the burgers hold their shape better.
Place on a medium hot grill and cook about 5-6 minutes per side, or until the burgers are cooked through.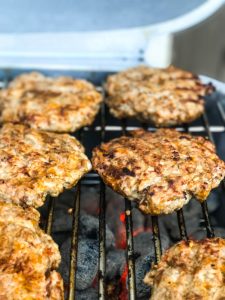 As the burgers are nearing completion, add a nice scoop of my Zesty Pimento and cheese and let melt for 1-2 minutes.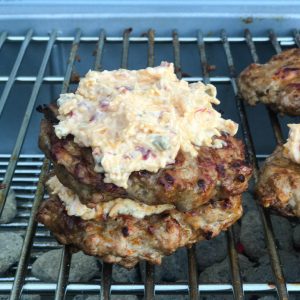 Toast your buns, and of course, grill some bacon!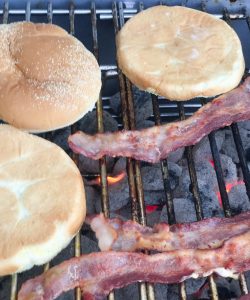 Put it all together with your favorite burger condiments and enjoy!