Good side items at any BBQ party are mandatory, and with a little work can be the star of the show!  At any outdoor picnic, baked beans are good.  However, maple chipotle baked beans made from scratch are awesome!  Revel in the recipe requests from your friends and family, soak up the adoration from those poor souls still making baked beans from a can.  Yes, you too can win "Battle Baked Bean" (and fool everybody into thinking it was hard work!)
First, start with a bean
When you make bake beans from scratch, you obviously have to start with a bean.  You basically have two choices, great northern beans or navy beans.  Generally, I start with navy beans, but today I used northerns.  They are slightly larger than navy beans, with a bit of a "nutty" flavor that stands up to the bold flavors of this dish.
The recipe starts with the assumption you have soaked your beans overnight.  Me, I'm always running two steps behind lately, so I went with the quick method.  Put your beans in a pot, cover with plenty of water and bring to a boil, then simmer for 15 minutes and let stand for 10 minutes or so.  Then act like you have been planning ahead, and go to the first step in the recipe.
Zest it up!
Great baked beans are a mix of spiciness, sweetness, the earthiness from the beans, and the savory aspect from worcestershire and a meat. In this recipe, I cooked the beans for a small get together.  As such, I didn't want them to be overly hot (spicy) but I wanted a good, zesty flavor.  If you love spice, add some more Tabasco Chipotle to the mix, or a bit more of my BBQ Seasoning.
Baked beans are traditionally "seasoned" with some pork fat (fatback, for those of you in the South.)  I cooked these with bacon.  Not just any bacon, but Smithfield bacon.  It's the baconiest!  Seriously. The recipe calls for 6 slices but you could easily get away with three or four slices.  Me, I cooked 8 slices and then enjoyed the ones I didn't need.
Note
I am a paid ambassador for Smithfield Foods and Tabasco, both of which have items featured in this recipe.  However, opinions contained herein and the recipe itself are my own and given voluntarily.
Print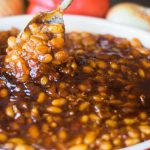 Maple Chipotle Baked Beans from Scratch
---
Total Time:

2 hours 10 minutes

Yield:

8

people

1

x
1

lb northern beans (soaked overnight (or see instructions above))

6

slices bacon

1

TBS minced garlic

1

yellow onion (diced)

1/2

bell pepper (green or red, diced)

1 1/2 tsp

salt

1 tsp

coarse ground black pepper

2 cups

ketchup

1/2 cup

worscestershire sauce

1/2 cup

maple syrup

1/2 cup

Water

1/4 cup

Tabasco Chipotle Sauce

1

TBS Basic BBQ Rub (see linked recipe, or use your favorite)
---
Instructions
Drain soaked beans, then place in stockpot and cover with water to about 1″ above beans. Bring to a boil then simmer for 1 hour, adding water if necessary. Drain beans.
Cook Smithfield bacon in a pan until crisp. Remove bacon from pan, leaving rendered fat in pan. Crumble bacon after it cools.
Add onions and bell peppers and cook for 3-4 minutes or until softened but not translucent. Add garlic and cook for 1 minute, then remove from heat.
Preheat oven to 350 degrees. In a large baking dish add beans, onion/pepper/garlic mix from skillet and remaining ingredients. Mix well.
Bake for 1-1/2 hours or until beans are tender and liquids have thickened around beans. Serve!
Prep Time:

10 minutes

Cook Time:

2 hours