Cacio e Pepe, translated as "cheese and pepper," is a simple pasta dish that is a favorite specialty of Rome.  It is one of my favorite dishes, as it has that "comfort food" quality that I love so much.  I do like to jazz it up a little by usually adding some bacon, which adds just that extra bit of goodness.   In playing around in the kitchen the other day, I decided to add some hot sauce to the pasta itself, and the results were awesome!
My daughter, Lauren, has always loved making her own pasta from scratch.  Generally speaking, it's exceedingly easy to make your own pasta, and the flavor and texture is significantly better than store-bought dried pasta.  Yes, it's a little bit messy, but the flavor is worth it.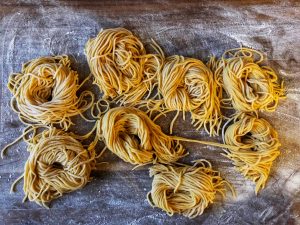 Spice it up!
Adding flavorings to pasta is super easy, you just have to take care to keep a roughly equivalent ratio of liquid to flour.  If adding a pre-made sauce, you also have to look at the sodium content so you don't over salt it.  I like Tabasco Chipotle sauce, as it has quite a bit of flavor in addition to some heat.  Chipotle peppers (smoked jalapeños) just have a great depth of flavor to me, and I've always loved using them in my dishes.
Everything is Better with Bacon!
This pasta recipe is kind of a mixup between a "carbonara" and a traditional Cacio e Pepe.  The bacon is more traditionally found in Spaghetti Carbonara, and I love that dish, so why not add some to this!  A little bit of bacon will also give your pasta to more of a "main course" feel.  For this dish, I used Smithfield Brand Thick Cut Bacon.  Of course, if you'd prefer not to have it, just leave it out.
Anyway, here's the recipe!  If you don't feel like making pasta from scratch, just skip down a few steps to make Cacio e Pepe with dried pasta.  Traditionally, it is made with bucatini (a thin, hollow noodle) but I've seen it many times made with regular spaghetti.  It's a great dish, and so easy.  Enjoy!
Print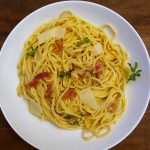 Hot Sauce Infused Cacio e Pepe
---
Total Time:

1 hour 20 minutes

Yield:

4

people

1

x
2 Cups

all purpose flour

3

eggs (lightly whisked)

4

TBS Your Favorite Hot Sauce

1 tsp

kosher salt

5

pieces thick cut bacon (cut into small pieces)

2

tsp crushed red pepper

1

tbs coarse ground black pepper
---
Instructions
Place flour on a large cutting board and make a "well." Add in salt, eggs and hot sauce. Using a fork, gently begin whisking in the well, gradually incorporating flour.
After flour is mainly incorporated, hand knead pasta dough until slightly smooth. If pasta dough looks too dry, add a teaspoon of water at a time. Pasta dough will not be as elastic as a bread dough, so don't worry too much, just make sure it is mixed thoroughly.
Tightly wrap dough in plastic wrap and let it sit for at 30 minutes. (I've skipped this before, but I think it helps the texture.)
Run pasta through a press, or mixer attachment. Run pasta through a "sheet" press first, starting at a low number, then thinning it out. When desired thickness is achieved, run through spaghetti blades.
Bring 3 quarts water to a boil. Fresh pasta will cook in 3 to 4 minutes, so have everything ready to go!
While pasta water is heating up, cook bacon in a skillet until crispy. Drain and set aside. Drain skillet, then add olive oil and sautéed garlic until golden. Add crushed red pepper and black pepper.
Remove cooked pasta from water and add to your skillet (over medium heat) with the peppers and garlic. Add parmesan to pasta 2 tablespoons at a time, stirring or tossing pasta frequently. Add reserved water 2 teaspoons at a time until cheese is melted. Continue to add until all cheese is used and melted.
Add bacon, toss to heat, test for flavor and add salt and pepper if desired, then plate. Garnish with more parmesan (I love shaved parmesan for garnish,) diced basil or micro greens, and serve.
Prep Time:

30 minutes

Cook Time:

20 minutes