Mussels are one of my guilty pleasures, they are tasty, fun to eat, and make a great appetizer or meal.  They're very easy to cook in a skillet on the stove, but I like to cook them on the grill to add a bit of smoky nuance to them.  Check out my quick video for Grilled Mussels, or follow the super easy recipe below.
Preparing Grilled Mussels
As with any seafood, make sure the mussels you are buying are fresh.  It's even more important for mussels, as they need to be live before cooking.  Wash the mussels thoroughly in cold water, even scrubbing them if needed.  There may be a "beard" on the mussels, you can pull that off with your fingers.  Discard any opened mussels, as they are dead.  That's really it- 3-4 minutes of prep and you're ready to cook!
Grilling Mussels
This recipe works whether you are using a grill or the stovetop.  As I said, I like using the grill to add that extra bit of flavor to the mussels.  Plus, there is nothing like grilled toast to dip in the flavorful broth!  I preheat a pan, then sautee garlic and shallots, or onions, in butter until fragrant.  Then, add a cup of wine, a cup of chicken stock, chopped parsley and basil, and the mussels.  Cook 6-8 minutes or until they are opened up- It couldn't be easier!  While they are finishing, or course you'll have time to grill that bread for the ultimate dipper.
As always, I hope y'all enjoy!
Print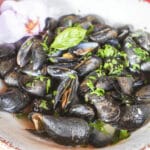 Grilled Mussels
---
Description
Mussels are one of my favorite dishes!  Cooking them on a grill adds a extra nuance of flavor, but you can follow this same recipe on the stovetop.  Serve a big bowl as an appetizer, or as an intimate main course.  Don't forget the grilled bread to dip in the flavorful broth!
---
2 lbs mussels, cleaned and washed
1/2 stick butter
1/4 cup diced shallots
4 cloves garlic, finely chopped
1 cup white wine
1 cup chicken stock
1/4 cup chopped Italian parsley
2 TBS chopped basil
Toast, for serving
---
Instructions
Preheat a large frying skillet.  Add butter, garlic, and shallots or onions and sautee 4-5 minutes, or until fragrant and golden.  Add wine and stock and allow to heat.  Add mussels, parsley, and basil.  Cook, while stirring occasionally, 7-10 minutes, or until all mussels are opened.  Discard any unopened ones.  Pour mussels and broth into a large serving bowl.  Serve with grilled toast for dipping in the wonderful broth.
Prep Time:

6-10 minutes

Cook Time:

15 minutes

Category:

seafood
Keywords: mussels, grilled mussels,