This post is sponsored by The Home Depot*.
Fall and early winter are my absolute favorite times to grill.  I live in Mississippi, and we have brutal summers.  So when the temperature dips, it's a very welcome relief.  50, 60 or 70 degree days feel like the wind has a bit of chill in them when you're used to 105 heat index days!  I love the cool weather, even if it gets down-right cold at night.  I just feel rejuvenated after the intense heat of the summer.  So I love to break out my fall repertoire when we start getting the cooler days, and one of my favorite recipes is Chipotle Maple Pork Chops.    The soothing sweetness of maple syrup is a delightful contrast to the residual heat from the chipotles.   I love to serve these with my Grilled Beets, butternut and blue cheese salad and smoky grilled brussels sprouts.  Cook everything on the grill and keep the kitchen clean!
As I said, this post is sponsored by the Home Depot, and there's a good reason for that.  The Home Depot has tons of great grills, accessories, and basically everything you need to grill all year long!  I grill throughout the year, and in my area it's much preferable to grill when it's 30 than when it's 100!
It's Social Time!
Fall and winter are great social times.  In the summer, people are on vacation, kids are playing baseball, and generally it's too dang hot to want to go near a grill.  But in the Fall, you've got great football and basketball games, nice weather, less mosquitos, and you get to wear those spiffy sweaters again!  Why wouldn't this be the best time of the year for cooking outside!
Tell me about this pork chop!
The pork chop is delicious.  I mean A-1 good.  I love flavor combinations that have contrast but also meld together.  Pork is the perfect palette for mounting layers of flavor as well, as it has a good, natural flavor but not an overwhelming one.  The recipe, below, is really quite easy.  The most important thing is to start with a great product.  Look for good color, a thickness of at least 1″, and make sure it is fresh.   If you've been a loyal leader, you know I have always suggested having a good, instant-read thermometer around.  Cook the pork chops until they hit 142 degrees internally, then remove to a plate and lightly cover with foil for 5-10 minutes.  The internal temp will go up 4-5 degrees, and you'll have moist pork chops every time!
As a side note, the marinade recipe also works great with chicken breasts or skirt steak.
How do I grill them?
Well, I'm glad you asked.  I cooked these on my Weber Kettle Grill.  The design of the grill dates back to the 1950s, and it's still around because it works.  It's amazingly versatile, lightweight, and a very small learning curve.  Here, I'm going to cut the learning curve even smaller- whatever amount of charcoal you were going to use, only use half of that.  Put the charcoal on one side only so you have a two-zone fire.   Boom.  Done.  Now you're a grillmaster!
Thick pork chops will take about 12-15 minutes to get to 145 if you're not cooking them over an inferno.  Put the pork chops down on the grill (oil your grates first.)  Allow to cook for 2 minutes.  Turn them 45 degrees, and allow to cook 2 more minutes.  Flip over and cook for 2 minutes, then give another quarter-turn for 2 minutes.  Then, move to the cool side of the grill and monitor them until the internal temperature reaches your desired number.  Pretty grill marks, moist pork chops, and the acclaim of your family and friends.  What more could you want?
As always, I hope you enjoy!
*occasionally I take sponsored posts.  This post is sponsored by Home Depot.  The recipe and opinions in this article are my own.
Print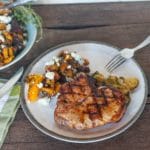 Chipotle Maple Pork Chops
---
Total Time:

2 hours 25 minutes

Yield:

4

people

1

x
Description
These sweet and sultry pork chops will soon be on your list of favorite comfort food dishes!
---
4

1″ to 1.5″ thick pork chops

2

` TBS olive oil

1/2

can chipotle peppers in adobo sauce

1/2 cup

maple syrup

2

TBS chopped cilantro

1.5 tsp

ancho chili powder

1.5 tsp

ground cumin

2 tsp

onion powder

2 tsp

granulated garlic

1

lime, juiced

2

TBS soy sauce

1 tsp

salt

1 tsp

pepper

2

TBS honey
sprinkle flake finishing salt
---
Instructions
Add all ingredients except pork chops and honey to a blender and puree.
Place pork chops in a resealable bag. Pour in half the marinade and seal the bag, pressing as much air as possible out. Marinate for at least 2 hours in the fridge, or up to overnight.
Pour other half of marinade into a small saucepan. Add honey, and bring to a boil then reduce to a simmer for 10 minutes or until thickened into a glaze.
Remove chops from the fridge and allow them to sit at room temperature for 25 minutes before grilling. Remove from bag, shake off excess marinade, and grill for 12-15 minutes, or until internal temperature is 142 degrees.
As pork chops are getting near the doneness temperature, brush with glaze.
Remove from grill and lightly cover with aluminum foil and allow to rest for 5-10 minutes. Serve
Prep Time:

10 minutes

Cook Time:

15 minutes