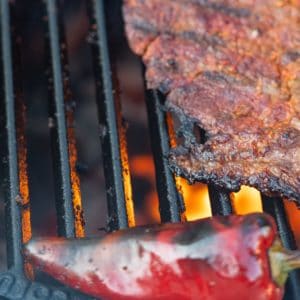 Everyone loves tacos.  However, I tend to think I am in the "obsessed with tacos" club.   As in, lately, every food item I see I judge by the criteria "would that be good in a taco."    No matter how good a marinade is, you have to start out with good meat.  So when my friends at Mishima Reserve sent me some chuck eye roll slices, I got my grill ready for taco time as I had the perfect chipotle citrus marinade for the tacos.  I absolutely love how the edges of the chuck roll slices get a bit of char for a contrast in texture and flavor.
You like discounts?  I do!!!
For a limited time only, go to Mishima Reserve's website and enter the promo code MELISSA at checkout for 15% off your order!   Mishima has wonderful beef (LOVE the teres major steak) so use the code to stock up on some amazing American Wagyu Beef!
What is the "chuck roll"
The chuck eye roll is from a primal cut (a large cut) of beef from the shoulder.  As it is from a medium working muscle area, it has great beef flavor.  The good thing about the chuck eye roll is that it also has wonderful marbling and tenderness.  With Mishima Reserve American Wagyu Beef, you know the tenderness relative to other cuts of chuck roll is going to be amazing.  The slices are fairly thin but have great marbling and fat content (that's where the flavor is!)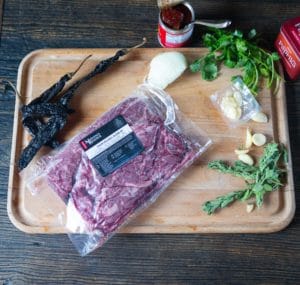 Chipotle Citrus Marinade and Sauce
Given my love for all things taco, it should be no surprise that I constantly have a few taco recipes working.  As of today, this is my absolute favorite one.  The chipotle-citrus marinade gives the meat a deep, earthy richness and the sauce amplifies the flavor with some extra zip as well.  I love the smokiness and late spiciness that chipotle peppers bring to the table.  The citrus tones from fresh orange juice give a bit of brightness to the meat as well.  Guajillo peppers are also called for in the recipe.  These are the dried form of mirasol peppers and are very common in Mexican cuisine.   If you can't find guajillo peppers, ancho or pasillo peppers will be a good substitute, or just use an extra tablespoon of ancho chili powder.   You'll need to marinate the meat at least two hours, but overnight is preferable.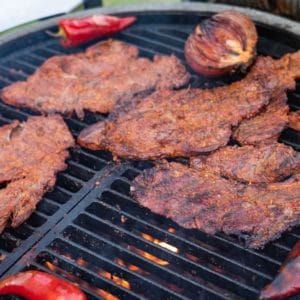 The sauce is my favorite.  You'll still get a lot of the flavor from the marinade from the guajillos and chipotles. You'll also get some brightness from the fresh jalapeno and cilantro.  It's got plenty of kick for me, but if you like spicy, then add another jalapeno.  Heck, substitute in a hotter pepper such as serrano or habanero if you like.   The sauce will keep in the fridge for a few days (and gets better as those flavors meld.) I usually make it a day or so ahead so taco night won't be so stressful.  It's tacos.  Nobody wants stress when tacos are on the way!
Grilling Tips
To cook the meat, get that grill hot!  These are thin slices, so you'll want to sear and caramelize on the grill quickly.  This will not be an afternoon of grilling.  The total cook time is only about 8-10 minutes if you are going for medium.   Right before I put on the meat I dropped in a couple of chunks of pecan wood to give everything a nice hint of smoke.  I grilled the meat, let it rest for 4-5 minutes, then chopped it up.  Delicious.  I always brush the grates with oil before grilling, especially something I know will cook fast.  By doing this the meat will "release" from the grill quicker, make clean up a snap and help keep your grates seasoned.  Generally, while the meat is resting I go on and scrub the grates of my grill, then add another coat of oil while the grill is cooling down.  Beautiful, seasoned grates are a good thing.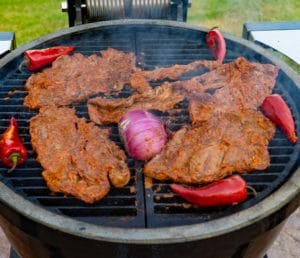 Also, while it's certainly not mandatory, I like to grill some peppers and onions while cooking the meat for tacos.  Then, chop them up and they'll make a great topping for the carne asada.  For these, I used some red Fresno peppers, which are slightly hotter than a jalapeno.  As most of the heat is contained in the seeds, I seeded them quickly before using them. I am not a chili head.  Again, feel free to go up or down on the heat scale for your tastes, from bell peppers or poblanos for a milder taste, or serranos or even habaneros if you like to sweat from your eyeballs.
It's taco time!
Serve tacos with your favorite toppings, such as pico de gallo, sliced avocado or guacamole, lime wedges, and cheese.  I used corn tortillas for these, but flour ones would taste great as well.
As always y'all, enjoy!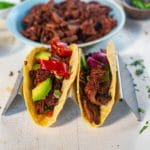 Chipotle Citrus Chuck Eye Roll Tacos
---
Total Time:

23 hours 10 minutes
For the Marinade
2

lbs Mishima Reserve chuck eye roll slices ((

1

package))

1/2

onion, chopped

4

cloves garlic, smashed

2

oranges, juiced

3

tsp kosher salt

2 tsp

chopped fresh oregano

1/4 cup

Apple Cider Vinegar

1 tsp

cumin

1/2

can chipotles in adobo sauce ((save other half for sauce))

1/3 cup

cilantro, lightly chopped

1

TBS ancho chili powder

1

TBS smoked paprika

2

guajillo peppers (seeded, soaked in warm water for

30

min, and chopped)
For the Triple Pepper Sauce
1/2

onion (peeled and cut into

1/2

" rings)

1

Jalapeno

5

guajillo peppers (seeded, soaked for

30

min. and chopped; reserve water)

1/3 cup

chopped cilantro (lightly chopped)

1/2

can chipotles in adobo sauce

1 tsp

smoked paprika

1

tbs olive oil

2

roma tomatoes (quartered)

1 tsp

salt, or to taste

2

cloves garlic
---
Instructions
For the marinade, add all ingredients except chuck roll slices to a blender and puree. Add meat to a resealable bag, pour over the marinade, and allow to marinate in the refrigerator for at least 2 hours.
For the sauce, heat a skillet on medium high. Brush garlic, jalapeno, tomatoes and onions lightly with olive oil. Place in skillet until lightly charred.
Remove charred veggies and put in blender except for jalapeno. Place it in a small resealable plastic bag for 5 minutes. Then, wearing gloves, remove the charred skin, then seed and devein pepper. Add it to blender with the rest of the ingredients.
Puree sauce. Add reserved soaking liquid in 1/2 cup at a time until a nice sauce consistency is reached.
Light grill and get to a medium hot grilling temperature. Place slices of beef on grill and cook 3-4 minutes per side or until desired doneness is reached. Grill onion and peppers alongside meat, if desired. When meat is done, remove from grill, lightly cover with foil, and rest for 5 minutes.
Chop beef into taco sized pieces. Serve with grilled tortillas and your favorite taco accompaniments. Enjoy!
Prep Time:

12 hours

Cook Time:

10 minutes