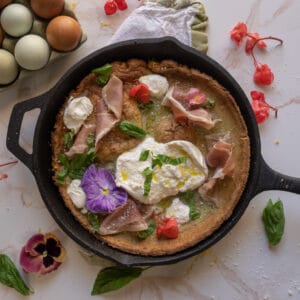 If you think I've been on a bit of a pancake kick lately, then you are correct.  To me, pancakes just scream comfort food, and for some reason, I've been craving them a lot.  That being said, I like to try new things and different flavors.  These Basil Dutch Baby Pancakes with Burrata and Prosciutto are definitely not your normal breakfast pancake.  They are savory, and have immense flavor, and a texture second-to-none.  Equally at home on the brunch menu or as a really neat lunch item, they are simple to make but pack tons of flavor.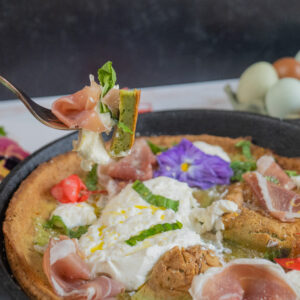 What's the difference between Dutch Baby Pancakes and Regular Pancakes
Dutch Baby Pancakes are baked in a (usually) cast-iron skillet.  They generally incorporate a fluffier texture, and are more adaptable to savory flavors.  Regular pancakes are smaller, and generally fried on a flat-top grill or skillet.  a regular pancake is either sweeter or lightly flavored and is basically a receptacle for copious amounts of syrup.  I love them both, but they are totally not the same.
Basil Dutch Baby Pancakes
This is a savory pancake, and the basil is blended in to give an amazing color and light flavor to the pancake.  This thing is BIG.  As in, make this dish and feed 3-4 people for brunch (along with other items.) When this comes out of the oven, it will be really, searching for a word here, "poofy."  Flip the pan onto a large platter (or serve it from the skillet) and it will go down as it cools.  This doesn't have to be served piping hot.  If you cook it and serve it in a cast iron skillet, it will take quite a while to get cold, so you'll be able to enjoy it for some time.
For this recipe, I topped the pancake with one of my favorite combinations, creamy burrata cheese and prosciutto.  I like to sprinkle fresh herbs around also.  Any savory toppings will do, so feel free to substitute.  In Amsterdam, I had one with slices of ham and Gouda cheese that was amazing!
If you're looking for a delicious breakfast pancake recipe, check out my Bourbon Pecan Pancakes Recipe!
As always, I hope you enjoy!  Now get out there and cook!
Print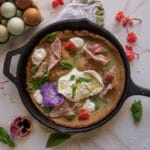 Basil Dutch Baby Pancakes with Burrata and Prosciutto
---
Description
Dutch Baby Pancakes are large, baked, pancakes that are usually topped with savory items as opposed to syrup.  These are infused with basil, and topped with one of my favorite combos, Burrata and Prosciutto!  This makes an excellent brunch item or lunch item for friends or family.
---
3 room-temperature large eggs
¾ cup milk, room temperature
3 tbsp unsalted butter, melted, divided
½ cup AP flour
2 tbsp cornstarch
½ tsp kosher salt
½ tsp black pepper
½ cup fresh basil
½ cup fresh Italian parsley, chopped
5–6 pieces Prosciutto di Parma
1 large ball burrata, torn in different pieces
EVOO to taste
---
Instructions
Place a cast iron in center of grill and preheat grill to 450°. Let skillet heat at least 25 minutes total
Put eggs in a blender on high speed until very frothy, about 1 minute. With motor running, gradually stream in milk, then 2 Tbsp. butter, basil, and italian parsley; blend another 30 seconds. Add flour, cornstarch, salt, and pepper and blend just to combine.
Carefully remove skillet from the grill and add remaining 1 Tbsp. butter in skillet to coat. Immediately pour batter into the skillet, and bake pancake until puffed and brown around edges, 20–25 minutes. It will begin to deflate as soon as it comes out. Top with prosciutto di parma, burrata, and drizzle with olive oil.