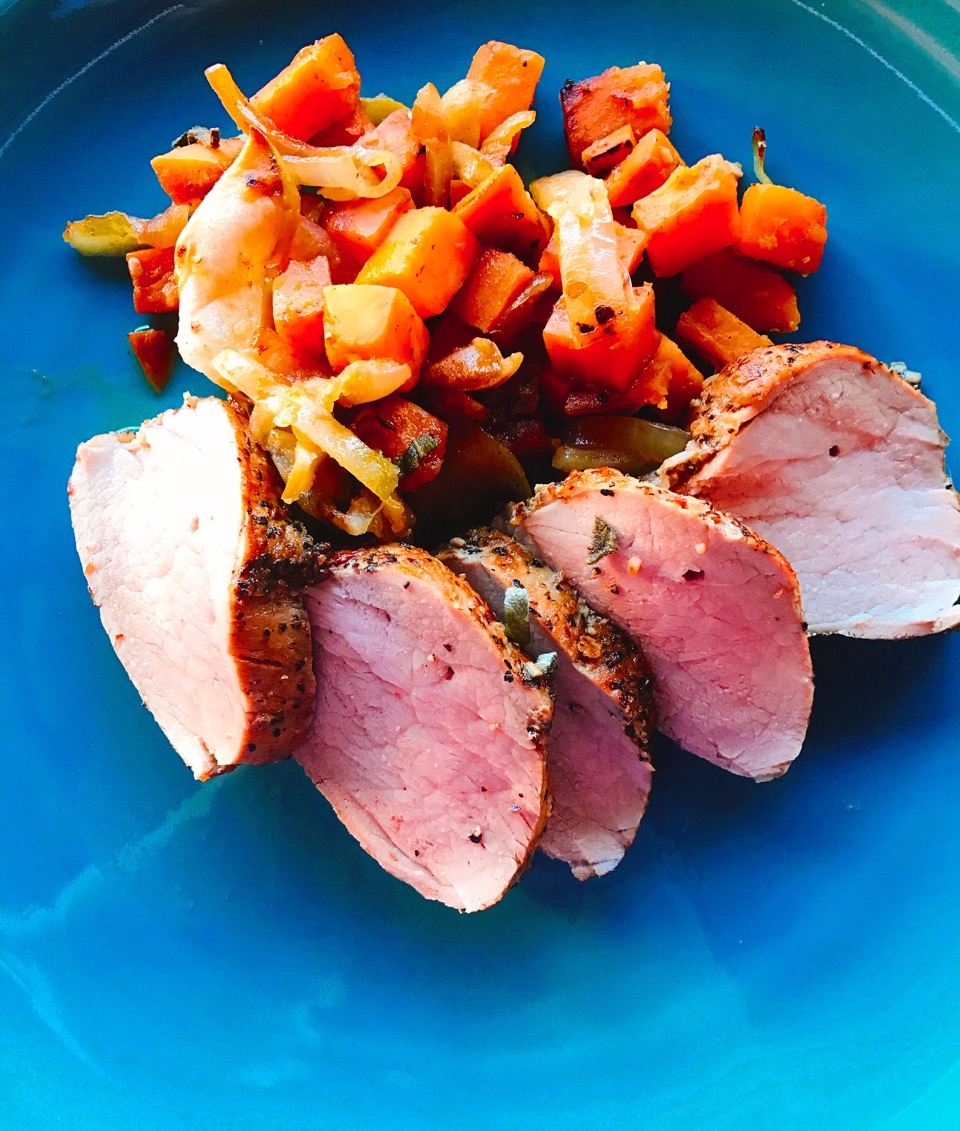 07 Mar

Pork Tenderloin to the Rescue

I make my living as a restaurant owner, and that entails wearing a lot of hats to get through the day.   A normal day can include recipe creation, working through cooking or serving procedures, following up on training, interviewing potential staff members, ensuring our quality is up to standards, and usually a whole lot more. Days in the restaurant are fast paced and take a lot of energy, which can be great fun but leave you tired when it gets close to dinner time. I sometimes feel I pour all my creativity out at the restaurants, and then I just can't bring myself to think of something to cook when I get home. So, when the fine folks at Smithfield sent me some of their new Roasted Garlic and Cracked Black Pepper marinated pork tenderloins, I knew I needed to try them out.

Pork tenderloins are very easy to cook, yet are a very versatile cut of meat. Many people confuse tenderloins with loins, but they are not the same. Loins are larger pieces of meat that run along the outside of the rib cage along the back of a pig (or cow). Generally, pork loins are cut into pork chops (the beef ribeye loin, from where delicious ribeye steaks are cut, is analogous to a pork loin). The meat tends to be less marbled than most cuts in a pig, and can be dry if overcooked (medium is preferred.) A pork tenderloin (analogous to the beef tenderloin, from where filet mignon is cut) is smaller, and usually cooked whole or in large pieces, and then served. As it doesn't contain a lot of marbling it will also benefit from a medium-rare to medium cooking temperature. Tenderloins are not "highly used muscles" like a pork shoulder or even loin, so they are naturally more tender than other cuts. That being said, they don't have as much intrinsic flavor as other muscles (think about a beef filet vs a beef ribeye,) so they benefit from a marinade or flavoring.

While a plain tenderloin properly seasoned and cooked can be very good, I much prefer a marinated version, which brings in the issue of time. If I am cooking at home, I am generally a "last minute chef," meaning I'm rushing around during the day without a lot of time for planning a meal. Since these are pre-marinated, I am good to go for an easy, quick, delicious dinner!

Anyway, enough verbosity, here's a recipe idea for cooking the Smithfield Roasted Garlic Cracked Black Pepper pork tenderloin that will make you a winner in the kitchen.

Last Minute and still look like a Hero Roasted Maple Pork Tenderloin

with apples and sweet potatoes

Pork Tenderloin is a "cut above" the normal dinner main course, but they can be prepared quickly and easily, thus giving you the opportunity to act as though you've worked hard in the kitchen all day when you've really been taking a nap. Not that I would ever do that, you understand, but I'm just saying it's very, very possible. The longest work time of this recipe involves prepping a sweet potato, apple and an onion. Other than that it's a 30-minute dish start to finish, and includes a main dish and a delicious side item! Serve with a quick salad and you're in business.

This recipe is made for 2-4 portions. I don't know whether you're feeding linebackers or cheerleaders, so you can make the determination there.

Note- as I'm using a pre-marinated tenderloin, I omitted seasoning the tenderloin. The Peppercorn Garlic tenderloin is well flavored, but not overly marinated like some others I have tried. If you have regular tenderloins, this recipe will work fine, just season with some salt and pepper or your favorite seasoning blend. Or, buy one of my books and pick one of the many seasoning recipes out of there!

Ingredients
1 Smithfield Roasted Garlic and Cracked Black Pepper Pork Tenderloin

1 tablespoons canola oil

2 cups peeled, cubed sweet potatoes

1 tablespoon chopped fresh sage

1 granny smith apple, cored and sliced thinly (peel if desired)

1/2 medium to large yellow onion, julienne cut

½ cup maple syrup

½ teaspoon kosher salt

¼ teaspoon coarse ground black pepper

½ teaspoon cinnamon
Preheat oven to 400 degrees.
Trim silver skin from tenderloins. If you haven't done this, insert a thin filet knife under the silver skin, turn the edge up 30 degrees and slice it off. The goal is to minimize the reduction of meat while getting rid of the silver skin, which will not break down in the cooking process.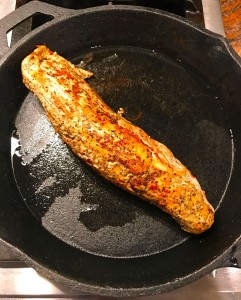 In an oven safe skillet on the stove (cast iron is the way to go here) heat 1 tablespoon of the oil until hot. Lay down the tenderloins and sear on all sides, about 30-45 seconds per side, then set aside. Lower heat to medium, add sweet potatoes and cook for 4 minutes stirring often. Add onions and continue to cook for 3 to 4 minutes until onions are beginning to be translucent and sweet potatoes are softening, then add apples. Sprinkle in salt, pepper, sage and cinnamon, then add in chopped sage.
Lay tenderloin on top of sweet potato mix, drizzle maple syrup over tenderloins and put in oven. Cook for 15-20 minutes or until pork tenderloin is 142-145 degrees (use your thermometer!)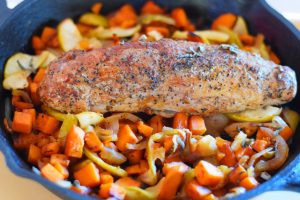 Remove from oven and allow tenderloins to rest for 5-10 minutes.   Slice, plate and enjoy!
Options and variations
Because variety is the spice of life, here's some easy options for this dish!
Use red potatoes instead of sweet potatoes, omit the maple syrup. After removing from oven, remove tenderloins and set aside, then put skillet back on stove. Add ½ cup chicken stock, stir, then add 1 cup spinach and cook until spinach is wilted. Remove from heat and serve with tenderloin sliced on top.
Omit potatoes altogether, and add apples along with onions at beginning of dish. After removing from oven, set tenderloins aside, then put skillet back on stove. Add 1 cup chicken stock and bring to a boil, stirring frequently, allowing stock to reduce by half. Reduce heat and add 1/3 cup heavy cream and ½ teaspoon Wondra flour and heat until cream is distributed and slightly thickened. Add salt and pepper to taste. Apples will break down into an apple sauce component to make a wonderful creamy sauce.
Any change of herbs will affect the flavor. Don't like sage (or don't have any)? Just add thyme, rosemary, or really anything you have a hankering for (or what you have on hand.) Pork tenderloin is super adaptable to whatever flavor you like, so add it in!