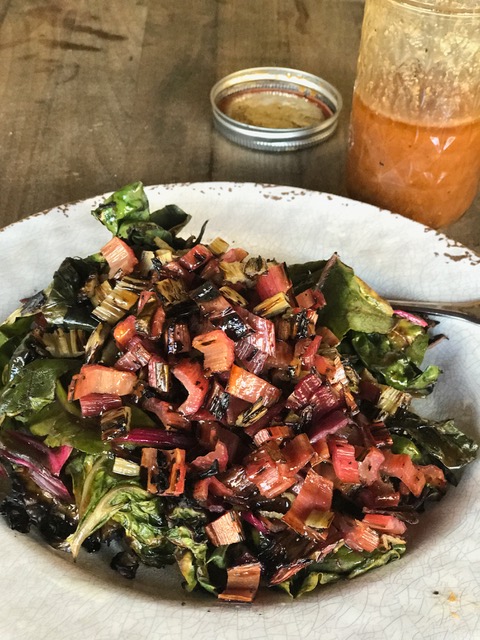 10 Apr

Charred Chard Salad with Sriracha Vinaigrette

Swiss Chard is an item that hasn't seen a lot of rotation in my kitchen, but I am aiming to improve its' ranking among my go-to dishes.  I am always attracted to the beautiful rainbow chard, with the red, yellow, purple and other hued stalks, but have never really developed a proper recipe.  So, with my goal set, here we go…

Chard is really a two-fer- both the stems and leaves are edible, and each has their own unique taste. However, they generally require different cooking times or methods to do them properly.  The leaves are a bit like spinach, and respond to most cooking methods in a very similar manner.

The stalks have a flavor which is a weird combination of a sweetened celery with a bit of beet flavor.  I consider it kind of an acquired taste.  My husband, who is a beet fan, loves it.  The stalks can be rather tough, but this can be changed through either a quick boil, a slightly longer sautee, a very fine chop, or charring on a grill.  Only one of these options included cooking over live flames.  Hmmm, decisions, decisions.

Ok, now that we've dispensed with the thought that I would choose anything but the grill, here's the recipe!

This will make a small warm salad for 2 people.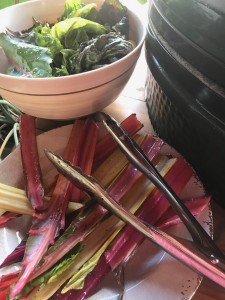 1 bunch rainbow chard
2 TBS olive oil
salt and pepper
Remove stems from leaves and keep separate.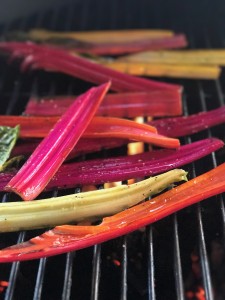 Heat your grill for medium high heat.  Toss stems in olive oil and lightly salt and pepper, then place on grill.  Cook until they are supple, then place over hot spot in grill and lightly char.  Remove from grill.  Oil chard leaves and place on grill until wilted.  A little char here won't hurt either, so don't fret.  Remove from grill.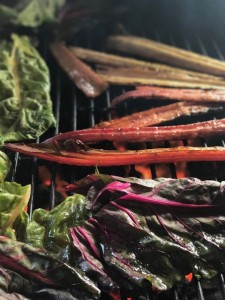 Slice stems and place in a bowl.  Add leaves, toss and drizzle on Sriracha Vinaigrette.  Enjoy. 
Sriracha Vinaigrette
My stepson Zach has been a hot food fan for a while now.  For Christmas this year he got multiple types of hot sauce and even small refillable bottles he can put on his keychain so he can always have sriracha sauce at his beck and call.  Me, I'm to the point where I love the flavors different hot sauces bring, but don't want my mouth to be on fire.  A "little kick" in the back of the palate is good for me.  So with that in mind, I made this Sriracha Vinaigrette.  Not overly spicy (though you can increase the hot sauce in the recipe if you like it hotter, or add some cayenne) it brings out a wonderful pepper sauce flavor blended with smooth balsamic and a bit of honey for balance.
Pour olive oil and canola oil into cup and set aside. Add remaining ingredients to a small bowl and whisk, then slowly drizzle in oil mixture in while whisking to form an emulsion.
Melissa's Tip-  I always store my vinaigrettes in a small mason jar.  This makes them easy to give a quick shake to redistribute everything before serving.