Over the last couple few years, I haven't been able to compete in BBQ contests as much as I've liked.  I've still been able to compete at the Memphis in May World BBQ Championship, but not much else.  Last year, we thought about competing more, and then decided to open our new restaurant, STEAK by Melissa, so that monopolized most of my time.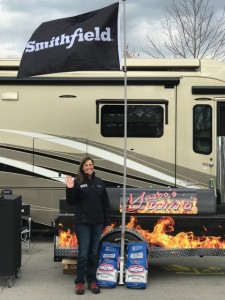 The competition bug is still a strong one though, and I do want to keep competing just to keep up with the trends in competitive BBQ.  I entered the Tupelo BBQ Duel, a Kansas City Barbecue Society sanctioned contest.  Of course, I never seem to do the simple thing, and entered this two-day contest instead of a single contest (they had a contest on Saturday and a separate contest on Sunday.)  No better way to shake the rust off than to do it two days in a row!
I had a great time seeing some old friends, and meeting lots of new people and fans.  I also managed to work out most of the kinks in my competition cooking.  While I was pretty unhappy with some of my turn ins on Saturday, I managed to come in a respectable 19th place out of 66 teams.  Considering I haven't cooked a contest in a year, I was ok with that.  On Sunday, I corrected several issues and came in 11th overall, which was dragged down by not getting my ribs perfect on time.  They were absolutely awesome 20 minutes after turn in time!  Unfortunately, in  competition BBQ you can't just offer your guests another cocktail or tell a funny story to buy some time for the ribs to get ready.  Oh well, live and learn.  All in all, I was pretty pleased with my cook and looking forward to the next one! 
Unfortunately, having to concentrate on remembering what I was doing for the contests and getting ready for one the next days precluded me taking lots of pictures, but I'll try harder next time.
Congrats to the winners
Congratulations to Fire Dancer on the Grand Championship on Saturday, and Killer Hogs for their Grand on Sunday.