Deviled eggs are among the most Southern of items, and you absolutely must have a recipe available to you.  Take heart, they're exceedingly simple.  However, sometimes you need to freshen up a classic recipe, and the addition of a simple, chive-truffle vinaigrette takes them to a whole new level.
Deviled eggs everywhere!
In case you don't know, deviled eggs are one of the ubiquitous items that you can find wherever people in the South get together.  You'll find them at picnics,  holiday BBQ's, funerals, Thanksgiving meals, and Sunday dinners.  I really can't think of another food that so easily transcends the time of the year to be a must-have at any get together.  They just never seem out of place.
Go to enough functions where Southern ladies abound, and you'll begin to hear the arguments about them.  Which type of mayo to use (and don't even think of bringing up some Miracle Whip.)  Should you add onions or not.   Whether a sprinkle of paprika should go on top for garnish, or is that just "putting on airs."  Well, you get the picture.
I am not going to get into to any of these discussions.  The deviled egg part of the recipe that follows is exceedingly simple. I sometimes add finely diced onions, but I didn't list them here.  These are kind of a classic recipe, and I'll let you make your own additions or subtractions as you see fit.  So, in short, if you are looking for a simple deviled egg recipe, you can stop right there and not mess with the vinaigrette.  Also, whether you want to pipe in the stuffing for a prettier look is entirely up to you.  Generally, I don't.  If I am serving these at a catered function, I will pipe it in as it is more efficient when doing large numbers.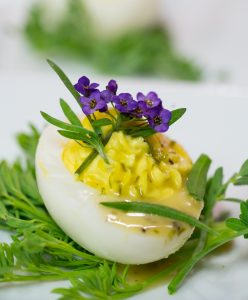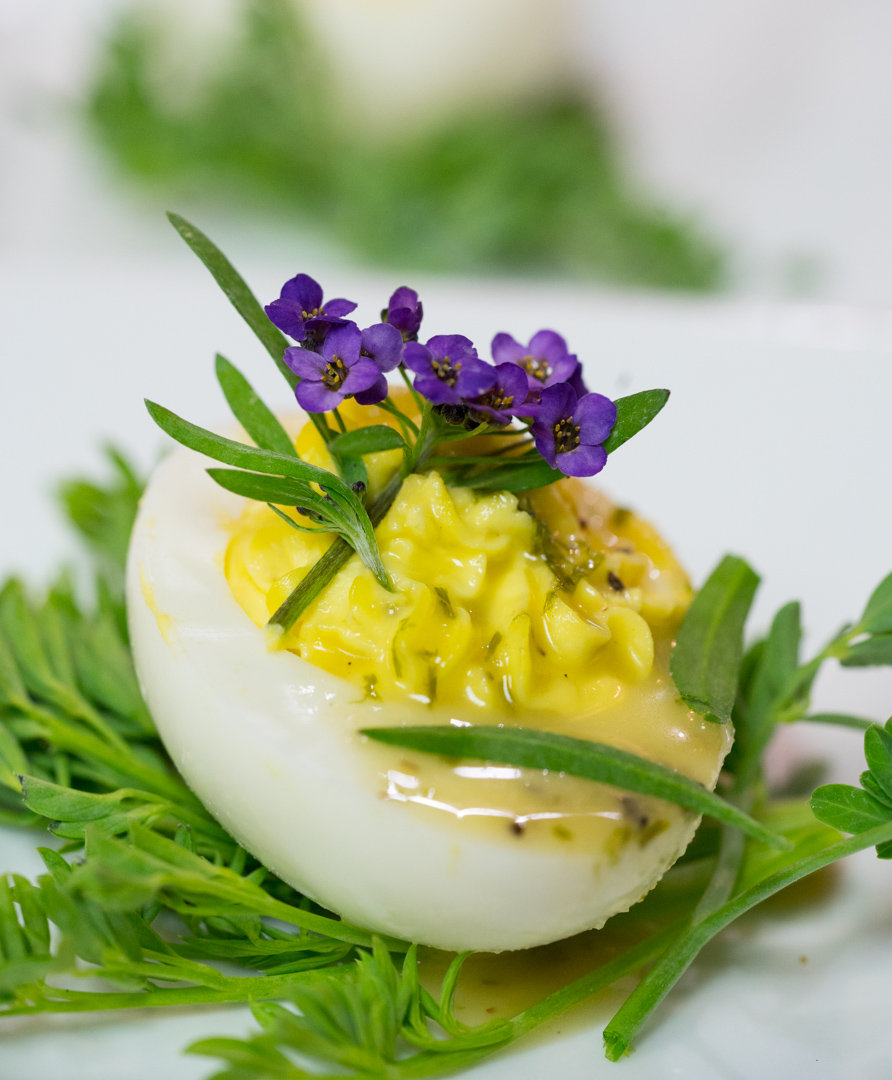 The vinaigrette is the key
However, if you are looking to go out on a limb and strike fear into the hearts of your quilting bee rivals with your deviled egg prowess, a little drizzle of a flavorful vinaigrette works wonders.  I am presenting these with a chive-truffle vinaigrette, but you can whip up any flavorful light dressing and make your eggs stand out.  I often substitute thai basil, or mixed herbs such as sage, thyme and rosemary into these quick vinaigrettes, and they're always delicious.  Don't be afraid to experiment, and vinaigrettes are so easy to make, you should get them into your repertoire as soon as possible.
Print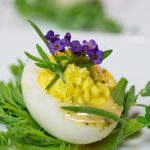 Southern Deviled Eggs with chive-truffle vinaigrette
---
Total Time:

15 minutes

Yield:

6

people

1

x
For the Eggs
6

hard boiled eggs

2

TBS mayo

2.5

TBS sweet pickle relish

1/2 tsp

kosher salt

1/2

tsp black pepper
For the Vinaigrette
2

TBS champagne vinegar

1 tsp

honey

1

tsp dijon mustard

1 tsp

finely chopped chives

1/2 tsp

minced garlic

2

TBS olive oil

2

TBS white truffle oil
---
Instructions
For the eggs
Cut eggs in half and separate yolks. With a fork, break up yolks, then add relish, mayo and salt and pepper. Adjust seasonings, or mayo if stuffing looks too dry. If you're being fancy, place egg yolk stuffing in a piping bag and pipe into eggs. Otherwise, you can just spoon the stuffing back into the eggs. Refrigerate for at least 30 minutes to firm up.
For the vinaigrette
If you like whisking a lot, you can make this in a small bowl with a whisk. I prefer using a blender, an immersion blender, or a food processor (depending on how much I am making.)
In a separate container, pour olive oil and truffle oil together. Add all ingredients except oils to bowl and whisk or blend thoroughly. While blending, slowly drizzle oil blend into dressing to form an emulsion.
either using a squeeze bottle, or a spoon, drizzle vinaigrette dressing over eggs and serve.