Red Beans and Rice is one of my favorite comfort food dishes.  Unlike many of those dishes, red beans and rice is a welcome dish in summer as well as chilly weather.  The sultry spiciness of cajun spices cool hot summer nights as well as warm up crisp fall evenings.  I have been cooking this dish for as long as I can remember.  I recently made a pot of red beans and rice, seasoned with Tasso ham, andouille sausage, and my Cajun Garlic sauce, and enjoyed it so much that I wanted to share the recipe.
The importance of the proper Red Bean
I have seen many "authentic" red beans and rice recipes over the years, and I'm constantly surprised at how many use red kidney beans as their bean of choice.  I'm sure it's easier to just pick a readily available "red colored bean."  Red kidney beans are not authentic in any way, however.  About half the size of kidney beans, small red beans have a thinner skin and a more delicate flavor.  They will take less time to cook than a kidney bean, and yield a delicious, full texture to the stew when cooked.
Now, "Red Beans and Rice" sounds a bit misleading.  The traditional New Orleans dish is really more of a stew than a dish of simple beans served over rice.  Generally, the red beans are cooked with the Cajun "trinity" of onions, celery, and bell pepper, then seasoned with plenty of garlic, andouille sausage, Tasso ham, bay leaves, and more.  Generally served with a good portion of liquid instead of beans, the stew when properly made has tons of body, a "milky" appearance, and terrific, palate-pleasing spice.  For an entree, I sear an additional portion of andouille and serve atop the bowl.
Red Beans and Rice are traditionally served on Mondays
In times gone past, Mondays were "wash days" in Louisiana.  A pot of red beans was put on the stove for a long simmer while the wash was being handled, and afforded people an easy and tasty meal when the day was complete.  Many Louisiana and New Orleans still offer an Red Beans and Rice special on Mondays.  Really, if you have to get started on your week, what better way to get through the day than looking forward to a bowl of this delicious dish?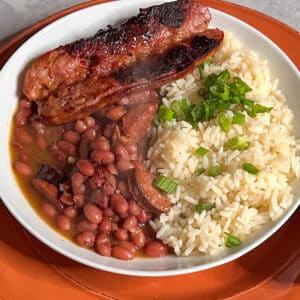 Tasso Ham and Andouille Sausage
Andouille sausage is a double-smoked, garllc-spiked pork sausage with French origins.  As Cajun and Creole cooking evolved from French traditions, it is no wonder this sausage is so popular in the area.  It lends itself amazingly well to this recipe, and the intrinsic spices of the sausage lend a welcome addition to the spirit of the dish.
Tasso Ham is not really ham at all, but heavily-spiced cured pork butt.  Pork butt is cut into fairly thin slices, cured, seasoned with "cajun spices" and smoked.  The resulting meat is used as a flavoring in many Louisiana dishes, rather than eaten as we do ham.
Tasso is not readily available outside of Louisiana.  I generally make my own, or stock up when I'm in the Louisiana area.  On a recent trip back from New Orleans, I stopped at a Rouse's Market (such an amazing grocery store- I so wish there were some around me) and grabbed some much needed Louisiana supplies- Tasso ham, fresh gulf shrimp, a King Cake, and some mini muffuletta sandwiches for the trip back home.  Tasso freezes well, so if you get some, portion it and freeze it.
If you can't get Tasso, substitute a bit of ham plus an extra tsp of Cajun Garlic Sauce or cajun seasoning in the recipe.
Serving Red Beans and Rice
There's always been a saying, stews always taste better the next day.  This refers to the fact that as a stew sits, the flavors will more fully permeate the stock, and it will be more flavorful.  I couldn't agree more, especially for this dish.  Something magical happens as the Red Beans stock cools down, the stew develops body, texture, and an amazing flavor.  However, that involves waiting a day, and I'm sure you don't want to do that!
Make sure you mash a few beans against the side of the bowl as the beans are finishing. As these beans break up, the stew will take on a milky, reddish hue.  Additionally, the stew will thicken and develop more body.  So, so delicious and satisfying.
As referenced earlier, if I'm serving this as an entree, I like to have an extra 4 oz or so piece of andouille per person.  Char the sausage over a hot grill or skillet and serve atop the bowl.  Cook the rice separately, then place in the bowl, along with the Red Beans.  Serve with plenty of toasty French bread, and you'll have an amazing meal.
As always, I hope you enjoy!
Print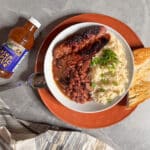 Red Beans and Rice
---
Description
This soul-satisfying dish is a comfort meal no matter the season.  Red beans and rice is an easy, slow-simmering dish that can be put on in the afternoon for a delicious, filling dinner.
---
1 pound small red beans, soaked overnight
12 oz Andouille sausage, plus 4 oz per person
1 medium yellow onion, diced
1 medium green bell pepper, diced
2 stalks celery, diced
4 cloves garlic, minced
4 oz diced Tasso Ham (may substitute regular ham plus 1 tsp cajun seasonings)
8 cups low sodium chicken stock
3–4 bay leaves
1 TBS Melissa's Cajun Garlic Sauce
1 tsp Melissa's Woo Woo Sauce, (or 2 tsp regular Worcestershire)
2 tsp smoked paprika
1/2 tsp cayenne
1 tsp salt, plus to taste
Black pepper, to taste
Diced green onions, for garnish and serving
Hot sauce, to serve, optional
---
Instructions
Soak red beans overnight.  Drain and rinse.
In a heavy bottomed dutch oven, Cut 12 oz andouille into half moons.  Sear in pot for 4-5 minutes, then add Tasso ham.  Cook for 3-4 more minutes. Remove to a paper towel lined plate.
Add onions, celery, and bell pepper to pot and sear in oil left from sausage.  Cook for 5-6 minutes over medium-high heat, then reduce to medium low.  Add in garlic and cook for 3-4 minutes, or until fragrant.
Add remaining ingredients, stirring to incorporate.  Bring to a boil, then reduce to a simmer and cover.  Check on every 30 minutes or so and stir.  Cook for 2-3 hours, or until beans are tender.
Remove top, and lightly mash about 10% of beans against the side or bottom of the Dutch oven, then stir to incorporate.  Allow to lowly simmer to reduce to a stew-like consistency.
Serve with white rice, diced green onions, and toasted French bread