Ok, sure, this isn't a grilled recipe.  But it's delicious, easy, and quick to prepare, so even I bust out the instant pot sometimes to get dinner on the table with a minimum of fuss.  This recipe for Instant Pot Short Ribs takes one of my favorite pieces of meat and turns it into an amazingly juicy and tender morsel.  You don't have to sacrifice nuances of flavor on this recipe either.  Just use the different functions of your instant pot to get that amazing dutch-oven slow cook flavor in a fraction of the time.
Instant Pot Short Ribs
Doing short ribs in an instant pot is so easy, it's almost like the appliance was made for them.  Short ribs are absolutely packed with fats, collagens, and tough connective tissue.  That's why they must always be braised in some manner to break down those tough fibers and release the unctuous deliciousness that they have.  Now, you can do that in a dutch oven for about 3-4 hours in an oven.  My favorite way is to put them on the smoker for 2 hours, then braise them in a pan until tender (another 2 hours or so.). Or, you can have this recipe on the dinner table, start to finish, in about 1.5 hours.  Of that time, you'll only be actively cooking for about 15-20 minutes.  So, the instant pot short ribs recipe is an amazing time and effort saver.
Don't Sacrifice Flavor
I worked on this recipe so it would yield the same delicious results as a long-cooked braise.  It's really simple to achieve when you know what flavors to bring out.  First, always brown your short ribs.  I seasoned mine with my Garlic Blend and Grilling Shake.  I put them in a resealable bag, sprinkle in the seasoning and 2 TBS flour, then shake them well to evenly coat.  Put on the sear function with a TBS of canola or grapeseed oil, then give them a good browning.  Work in batches to ensure you don't lower the temp too much and have room to work. After browning, set aside.  Cook your veggies, deglaze with wine, then add beef stock and the short ribs back in.  Put the instant pot on 45 minutes, let it cook, then natural release for 15 minutes.  Amazingly tender beef short ribs.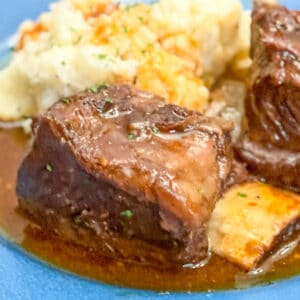 Make the Sauce
After the short ribs have cooked, move them to a plate, and make your sauce.  This amazing sauce is very, very complicated to make.  First, turn the instant pot back to sear mode and bring the juices in the pan to a boil. Secondly, let it reduce by 1/3 to 1/2, stirring occasionally.  Third, stir in 2 TBS roux (1 TBS butter and 1 TBS flour, cooked in a small skillet for at least 10 minutes.) Allow the roux to thicken the sauce, and you are in business.  Dip the pieces of short ribs back into the sauce before serving, or let them sit a minute in the sauce to get back hot.
As always, I hope you enjoy!
Print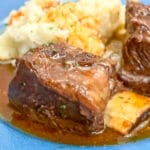 Instant Pot Short Ribs
---
Description
This super-easy recipe for the instant pot delivers the ultimate comfort food- amazingly tender, delicious short ribs.  The real magic is in the sauce and braising liquid- it brings out all the amazing flavors!  Serve with mashed potatoes and braised carrots for the utmost in Fall/Winter comfort food!
---
8–10 pieces Beef short ribs
1.5 TBS Garlic Blend Seasoning
.5 TBS Griling Shake Seasoning
2 TBS canola or grapeseed oil
1/2 cup diced red onion
1/2 cup diced celery
1/2 cup diced carrots
1 TBS minced garlic (about 3 cloves)
1 TBS Worcestershire sauce
1 TBS tomato paste
2/3 cup good red wine
1 TBS soy sauce
1.5 TBS beef stock conentrate or paste
1 cup water
1 TBS butter
1 TBS flour
1.5 TBS balsamic vinegar
1 TBS maple syrup
---
Instructions
prepare diced veggies and set aside.  Prepare instant pot for "sear."  Place short ribs in a resealable bag, add in Grillin' Shake and Garlic Blend, seal and shake to coat short ribs.  Working in batches, sear short ribs on all sides, then remove and set aside.
Add diced onions, celery and carrots to instant pot and cook until browning/translucent.  Add in garlic and tomato paste.  Cook for 2 more minutes, then deglaze with red wine.  Allow wine to reduce by half, then add in worcesteershire sauce, beef concentrate, and water.  Stir, allow to come to a boil, then set instant pot to "pressure cook" function for 45 minutes.  Add short ribs back in, close lid, and allow to cook.  After 15 minute natural release, finish releasing pressure.
In a small skillet, cook 1 TBS butter and 1 TBS flour for 8-10 minutes to make a roux.  Set aside.
Remove short ribs using tongs.  Remove bones from short ribs and discard.  Move function back to sear/sautee, and bring cooking liquids to a boil.  Pour in balsamic.  Allow to reduce by 1/3, then add 1/2 cup of liquid to a measuring cup containing roux.  Whisk in the cup, then pour roux mixture back into the stock.   Whick and continue to cook until desired thickness is reached.  Turn instant pot off, and dip each piece of short rib meat into cooker to bring up in temperature and coat before serving, with additional sauce on the side.