When you're looking for a special meal, I present my Surf and Turf Extravaganza!  The centerpiece is a horseradish crusted prime rib roast from Mishima Reserve.  This American wagyu beef cut is spectacular.  Joining the fun will be some 6 oz garlic buttered lobster tails.  Trust me, when you want to impress someone, this is the meal to cook.
Well, tell us about it!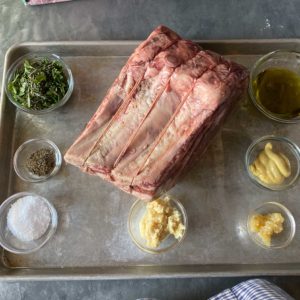 For the roast, I made a horseradish-herb slather, and it really accents the flavor of the beef.  Smoking the roast will make the already tender beef even more luxurious, as you will render some fats and collagens while cooking.  MMMM, I'm salivating thinking about how good it was!  For the lobter tails, I used  6 oz tails and basted them with a garlic butter as they grilled.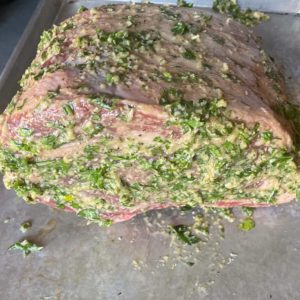 How to set up your grill
To pull this off on the same grill, you'll have to set up your grill for indirect cooking.  Place all of your coals on ones side of the grill.  On the non-hot side, I place a water pan underneath the area I'll be smoking the roast.  I stabilized the smoker at 275 with pecan wood for smoke.  As the roast gets within 10 degrees of your target temp, I added some more fuel to the fire and raised the lid.  Lightly season the lobster tails and place on the hot side of the grill.  While the lobster tails grill, your roast will finish up and rest at the same time.  Easy Peasy!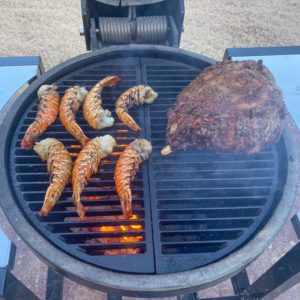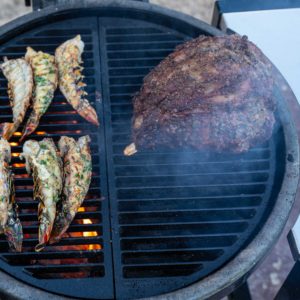 How many will this serve?
The rib roast is a 2 bone roast, and comes tied to help keep the meat tight as it renders.  So, you can simply slice this bad boy between the bones and serve two massive steaks.  However, I sliced the bones out, and easily served four.  Wagyu beef is richer than regular beef, and thus is more filling.  That, plus the lobster tails, proved to be plenty for me and my guests.
As always, I hope you enjoy!
Print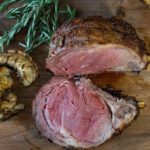 Horseradish Crusted Prime Rib Roast with Lobster tails
---
Total Time:

2 hours 20 minutes

Yield:

4

people

1

x
Description
This smoked Prime rib roast with a horseradish crust and grilled lobster tails will make that special dinner you've been planning into an extravagent meal.
---
For the Ribeye
1

5-6 lb ribeye roast

2

TBS prepared horseradish

2

TBS dijon mustard

1

TBS Kosher salt

1/2

TBS black pepper

2

TBS olive oil

2

TBS Italian Parsley (chopped fine)

1/2

TBS fresh oregeno (chopped fine)

1/2

TBS fresh rosemary (chopped fine)
For the lobster
4

5-6 oz lobster tails

1

TBS Grillin' Shake or your favorite grill seasoning

1/2

lb butter

1 tsp

Italian Parsley (chopped fine)

1/2

tsp fresh oregeno (chopped fine)

1

TBS minced garlic
---
Instructions
Prepare a grill to run "indirect." Do this by putting all of your charcoal on one side of the grill. Stabilize grill at 250 degrees.
30 minutes before cooking, remove rib roast from fridge and allow to come up in temperature. Mix olive oil, salt, pepper, parsley, oregeno, rosemary, dijon mustard and horseradish to form a "slather." Coat exterior of rib roast. Place a pan with water in it underneath the grate on the "cool side." Place rig roast over water pan.
Leave 8 oz of butter out to get to room temperature. Cut Lobster tails in half. Mix butter with oregeno, garlic, and parsley. Lightly season lobster tails with grill seasoning.
Cook rib roast until it reaches an internal temperature of 115 degrees. When it hits that temp, open grill and add more fuel to the hot side if necessary.
Oil grates on hot side, and lay lobster tails meat side down on grill. Cook for 4 minutes, or until a light grill mark has formed. Flip tails over and brush with compound butter. Continue to cook, turning as necessary, until internal temperature of tails hits 145. Remove from grill. By this time, your rib roast should be at `125 degrees (medium rare.) Remove it from grill.
Remove bones from roast, slice roast into 4 portions, and serve.
Prep Time:

20 minutes

Cook Time:

2 hours

Category:

Main Course

Cuisine:

American
Keywords: beef, grilled pork, lobster, mishima reserve, prime rib, ribeye, smoked fish dip