Gumbo is one of those dishes that I just love in the winter time.  Like pot roast, beef stew, or beef bourguignon, it just warms the soul on a chilly night.  My version of Creole Okra Gumbo is delicious and easy to make, but there is some prep work involved.  But, the end results will be worth it in the end.  Read on for tips, tricks and the recipe for Creole Okra Gumbo.
What is Gumbo?
At it's most basic, gumbo is a hearty stew made with vegetables, stock, and various proteins.  The differences between gumbo and most other stews begin with most, but not all, gumbo recipes starting with a dark roux.  Gumbos can also be thickened with file powder or okra, or sometimes a combination.  Variations on gumbos include seafood gumbos, chicken and sausage gumbo, and many others.
Gumbo has its roots in creole and French cooking in New Orleans, and is the signature dish of the state.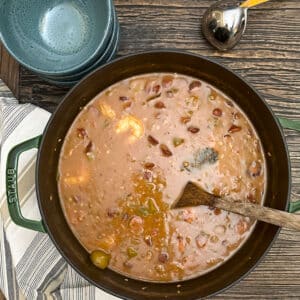 Roux is the basis of flavor for Gumbo
Roux, or a combination of flour and fat, is the basis for many sauces, gravies, soups, and stews.  There are four main types of roux, white, blond, peanut or brown, and dark brown,  all of which are achieved by the length of time they cook.  The longer you cook a roux, the less effective of a thickening agent it is.  However, it has significantly more flavor and depth as you cook it longer.
White roux is used in sauces such as béchamel, or chowders and white soups, and only needs to cook for 5 minutes or so.  You're basically cooking the raw flour taste out, and then stopping.   Blond roux is cooked more (about 20 minutes) until it has a "toasty" aroma and flavor.  It is best used for gravies and soups.  Brown roux, aka peanut roux, has a brown, peanut butter appearance and nutty aroma and flavor.  It takes about 30 minutes or so to get a brown roux.  Dark brown roux looks like milk chocolate.  It doesn't thicken near as much as the other roux, but adds an amazing flavor and richness to dishes like gumbo.  If you're going for a dark roux, commit yourself to 45 minutes of cooking.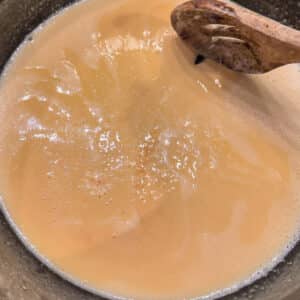 Roux is not something that can be rushed.  Roux can burn easily if not watched (you'll notice little black flecks in the roux.) If it burns, throw it out because it's not going to be good.  I use a wooded spoon and pretty much stir every 10-15 seconds when starting out, then almost continuously as the roux begins to darken.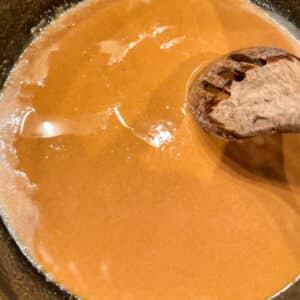 For this recipe, I use butter as the fat.  Many recipes call for oil but I prefer the richness of butter.  You can make roux ahead.  If you do so, it is best to use ghee or clarified butter as it won't separate in the fridge.
Creole Okra Gumbo
While some recipes call for both okra and file powder, most are an either or recipe.  I have always preferred okra in my gumbos, but to each their own.  Okra provides color, texture, flavor, and thickening for the stew. The differences between creole and cajun cooking are very small, but generally revolve around the use of tomatoes.  Creole gumbo usually has canned, chopped tomatoes in it. Cajun Gumbo does not.  For this recipe, I use some tomato paste to add richness of flavor to the stew, not tomatoes.  I also use my Cajun Garlic Sauce in this recipe for some amazing flavor.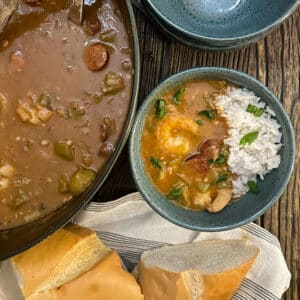 Proteins to use in Creole Okra Gumbo
Gumbo is really a "kitchen sink" kind of dish.  You can use about any protein you have on hand in it.  Most commonly used proteins are sausage, chicken, seafood, or ham.  For my recipe for creole okra gumbo, I use Johnsonville Andouille Sausage and shrimp.  The andouille adds its own seasonings and has that cajun flavor everyone loves.  The shrimp bring a different texture and flavor to the dish, and I think it really sets everything off very well.  Feel free to use more sausage, or chicken, diced ham, or anything you have a mind to use- gumbo is very forgiving!
How to cook Gumbo
Many versions advise you to sear the sausage (if you are using sausage) and then make the roux.  After the roux is made, they want you to cook the vegetables in the roux, then add stock, etc.  While this makes for a one-pot dish, I think the recipe comes out much better by using two dishes- a heavy dutch oven for the roux and the stew, and a large skillet for cooking the sausage and vegetables.  I like the flavor of the vegetables when they're seared in the oil from the sausage, and I think the okra benefits from a higher heat cook in the beginning as well.
While the roux is starting, in another skillet I sear the sausage and then set aside.  Add the "creole trinity"- diced onions, celery, and bell peppers (a Louisiana take on French Mirapoix, with the peppers substituting for diced carrots.) After the onions are browning and the peppers are softening, I add the garlic, cook for a couple or minutes until the garlic is fragrant, then add my okra.  Okra is not going to sear, but I like to get the weeping process started by cooking it in the medium hot skillet first.
Remember, meanwhile, you are stirring your roux -multitask my friend!  When you're happy with the veggies simply remove the skillet from heat and set aside until you are done with the roux.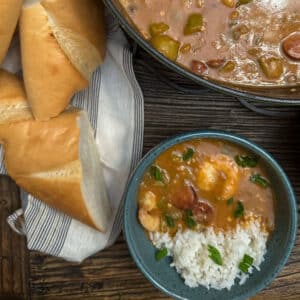 After that, it's pretty simple!  As always, I hope you enjoy!
Looking for some more soul-warming recipes?  Check out my Winter Pork Stew recipe or my recipe for Smoked Salisbury Steaks with Mushroom-Onion Gravy
Print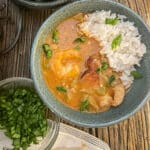 Creole Okra Gumbo
---
Description
My Creole Okra Gumbo recipe is a unique twist on other gumbo recipes, and features plenty of okra, sausage, and shrimp for great flavor.  Other than stirring and stirring the roux to get it into the proper color and flavor, the recipe is quite simple and results in a soul-warming stew that will chase off the chill of any winter night.
---
1.5 sticks unsalted butter
1 cup a/p flour
14 oz andouille sausage, cut into thin rings
1 pound peeled and deveined shrimp, 30-40 count
2 medium yellow onions, diced
1 green bell pepper, diced
2 stalks celery, diced
6 cups chicken stock
1 pound frozen, cut okra, thawed
3 cloves garlic, minced
4 TBS Cajun Seasoning
3 TBS Melissa's Cajun Garlic Sauce
1 TBS tomato paste
3–4 bay leaves
2 tsp dried thyme
2 tsp kosher salt, plus to taste
2 tsp black pepper, plus to taste
1 to 2 tsp cayenne pepper, optional for preference
2 cups cooked white or brown rice, to serve
1 bunch green onions, diced, for garnish
---
Instructions
In a skillet, sear sausage until browned.  Remove to a plate and set aside.  Add in onions, celery, and bell pepper and cook for 6-7 minutes, or until peppers are softened and onions are getting translucent.  Add in garlic and cook 1-2 minutes or until fragrant.  Add in Okra and stir until okra starts releasing moisture.  Turn off heat, leaving veggies in skillet.
In a heavy dutch oven over medium to medium-low heat,  add butter.  Allow to melt then add in flour in small increments, stirring to incorporate.  Continue to cook for around 40 minutes, or until the color of milk chocolate and fragrant.  Don't leave the roux or it will burn- stir continuously, especially towards the end.
To the roux, add veggies and sausage.  Stir, and add in chicken stock in increments, stirring to incorporate.
Add tomato paste, cajun seasoning, Cajun Garlic Sauce, thyme, bay leaves, salt, and pepper.  Whisk to incorporate, then bring to a light boil, reduce to a simmer, and cover.
Continue to cook for 1-2 hours, stirring occasionally.  Check to see when okra has softened and is thickening the stew.  When ready, turn off heat, then add shrimp.  Stir and allow residual heat to cook shrimp for 3-4 minutes, or until shrimp are opaque throughout.
Serve with white rice, green onions, and warmed French bread.