In my house, chicken breasts for dinner have ranked just above ordering pizza and way below anything else I can think of cooking. It's not that I don't like them, well, they're generally just boring. So I have made a point to work on my chicken breast repertoire. They definitely have their pro's- don't require much trimming, easily acquired at every grocery, cook fast, and they take flavors well!
Like most people, I prefer easily cooked items and this recipe fits the bill except for one little part- the cipollini onions. If you haven't had them, they are small onions (the name literally means small onion) and I can find them in more boutique groceries. They are sweeter than regular onions, and they are wonderful baked, or carmelized, or broiled with any meat. Sounds great, right? Well, they are except you have to remove the peels, and it's kind of a pain. I generally use a paring knife and basically peel it off, but honestly I haven't found a quick and easy way to do it. If you can't find them or don't have the time, just substitute one medium regular onion for the cipollinis.
This dish is quite simple, and if you don't make pan sauces much this is definitely something you should master. Here's the quick version that I'll explain more in the recipe- Sear the meat (in this case chicken) in a skillet; place pan in oven to complete cooking; remove chicken breasts to rest and place pan on stove; deglaze pan with chicken stock or wine; reduce; add cream; season; serve. It doesn't take too much longer to do than it took me to type, and best of all, 1 pan to clean!
Anyway, I hope you'll try this, as it took the humble chicken breast to a better place in my rotation. Enjoy!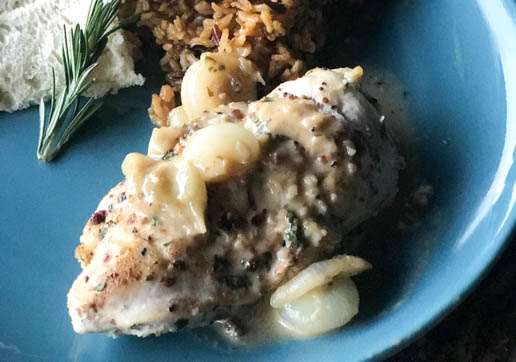 Yum
Ingredients
4

chicken breasts

boneless, skinless and trimmed

12

oz

cipollini onions (about 12-15)

peeled and left whole

1

tbs

peanut oil

1

tbs

kosher salt

1/2

tbs

course ground black pepper

1

tbs

pink peppercorns

lightly cracked in a mortar/pestle

1/2

tbs

granulated garlic

1

tsp

thyme

1

tsp

rosemary

chopped

1/4

cup

chicken stock

1/2

cup

heavy cream

1/4 cup

white wine

2

tbs

Italian parsley

chopped
Instructions
Preheat oven to 400 degrees in a small bowl, add salt, pepper, peppercorns, garlic, thyme and rosemary and mix. Rinse and pat dry chicken breasts, then season each breast with seasoning.

In a skillet over medium high heat, heat oil, then add chicken breasts and allow to sear for 1 1/2 to 2 minutes, then flip over. After flipping, sprinkle with italian parsley and add in cipollini onions to pan. Cook for another 1 1/2 to 2 minutes.

After both sides have seared, take pan and place in oven. Cook for 25-30 minutes or until chicken breasts reach 165 degrees internal temperature. Carefully remove skillet from oven and place on a stove top. Remove chicken breasts, set on a plate and loosely tent with foil. Leave the onions in the pan.

Turn stove top to medium high. Using a spoon, scrape the pan to loosen the "fond" or tasty browned bits stuck to the skillet while reducing any accumulated juice from the chicken.

Add in 1/4 cup chicken stock, continuing to stir and incorporate fond into sauce. As chicken stock reduces add white wine and whisk until reduces by half

Pour in heavy cream and whisk while cooking until slightly thickened. Remove from heat.

Plate chicken breast and spoon over sauce. Enjoy!