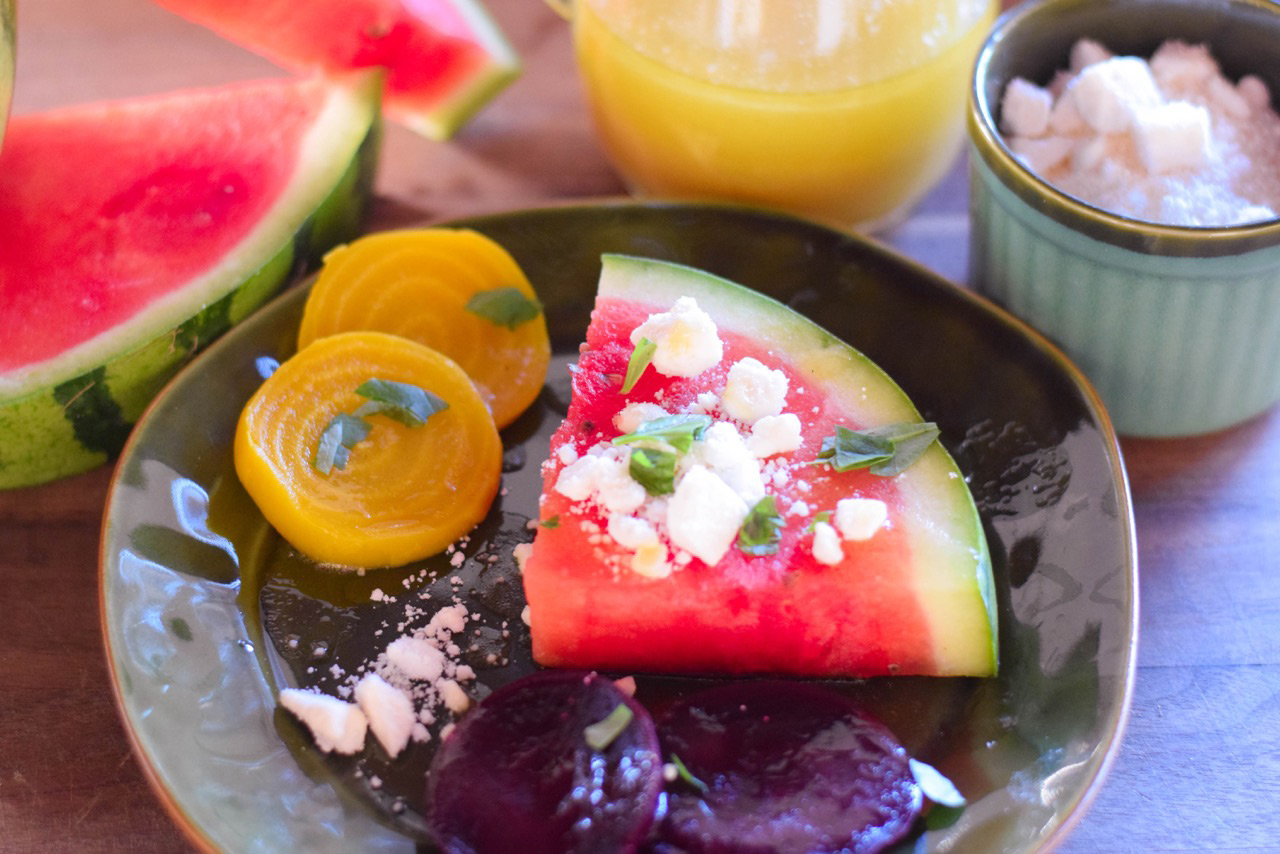 07 Mar

Watermelon, Beet and Feta Salad with Citrus Vinaigrette

Ok, I want to be clear about something. I don't like beets. There, I said it, and I feel liberated. Yes, I know that beets are "supposed to be liked by adults" but frankly I don't care. So, you may ask, why would I make a salad with beets as an ingredient? Well, two reasons. First, beets are pretty, and make a nice visual component to the salad. Secondly, my husband loves beets. I don't get it, he didn't always love beets, and we shared a mutual beet abhorrence that bound us together. Then one day I see him eating a beet on a salad and ENJOYING IT! Quelle horreur! Anyway, I came to grips with his beet dalliance and agreed to disagree.

Pertaining to this salad, I will quote him: "the earthiness of the beets add a contrasting note to the luscious watermelon, and the citrus and feta bring the disparate components together in a fresh and satisfying manner." Umm, ok. Let's just get to the recipe.

Citrus Vinaigrette

(Note-I try to not specify brands in my recipes unless I think that it is instrumental to the final flavor of the recipe. O brand olive oil and vinegar is one of those brands. It's kind of spendy, but well worth it. The vinegars are barrel aged which gives them a well-rounded flavor that makes great dressings.)
¼ cup O Orange Blossom Champagne Vinegar

¼ cup orange juice

¼ cup honey

1 tablespoon Dijon mustard

1 teaspoon minced garlic

1/4 teaspoon salt

1/8 teaspoon black pepper

¼ cup canola oil

¼ cup olive oil
Add all ingredients to a mixing bowl except oils. Whisk to incorporate. In a measuring cup, combine oils, then slowly drizzle into bowl while whisking constantly to form an emulsion.
Watermelon wedges or slices, about 1" thick
Feta Cheese crumbles (goat cheese crumbles work well her also)
Roasted red and golden beets (recipe follows)
Roasted Beets
Note- although beets are very easy to cook, they are messy. Yet another reason I hate them. Many groceries now stock a precooked beet in the refrigerated produce area, usually a red beet. While I prefer the golden ones for a visual component in this salad, I'll gladly skip it if I don't have to prepare them from raw.
Ingredients
A bunch of beets. By a bunch, I don't necessarily mean a lot. They are usually sold in "bunches." Red and golden beets will cook in roughly the same time, so you can interchange them.
Preheat oven to 400 degrees.
Trim off stems right above the beet, then wash beets. Wrap in foil, then lay on a baking sheet and roast for 45 minutes. Check for doneness with a fork. If it goes in easily, they are done. Cook for additional time until they are tender (may take over an hour for larger beets.)
Remove from oven and allow to cool. Using paper towels (and wearing gloves as a suggestion) remove the skin from the beets. If cooked properly it will come off easily. Roasted beets will last for up to a week in the fridge.