Pork tenderloins are so versatile, you can make them a common dinner item and still have uncommonly good meals. I've been using Smithfield marinated pork tenderloins a lot lately.  By using their marinated tenderloins, I take a lot of "pre-work" out of dinner and get a very flavorful dish to the family in no time.
I purchased a Roasted Garlic and Herb tenderloin, and wanted to use it for a recent dinner.  However,  I decided to add a little something to it to give it a bit more "wow." What could go better with garlic and herbs an italian take on the dish?  So, I  butterflied and stuffed it with mozzarella, heirloom tomatoes and fresh basil to give it a "Caprese" effect.
I ran my Big Green Egg at 450 degrees with a chunk of apple for a bit of smoke! I wanted to cook the tenderloin quickly without over melting the mozzarella.  The tenderloin finished at an internal temperature of 138 degrees.  After cooking, rest the tenderloin,  slice on a bias and drizzle with a little bit of aged balsamic.  My "after resting" internal temp was 142.  Really, really good! I hope you enjoy!
About Cooking Pork
Speaking of cooking pork, you still aren't one who has to cook pork to 170 degrees or higher are you?  First, if  you are this recipe may not work as all the fillings would melt out.  With our pork supply, any issues and worries about pork from days past are long gone. I serve pork tenderloins and loins at a rosy, juicy medium rare to medium temperature.  Pork cuts such as ribs and shoulders that have a lot of tough, connective tissue still benefit from a BBQ method.  Pork chops and tenderloins do not however, and are best served grilled (or smoked hot) and served beautifully pink.
Note:  I am a paid Ambassador for Smithfield meats.  However, this post and the opinions and recipes contained herein are voluntary and my own.

Print Recipe
Caprese Pork Tenderloin
Yum
This will wow your guests, and they will never guess how easy it is!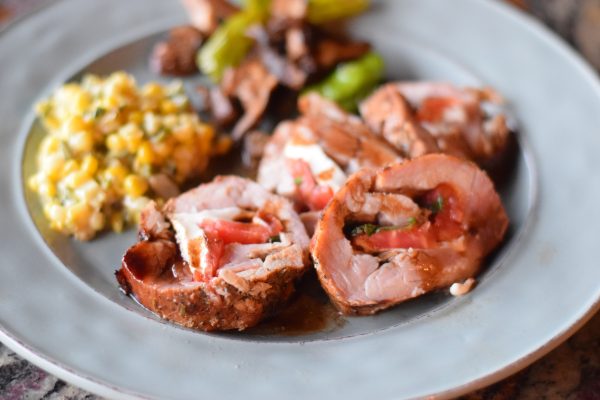 | | |
| --- | --- |
| | |
Assemble all your ingredients. Aside from the "jellyroll slicing" (which is very easy once you get the hang of it,) this is a very easy item to prep.

Unwrap tenderloin and place on a cutting board. Using a sharp filet knife, slice about 1/4" from cutting board all the way down the tenderloin, but not cutting through it. Open tenderloin and then repeat the slice (think jellyroll)

Open tenderloin up and either cover with plastic wrap or put in a ziplock bag. Using a blunt meat mallet (I just use my hand) lightly pound on tenderloin to flatten and even it out.

Place slices of mozzarella, tomato and basil on the tenderloin, them pull meat around them to cover it. Use toothpicks to secure. I like to refrigerate for at least 30 minutes to let the meat "set" around the filling, but this isn't strictly necessary.

Have a grill running medium hot. I am using my Big Green Egg, but any grill will be fine. Oil grates, then place tenderloin on grill. Cook for 10 minutes or until bottom is reaching 130 degrees. Carefully flip and cook for another 8-10 minutes or until top meat is approaching 140. Depending on tenderloin, you may need to place "sides" on grill for a minute or two to ensure doneness. Remember, I am doing this on an egg, which also has a "baking" effect, so if using a gas grill you may want to adjust your times.

Remove from grill and lightly cover with foil or plastic wrap. Allow to rest for 4-5 minutes. Remove toothpicks. Slice into slices about 1/2" thick, and shingle on plate. Lightly drizzle with balsamic and serve.