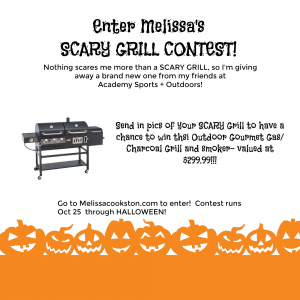 This contest is over, but keep checking in as I love running contests, and will have more soon!
It's Giveaway Time, and my friends from Academy Sports + Outdoors  Nothing scares me more than a scary grill, so send me your pics of your scary grill and I'll enter you in my contest to get this brand new Outdoor Gourmet Pro Triton Gas and Charcoal grill with a smoker box (say that 10 times fast!)  The grill is super cool- you can fire up the gas grill for some quick burgers, light the charcoal grill for some of that flame grilled flavor, or set it up to smoke low and slow for some delicious Barbecue!    The retail value on this is $299.99, so enter today to get a chance to replace your scary grill with this super cool one!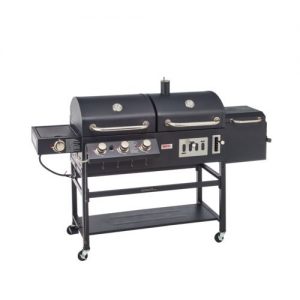 How do I enter?
It's super easy to enter.  Just sign up on the gleam app via the link below (then you won't have to sign up again for any of my other giveaways!,) and then enter in the 7 different ways!  Some of the entries you can enter multiple times, such as sharing a picture from Instagram or Facebook of your Scary Grill!  You don't have to follow anyone on instagram or Facebook, but we sure would appreciate it!
Gain Extra Entries!
Share this contest with your friends for extra entries as well!  Super easy-peasy!  Just click the link below and you'll get to the contest.  Good Luck!
Melissa's Scary Grill Contest!